Where the world gathers for
plating, anodizing, & finishing Q&As since 1989
-----
Platinum Chrome Blistering
2006
Have anyone experienced delayed blistering with Platinum Chrome ZA - 101 over Zink, Zamak 3. How long does it take for blistering to appear and what may have cause it, beside contamination in the bath and not enough rinsing after the Ni bath?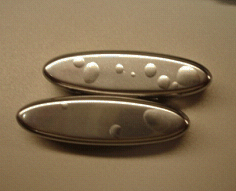 Thanks,
Tatiana Gentchev
---
2006
Porosity of the substrate part (even if you can't see it) is the most probable cause. It is impossible to succeed plating zamak or most any cast parts that are porous. Pores may be concealed by previous polishing, blasting or other pre-treatments but look again. You'll feel blessed if you find them.
Guillermo Marrufo
---
February 4, 2009
When dealing with surface blisters on plated zinc die castings, it is not a good idea to classify the defect without sectioning the part (including the blister) and polish using metallurgical techniques. These blisters can be very deceiving.

I look at these types of defects for a living. Most often in plated defects, these types of blisters are more commonly due to either an adhesion problem between the substrate and plating layers (usually due to cleaning), or due to surface cold shuts that have absorbed cleaning fluids and evaporated after the plating operation.

Blisters due to porosity in the substrate generally are found in painted or powder coated applications and develop during the curing process.

I hope this helps out.
Ryan Winter