Where the world gathers for
plating, anodizing, & finishing Q&As since 1989
-----
Bothersome fingerprints on Titanium Anodizing
2006
I am manufacturing some 6/4 Titanium medical components that I need to have anodized blue due to marketing reasons. After the anodizing process, the metal is very susceptible to fingerprints which leave the surface a gray color. Any ideas as how to stop this? Different color was suggested on one website. The job shop that did this for me could not come up with a solution. Thanks for your help.
Tim Edwards
---
2006
I have machined a lot of Titanium and we still Inspect Titanium hardware - at all stages we are required to wear thin cotton gloves. The acid in human hands imprints finger marks into the surface of the Titanium.

I would almost bet that it was probably there before the Anodize process, may have even been partially covered by polishing and then re-appears due to the depth of the corrosive activity.

Always wear COTTON gloves during handling.
Myke Conway
---
2006
Titanium being titanium, I'm pretty sure your finger would dissolve from the acid content long before you affected the metal...

It isn't the acid that is marking the parts, it is oil/dirt/moisture that your fingers are putting on the part and that cotton gloves prevent. See, the problem is the way anodizing titanium results in a color - it isn't like anodizing aluminum where you actually dye the parts, with titanium the coating is actually clear but is uniform enough and thick enough to bend light like a prism and therefore we see the resulting color, but the color isn't actually "there" (in terms of an actual molecule that has that color). So, when you touch the part and leave a fingerprint, you aren't "removing" the color, instead what your doing is messing up the filtered light waves and breaking up the appearance of the color - next time you notice it, rub down the affected area with some rubbing alcohol and a clean rag and I bet the color will come right back.

Now, in terms of preventing it.... cotton gloves are pretty much the only way I can think of.

As an aside - Everything I know about titanium I've learned from the archived letters on this site and a couple of specs I've read. Anybody who knows better, please feel free to correct me if I've misunderstood!

Good luck!
Jim Gorsich
Accurate Anodizing Inc.

Compton, California, USA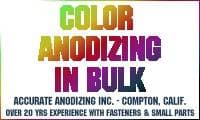 ---
2006
This is just to follow up on a previous statement in regard to my answer of May 18th and is relative to the mention in a reply to your "fingers dissolving from the acid."
I still believe my statement to be true as this is what was taught in Technical College. The pH value for water is 7.0 and is considered neutral. The human body can have a PH that varies from 6.1 to 7.5. Everyone is slightly different at different times of the day and based upon types of food consumed. Bottom line being that this acidic level in the hands is enough to "stain" the Titanium permanently unless the surface is removed. Check it out with a google search for "human ph."
Myke Conway
---
2006
I completely agree about the pH of human skin, and I apologize if my previous post was a bit flippant. My point however remains - Titanium has fantastic corrosion resistance, while the human touch can certainly be acidic (and made more so through creams and lotions), I would doubt that it could permanently damage or mark titanium.

Also, I do a fair amount of acid anodizing of titanium fasteners at my shop and have noticed multiple times that the fingerprints on blue anodized titanium will wash away with rubbing alcohol and allow the color to return. I don't have a good way to prevent it, but that is what I've noticed here...
Jim Gorsich
Accurate Anodizing Inc.

Compton, California, USA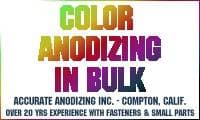 ---
2006
I agree the fingerprints were (are) probably there when the parts entered the process - either from your end or on the finishing end.

On the other hand, if it would be possible, have you considered knurling the part so fingerprints don't matter in the first place?
Tracy W. Bradford
---
June 5, 2012
A. To get rid of the color changes with handling, example finger prints, you can apply a clear coat or a clear teflon coating with cure. This will keep the color constant as long as the clean coat/teflon remains on the parts.
Jack Kass