Where the world gathers for
plating, anodizing, & finishing Q&As since 1989
-----
Thick Film to PCB adhesion deteriorating after Nickel
2006
To all that make up the vast wealth of knowledge that is Finishing.com, Thank you!

We are plating Ni and solder over a Ag thick film ceramic board. The thick film has excellent adhesion after pre-treat but is peeling from the ceramic after the board is Ni plated and snapped. Any insight that could be shared would be greatly appreciated. The particulars are as follows. Thank you again.

PCB is 95% Alumina, 5% glass w/ Laser drilled thru holes
Thick film Ag paste is 400uI and sintered
Plating process:
Soak Clean 5 minutes at 130F (8 oz.gal)
CN 60 seconds ambient (4 oz/gal)
Acid Etch 70 seconds @ ambient (10% v/v)
Ni plate- 125F 30ASF for 150-200uI
Ni Sulfamate 10 oz/gal, Boric Acid 6.2 oz/gal, Ni Bromide 3 oz/gal, PH 3.30, Stress reducer 8.75 ml/l, Wetter 1 ml/l (this is a brand new bath which went thru batch carbon treatment and electrolysis prior to operation)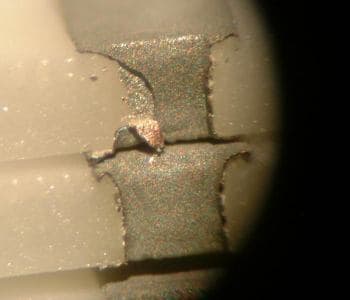 Stephen Hubbs
---
2006
The first thing I would do is to check with vendor if the thickfilm material is plating compatible. If true, I will follow the steps below.

Your pre-cleaning step is very harsh for a thickfilm. Most of the binders in the thickfilm will not withstand such a harsh pre-clean step. Use a neutral cleaner to pre-clean (no acid dip) or no pre-clean (if proper handling is done after sintering / firing).

Another thing to note is to "live load" when getting the work into the plating bath. (passing current to the rack while immersing in the solution).

If this doesn't help, check the adhesion testing method. Most of the thickfilms can be tested after soldering or plating. It is difficult to test adhesion on as fired thickfilms.

Hope it helps. Have a great day.
Karthik Thambidurai
---
2006
The glasses used in the silver paste must be acid resistant. Thick film pastes that are plating compatible are available from the major vendors in Ag and or AgPd compositions. If you are interested acid resistant glasses for thick film pastes can be obtained through Asahi Glass. These pastes are compatible with very severe preclean and plating steps.
Bob Daniel