Where the world gathers for
plating, anodizing, & finishing Q&As since 1989
-----
Zinc Plated Steel Toxic Fumes?
2006
I am working on building and designing a human created vacuum for a science project which uses a zinc plated steel pipe. The heat source is a standard cigarette lighter, and is directly applied to the metal for about 30 minutes straight. Are the gases created dangerous to a human's body?

If one was to apply the same heat source to the metal, and directly inhaled the resulting fumes, would and hazardous chemicals be released, or any metal dust?

I know that zinc's melting point is around 2358 °C I believe, and the standard temperature for a flame is 1300 °C (or maybe 1300 °F), but I'm worried that layers of zinc will peel off and enter the subjects lungs and well....cause serious harm. Thanks.
Ryan J.
---
First of two simultaneous responses -- 2006

There were some letters a while back about making BBQs or smokers out of galvanized material, and while the general consensus was that you probably don't want to do it (it isn't really a made for food contact surface) I think I recall a conclusion that if you fired it up and let any visible fumes dissipate you would be more-or-less okay afterward.

Take all of that with a grain of salt and use the search engine to track down the original letters.

Also, the thing you'd be worried about is (presumably) the same metal fume fever that you can get from welding galvanized material - so you can look into that as well.

Good luck!
Jim Gorsich
Accurate Anodizing Inc.

Compton, California, USA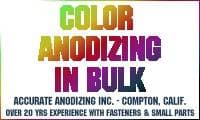 ---
Second of two simultaneous responses -- 2006

Better check the melting and boiling points of zinc.

Zinc fumes, actually very fine zinc oxide particles, are toxic. Not as poisonous as cadmium, lead or mercury, but still, avoid the white smoke. Metal fume fever from heating galvanized steel became well-known during construction of the Golden Gate Bridge in the 1930s.

A cigarette lighter may not get a sizable pipe (1 inch diameter by 1 foot long?) hot enough to cause much danger or create a useful vacuum. Perhaps create a vacuum by boiling water in a loosely capped container long enough for the steam to displace any air, capping and cooling (like home canning).
Ken Vlach
[deceased]
- Goleta, California

Finishing.com honored Ken for his countless carefully researched responses. He passed away May 14, 2015.
Rest in peace, Ken. Thank you for your hard work which the finishing world, and we at finishing.com, continue to benefit from.