Where the world gathers for
plating, anodizing, & finishing Q&As since 1989
-----
Photo-Resist Composition anyone?
finishing.com is possible thanks to our supporting advertisers, including:


Q. I would like to know the chemical to be used as photo resist material while photo chemical etching on solid steel (SS-401 to SS-410). When the depth of the etching is up to 0.3 mm. (on the plate of thickness up to 0.4 mm.)
Kumar Varma
prop. of an engineering company - Ahmedabad, Gujarat, India
2004
Q. Gerald Robles
2006
Hi, I am interested to know the composition of negative photo-resists that we can use to etch stainless steel/brass plates. Our small company is making metal directional signs and usually utilize machine cut brass plates to produce the letters. But now, we are opting to use etched metal plates, due also to the intricate design requirements and competition from the bigger companies. We can't find a supplier locally for PR sprays and we'll appreciate any help on making a PR emulsion ourselves. Thanks!
A. Dear sir, I use a photo resist in an acid etching process for a company that produces elevator components. the only photo resist I know of is a laminate that is heat rolled onto the part after it has been cleaned with a lye and then neutralized with a sulfuric acid. its not a simple process. please let me know how it goes and let me know if I can help.
Jeremiah Pyle
Q. Hi Sir, thanks for the reply. Though there really seem to be no source here for masking kits and photo-resist films like the one you mentioned. Maybe online buying seems a pretty good idea right now, just hope I can maintain the cost per piece of production to a manageable level for my customers. Will keep in touch too...
Gerald Robles
[returning]
The composition of photoresists can be quite complicated and many are patented. I would therefore suggest you do a patent search. However, there is a much older technology than the Internet, that of books - there are a few goods books around, such as:

1)Photoresist - Materials and Processes; by William DeForest; pub 1975 McGraw Hill; (ISBN No.0-07-016230-1);

2)Photolitho-offset; by Eric Chambers; pub 1967 Ernest Benn Ltd, London.
It may also be worthwhile looking for dry film photoresist on the net, this is the "latest" technology for simple systems.

As an alternative, try looking for photoresists from the manufacturers of "Clearclad", a company called LVH Ltd in the UK - this is an electrophoretic system that may be of interest to you.

Trevor Crichton
R&D practical scientist
Chesham, Bucks, UK
Q. Dear Sir, Thanks for the references. I'm currently trying to use the "toner transfer" technique which I also recently learned online. This got me to etching my requirements. ...Good thing I listened to that Laser Printer Salesman... But good ole' book hunting always helps, and I've done a book search on those titles you mentioned. :-)
Gerald Robles
[returning]
A. There are two basic types of negative photoresist. They are based on ---

1/ Poly-cis-isoprene developed in white spirit (stoddard solvent)
2/ Poly-vinyl-cinnamate

The earliest photographs taken by Fox talbot were based on photoresist technology, using 'Bitumen of Judea' and developed in 'oil of spike lavender'.

Obsolete printing plate technology used gelatin sensitised with potassium dichromate and developed in warm water.

I think you would spend your time more profitably tracking down a supplier.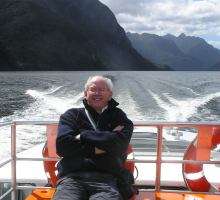 Geoff Smith
Hampshire, England
A. Try next website: www.thelitterbox.org (There you can find some download free recipe books, many old but still useful recipes for paints, lacquers, colouring of metals, etc. etc.). Hope it helps and good luck!
Goran Budija