World's #1 on-line resource since 1989
-----
Thoughts on hardcoat anodizing 5052 aluminum
A discussion started in 2006 but continuing through 2020
2006
Q. I'm not very experienced with coating practice and I'd like to get a reality check on the idea of having a hard coat anodize (w/teflon) applied to 1/8 thick 5052 sheets and then using a standard hand brake to bend the coated sheet in house afterward. I only need to apply a couple of simple bends and then drill a few small holes. Is it common to H.C. anodize 5052 aluminum? What effect might the bending process have on the coating?

I appreciate any feedback.
Duane Tabor
lighting - Lebanon, New Hampshire
---
2006
A. Hard Anodizing is routinely done on 5052 alloy. There should be no issue with that or the Teflon BUT you will want to form your part BEFORE hard Anodize.
Anodize is a 'ceramic' coating and is non-ductile.
Bill Grayson
metal finishing - San Jose, California, USA
---
2006
A. 5052 hardcoats quite well. You would not want to bend the parts after hardcoat, bending would surely fracture the coating at the bend point. I would form them to the desired shape prior to anodizing.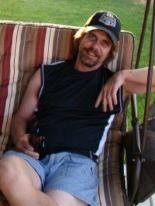 Marc Green
anodizer - Boise, Idaho
---
2006
A. Yes you can hard anodize 5052. "1/8 inches thick" will be difficult to "get the current on the part". Bending will crack the hard brittle anodizing, the thicker the worse. The teflon then will cover the cracks.

Be sure to make contact in several places to get 24 ASF on that thin metal. Better still, let's hard coat if AFTER you bend, drill, etc...

Robert H Probert
Robert H Probert Technical Services

Garner, North Carolina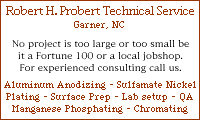 ---
2006
A. Luke Engineering hardcoats thousands of square feet of 16 gauge 5052 aluminum at a full 36 ASF current density. We have even hardcoated .004" foil. Good racking and agitation are essential to minimize "burning". Forming after coating will certainly crack the hardcoat at the bend. A PTFE impregnated hardcoat will not cover that up.
Chris Jurey
, Past-President IHAA
Luke Engineering & Mfg. Co. Inc.

Wadsworth, Ohio

---
2006

OK, along the same lines as the definition of "is", what we need here is a definition of "cover" ! In my Webster definition of cover, two coats of heat cured teflon will cover and offer some corrosion protection to the areas exposed by bending after hardcoating. The width of the void will be a function of alloy and thickness and will still be seen to the naked eye, however, it will be "covered" by two layers of heat cured teflon.

Robert H Probert




Robert H Probert Technical Services





Garner, North Carolina






---

2006

I think the definition we are missing is "hard coat anodize (w/teflon)". Typically hardcoaters think of PTFE impregnation not layers of heat cured teflon. Often times a full 700 °F sinter on aluminum will cause temper problems. It depends on what Duane wants.

Chris Jurey

, Past-President IHAA

Luke Engineering & Mfg. Co. Inc.

Wadsworth, Ohio




---
---
Hard Anodize 5052 H-32
December 1, 2014
Q. Hello everyone, I am trying to hard anodize 5052-H32 material class 1, so no dye just hard anodize. I am having no success with even uniform plating thickness more specifically on the center of the parts I'm plating. The outside edges are thicker than the center areas. I don't have this issue when I plate 6061-T6 material but only when I run the 5052-H32. I've ran the parts at 25 A/ft2 for approximately 50 mins. Any help would be greatly appreciated it.
Hector Amb
plating shop - ABQ, New Mexico
---
December 2, 2014
A. Hector

First thing that comes to mind is the parts are racked too close together and are shadowing. Spread the parts farther apart or bump up your acid concentration to improve throwing power.
Willie Alexander
- Colorado Springs, Colorado
---
December 3, 2014
A. The 5000's are very conductive, so slow your ramp down to 15 minutes, zero to target amperage, and hold for 15 minutes longer than you have been holding, thus letting the current "wrap" on into the center low current density areas without over coatings the HDC edges.

Robert H Probert
Robert H Probert Technical Services

Garner, North Carolina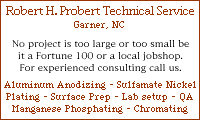 ---
---
Hard anodizing stopped offering enough wear resistance
November 20, 2019
-- this entry appended to this thread by editor in lieu of spawning a duplicative thread
Q. Hi everyone, I'm part of a metal finishing Italian company that do also aluminium anodization. We have a problem with one of our customers. He wants some pulleys hard anodized so that they can resist more than 2 million cycles. We have done this for more than a year without problems, but now the pulleys we treat don't resist anymore.
The pulley is made of Al-Mg alloy. we follow these steps for the treatment:
1) non-etch degreasing 15 minutes
2) alkaline etching 5 minutes
3) hard anodizing at -2 °C 22% H2SO4 (40-45 microns)
4) cold sealing
5) dryer (40 °C)

With the pulley that we send, right now they post treat in an oven for 1 hour at 100 °C and they say that this way the pieces resist a lot better. Is this possible?

We have already done lot of tests without results:
- skip etching
- hard anodize at 0 °C and 5 °C
- change the concentration of H2SO4
- not cold seal the pieces
- cold seal + hot aging
- reduce the thickness
- second step of anodization in conventional anodization bath (18 °C, 20% H2SO4)

We are really out of options right now.

Thanks to everyone who can help!!
Alex Rossi
Anodization, nickel electroless - milano, italy
---
January 23, 2020

A. Obviously something has changed. Is it the dissolved aluminum? Is it the difficult to control "cold" sealing? Be aware that the colder the solution, the smaller pore (harder). Be aware that the thermal coefficient of expansion of the oxide is 1/5th that of the under lying aluminum and cracking starts above 80 °C (you are heating to 100 °C). Come back with more data.

Robert H Probert




Robert H Probert Technical Services





Garner, North Carolina






---

January 23, 2020

A. Can you post pictures that show the defects in detail? No need to show the whole part, just what the "wear" looks like and something like a ruler scale, to get some idea of the dimensions?

p.s.: Most of the things you tried to fix the problem have a better chance of reducing the abrasive resistance of the anodizing layer

Janis Ziemelis




- Riga, Latvia




---
January 29, 2020
A. Alex: you have not mention your currently at all. please try the following conditions:
concentration of sulphuric acid 160-170 g/l; bath temperature -3 °C; current density 32 ASF by ramping.

John hu
-Singapore
---
February 5, 2020
adv.
For a small consulting fee we provide recommendations on how to organize conventional hard anodizing process in tanks with less sulfuric acid and higher temperature.

Plus we have developed special hard aluminum anodizing that is resembles ceramic hardness. Please see the image attached.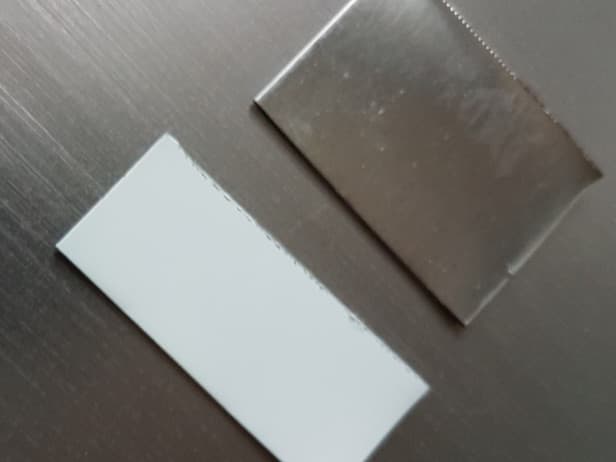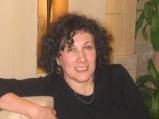 Anna Berkovich
Russamer Lab

Pittsburgh, Pennsylvania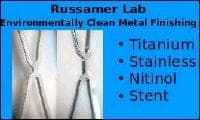 ---
February 14, 2020
A. In addition to the anodizing process, be sure to check the aluminum material.

You write Al-Mg alloy, there are different variants.
Maybe the material was changed.
The same alloy is available in different versions.
e.g. 5083, good and bad variant (rolled plate, cast plate)
Compare certificates 3.1 from earlier and today.
I had solved a similar problem before.
The material must definitely be excluded.
J. Beerli
- Hallau, Switzerland