Where the world gathers for
plating, anodizing, & finishing Q&As since 1989
-----
Cleaning electroless nickel tank
2006
Dear experts:
I run an electroless nickel plating shop, and once in a while our stainless tank gets plated. After stripping the EN tank with 50% nitric acid, we were told to fill the tank with 10-20% ammonia [adv: item on eBay & Amazon] solution. We do not have nitric strip paper, and was told the ammonia is good enough. My question is why use ammonia, does the ammonia eliminate the nitric and how does the ammonia neutralizes the nitric? A chemists told me the nitric does not eliminates the nitric. I'm confused. Also can I use NaOH instead of ammonia?
Thank you,
June Kim
- Incheon, South Korea
---
It is a misnomer, ammonia in water is really ammonium hydroxide, a base which will neutralize the nitric. If the tank is drained well and rinsed with a little DI water, a 5 % ammonia solution would be adequate. Sodium hydroxide is a harsh chemical for EN and is considerably more difficult to rinse out, even in dilute form. So use the ammonia.

James Watts




Navarre, Florida






---

Perhaps the only reason to use ammonia is to avoid undesirable contaminants when you fill your tank again. NaOH is not desirable in your new solution. On the other hand, ammonia will release obnoxious odor. Both are alkaline and will neutralize the acid remains. Instead, after your strip with nitric, rinse very well and wipe the tank walls with clean rags. That'll be all you need.

Guillermo Marrufo




Monterrey, NL, Mexico






---

Dear Reader,

ammonia Is good for electroless nickel tank.because it is alkaline. It will neutralize nitric acid.after cleaning the tank some much of ammonia will be there.if you transfer the EN Solution back.nothing will happen. Instead of if you use caustic it will be harmful to EN SOLUTION. Not only EN solution but also all nickel solution.

P.KARTHIKEYAN




- Bangalore, Karnataka, India





---
2006
After passivating the tank with diluted nitric acid, you only need to fill the tank with water and add enough ammonia to raise the pH to above seven. The ammonia does not remove nitric; it only neutralizes its acidity. Afterwards, rinse the tank carefully with plain water.

You may also use NaOH or potassium carbonate if you wish to neutralize the nitrates.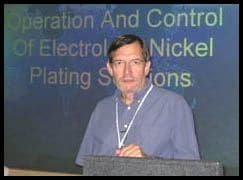 Ron Duncan
[deceased]
- LaVergne, Tennessee
It is our sad duty to note Ron's passing on Dec. 15, 2006. A brief obituary opens Episode 13 of our Podcast.
---
2006
Dear Mr. Duncan
You stated ammonia does not remove the nitric but neutralizes its acidity. So, what is the purpose of the ammonia, if the ammonia does not remove the nitric?

Thank you.
Best Regards,
June Kim
[returning]
- Incheon, South Korea
---
2006
June, you missed Ron's and my point. The nitrate ion is still around until you flush it out. Final rinse should be with DI water if you want your chemicals to last longer.
James Watts
Navarre, Florida
---
2006

Thank you James and thank you Ron for you expert advise.
June Kim
[returning]
- Incheon, South Korea