Where the world gathers for
plating, anodizing, & finishing Q&As since 1989
-----
Heat and acid resistant material having mechanical strength of mild steel
2006
Can a product of ss 304/ss 316 grade steel is suitable in a heat and acid environment where temperature of gases is nearly 1000 °C. The product is to be used in a Sub merged arc furnace. please give your suggestions.
Vinod Kumar
---
2006
You need a material similar to the ones used for gas turbines. These are high nickel and/or cobalt alloys. Some brand names popular in America are stellites, hastelloys, incolloys or Inconels. Depending on severity of use and type of gases a coating might also be required. Plain stainless steel is unsuitable.
Guillermo Marrufo
---
2006
You need to distinguish between "stainless" steels which have resistance to corrosion but do not have scaling resistance at your service temperatures, and "heat resistant" steels which are primarily formulated for scaling resistance and strength at your service temperatures and a side effect of that formulation is considerable corrosion resistance. Generally, the "stainless" steels can be manufactured as either wrought product or castings. The more useful "heat resistant" steels are generally difficult or impossible to roll and are thus cast to shape.

In addition to Guillermo's suggestions, which I endorse fully, then you might also consider the high alloy heat resistant steels types HC through to HX (there are 14 grades in the range). There are many foundries who routinely produce these grades, and remember that many components can be made cheaper and better as castings than as weldments of pieces of wrought base material.

There are well documented data on service temperature ranges up to 1100C, stress-rupture characteristics for various temperatures, physical and mechanical properties, corrosion resistance, thermal conductivities, coefficients of expansion, machining advice, typical applications, etc.

Supplement 9 to the Steel Castings Handbook published by the Steel Founders' Society of America contains plenty of information on these materials.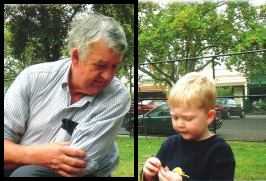 Bill Reynolds
[deceased]
consultant metallurgist - Ballarat, Victoria, Australia
We sadly relate the news that Bill passed away on Jan. 29, 2010.