Where the world gathers for
plating, anodizing, & finishing Q&As since 1989
-----
Discoloration of silver plated flatware following use of dishwasher detergent.
2006
I received a set of silver plated flatware. In following the care instructions I washed the flatware by hand using Dish soap. I did not realize that dishwasher dish soap was different than other dish soap. As soon as the soap touched the silver plating it caused discolored spots. Is there a way to remove these spots? Thanks.
Sarah Mings
---
2006
Hi Sarah,

Um. There seems to be various 'grades' of silver plating. I religiously put our silver plated (newish) knives and forks into the dish washer when we use them and ne'er a problem ... but some, not all, other silver plated articles just exposed to the indoor elements discolour very quickly and turn blackish.

Suggestion ... try some silver polish. But 'dish soap'? Do you mean ordinary soap? I wouldn't have thought that that would cause spots.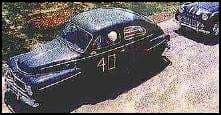 Freeman Newton
[deceased]
(It is our sad duty to advise that Freeman passed away
April 21, 2012. R.I.P. old friend).
---
2006
We hand wash the true silverware as we do not use it often. Try polishing a few pieces and then use a different brand of detergent in the dishwasher. Run a no soap cycle first to clear the old residue out.
James Watts
Navarre, Florida
---
April 21, 2009
If you have silver in touching, however little, regular flatware your silver will discolour - It has something to do with physics and chemistry, I'm not sure what specifically - If however, you well separate your silverware and flatware I'm not aware that it does discolour. If this isn't the case then I'm interested in what the answer is too :)
Elli McGavney
---
August 21, 2011
We had this problem, also a bloom on crockery. It steadily got worse over a period.

We blamed the tablets, then the rinse aid, then the water softener.

Eventually we found someone else with the same problem.

We bought a new dish washer, the problem has now disappeared. All the cutlery has gone back to its original shiny state. The glasses look great and there is not a mark on the crockery.

Our old dish washer was about 8 years old.
geoff bennett