Where the world gathers for
plating, anodizing, & finishing Q&As since 1989
-----
Uneven deposit in the bore
2006
We are doing Hard chromium plating for the Rifle barrel, having the Dia 5.60 mm (Before plating) 5.51 mm (After plating) 25 - 50 microns (avg).

Bath composition

Chromic acid (Hexavalent) 225 - 240 grams/ litre

Sulphate 2.25 -2.4 grams / litre

Trivalent 6.0 grams / litre (max)

Iron content 6.0 grams /litre (max)

Anode 2mm MS wire

Temperature 57 - 58 °C

Current density 25 - 30 Ampere / Desi metre square

We are doing plating for the barrel having length of 464mm, on daily 150 nos. While proof firing 10 nos(avg) getting peeled off.We are getting the micro hardness of 900 - 1050 VPN & adhesion also Okay, but we facing the problem over a year. While viewing with microscope the plated area is observed that uneven deposition and also cracks are there. What we can do, here by I am requesting your suggestions to eliminate our problem.

Thanks with regards.
C.MOHAN KUMAR
---
2006
Your problem may be the anode. 2mm MS has poor conductivity and there is likely to be a voltage drop along the length of the bore. (The anode reaction is also a possible problem as you indicate a build up of iron)
The way I solved the same problem is to use a copper wire to carry the current and plate it with about 10 microns of lead to prevent corrosion and to give the usual anodic reactions. You also need a spring tensioner to keep the anode straight and centered (when it heats up)and some way of pumping the solution through the bore so that the solution chemistry in the bore is the same as in the main solution.
Good luck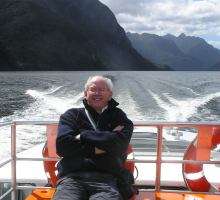 Geoff Smith
Hampshire, England
---
2006
Also worth investigating is the alternative electroless nickel. Some firearm producers in America are switching to it for improved corrosion resistance and thickness uniformity w/o current distribution associated problems.
Guillermo Marrufo