60,000 Q&A topics -- Education, Aloha, & Fun
topic 40100
Sealing Process for Hard Anodize MIL-A-8625
A discussion started in 2006 and continuing through 2020
Adding your Q. / A. or Comment will restore it to the Current Topics page
2006
Q. Mil-A-8625 [link is to free spec spec at Defense Logistics Agency, dla.mil]Type III, Class 2

After Humidity test (Five 48-hour cycles), the black dye appeared to be leaching out from the black hard anodize (Type III). The parts were sealed in a dichromate medium instead of boiling deionized water. Other parts that were sealed in boiling deionized water do not exhibit this leaching appearance.

What surface transformation happens during the dichromate and boiling deionized water sealing process?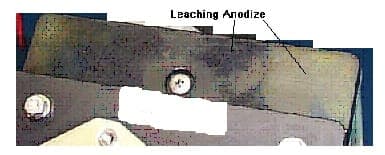 Thanks,
Rob Sprong
Electronics Manufacture - Mason, Ohio, U.S.A.
---
July 9, 2020

-- this entry appended to this thread by editor in lieu of spawning a duplicative thread

Q. We have an aluminum extrusion that we get from a supplier with a specified dichromate seal for corrosion protection. For ten years these cases have had a light green to dark green tint. They have started coming in with no tint at all. The explanation from the supplier is that their finished says they dichromate with no coloration because that is what their customers prefer. I cannot find any supporting evidence that it's possible to seal these parts without any tint of color at all. They get flagged when they come in the door because they do not appear to have gone through the dichromate process.

Can anyone shed some light on possible color variations and if it's possible to apply a dichromate seal with no tint at all?

Jeremy Borin




- Brunswick, MAINE USA





---

July 2020

A.

Hi Jeremy. Chromate conversion coating of aluminum for corrosion resistance is a very common process. It also goes by names like chromating, dichromating, chem-filming, Alodining, and Iriditing (the last two are trade names).

In the old days they were based on hexavalent chromium and, for the most part, the darker they were the more hexavalent chromium and the more corrosion resistant. But the world has mostly moved on to new technology trivalent chromium coatings which are thin and essentially colorless. It is true that one of the downsides is that they are very difficult to see. Please see

Mil-DTL-5541

[link is to free spec at Defense Logistics Agency, dla.mil]

or search the site for "TCP" for more info or a better understanding.

Luck & Regards,

Ted Mooney, P.E. RET

finishing.com - Pine Beach, New Jersey

Aloha -- an idea worth spreading
---
July 9, 2020
Q. So a little more background and I appreciate you taking the time to answer. The cert provided shows:

"HARDCOAT ANODIZE PER MIL-A-8625F, TYPE III, CLASS 1 WITH DICHROMATE SEAL"

The trouble that I am having is how to validate that the dichromate seal was applied if there is no visual evidence as there has been for the last ten years. Complicating matters is that there is a history of batches being shipped that were not coated in the past. It casts doubt now that batches are showing up with no visual indication.

If in fact colorless is attainable via this standard, that's fine. The difficulty comes in that this condition is an indicator of a past process failure, and taking the vendors work for it on it's face with no backup is difficult. Attempting to do some due diligence to understand if colorless is possible given this spec.


Jeremy Boron
[returning]
- Brunswick, MAINE USA
---
July 16, 2020
Q. Here is the general explanation I was given as to why we see no discoloration. Essentially what I am trying to determine is if there is any validity to "no discoloration". Without that visual indicator, I don't know how to confirm that the seal has been applied.

"the plater demonstrated to us that there's a great deal of color variation resulting from the seal application, ranging from no detectable discoloration at all to a very deep green. They're set up to process parts with little or no discoloration because that's the typical preference of their customers."
Jeremy Boron
[returning]
- Brunswick, Maine