Where the world gathers for
plating, anodizing, & finishing Q&As since 1989
-----
Replate Nickel over Nickel
2006
Is there any good activator that can be used as well does anyone have a proven process the works for running Nickel over Nickel? Any help would be great.
William Sklavenitis
- Canton, Ohio
---
First of two simultaneous responses -- 2006

Hello reader,
replating Ni over Ni is a simple process.
step:1
clean the substrate with soak cleaner.
step:2
activate the substrate by using 50% or concentrate HCL.
step:3
plate the substrate at very low current for 5 mins.(i.e.5 Amps/100 dms then apply correct current do plating well.
I Find this process by experience.
GOOD LUCK.
P.KARTHIKEYAN
- Bangalore, Karnataka, India
---
Second of two simultaneous responses -- 2006

I will assume it is old, tarnished, and heated nickel plate. Now clean off the organic soil. Dip in the strongest HCl acid you can stand. Strike for 3 minutes in 2 pounds per gallon nickel chloride, one quart per gallon HCl, using Rolled depolarized Nickel anodes (not S-rounds), take out the anodes when not in use.

Robert H Probert
Robert H Probert Technical Services

Garner, North Carolina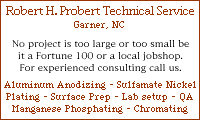 April 14, 2021
A. I have found Cyanide reactivation particularly effective at plating stripped chromium on nickel surfaces, using a 60-80 g/l Sodium Cyanide and 60-80 g/l Sodium Hydroxide mix.
A cleaner wetter (or cleaner containing the above) will allow a small foam from gassing to collect at the surface.
Current Density around 20-40 Amps/ft2 or 2-4 A/dm2 for 3-4 minutes.
Parts must be cathodic and steel anodes anodic.
Follow this with rinsing and a 10% Sulphuric Acid Dip before re-plating in nickel.
Steve Grimsley
- Birmingham, UK