topic 40018
Restoring color to black kitchen sink
(2006)
Q. When our house was constructed two years ago, my wife chose a black kitchen sink. The granite counter top was placed on top of the sink as opposed to the sink setting on top of the granite. The black surface of the sink did not wear well and is now full of small blemishes and rub marks. in order to replace the sink, I would have to have to have the granite counter top removed potentially damaging the counter top or back splash.
The question, simply stated, "is there any way to restore the sink without removing it from the island where it is installed?"
Jerry Skaw
retired - North Augusta, South Carolina
---
(2006)
A. Isn't the sink actually supported from the bottom or the back, so it could be removed? The downside of it is they use a superior glue and you have a high risk of damage to the sink and possibly the countertop near the sink. Check with a couple of the main vendors of granite and see if they have a black wax that could be used. They may have something that they might call a black sealer as granite is rather porous. Many of the countertops are sealed with a clear product to reduce stains.
James Watts
- Navarre, Florida
---
(2006)
A. Assuming that the sink is enameled steel not a plastic or mineral material, there are companies that specialize in refinishing these in place (as well as bathtubs). Look in the local yellow pages.
Gene Packman
- Great Neck, New York
---
(2006)
? What is the nature of the sink's composition? Stainless steel, copper or porcelain?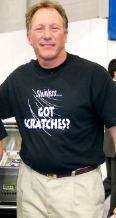 Barry Feinman
Restore It Yourself, Inc
Carlsbad, California


This public forum has 60,000 threads. If you have a question in mind which seems off topic to this thread, you might prefer to Search the Site