Where the world gathers for
plating, anodizing, & finishing Q&As since 1989
-----
Clogging of gauges in EPP system
1999
We have a catophoretic paint line. We use a lead-free paint. In our circulation system, we need to keep track of pressure. We use pressure gauges and pressurestats mounted on stainless steel diaphragms. The diaphragms are connected to the system at various places; directly on the piping and on our bag filter housings. The problem is that the connections clog with the paint that enters the diaphragm housing and solidifies. Every few weeks, it is necessary to disassemble the housings from their connections to mechanically scrape them clean.
Can anyone suggest a solution for this problem? Is there some way to measure the pressure without exposing dead-end cavities directly to the paint? I can imagine some sort of flexible tubing, installed in the piping, through which the paint flows. The paint's pressure on the walls of the tube would then be transferred to the gauge or controller. Is there such a system/device commercially available? Or, how about something else?
Thanks for your time and attention.
Lee Schechter
furniture - Israel
---
2000
Hi Lee !
Sure sounds that you have a problem ... I read your queries three times and it sure seems you have no easy solution.
You are at least using diaphragm protectors for your gauges. Good. Plast-0-matics in New Jersey have a super range of these BUT the problem may have to be addressed by some rethinking, methinks!
How about inserting a 'wash-down' or spray nozzle between the line and the gauges' diaphragms. Then use the appropriate solvent. Perhaps use a timer so set that at the end of a shift/operation, you can wash down with solvent? This would definitely reduce your cleaning downtime intervals.
I trust that your gauges are not mounted 'upside down' but there's a Tee section onto which the gauge guards go. You could extend that Tee section nipple to allow a nozzle to fit into place.
Sorry, no more ideas.!
Cheers !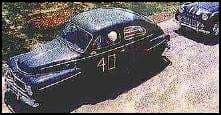 Freeman Newton
[dec]
(It is our sad duty to advise that Freeman passed away
April 21, 2012. R.I.P. old friend).