Where the world gathers for
plating, anodizing, & finishing Q&As since 1989
-----
Monitoring (phosphatizing) Pretreatment Variables
1999
We have recently installed a 3-stage wash system for pretreating mild steel prior to powder coating. Since we are new we are struggling with maintaining all the right parameters. In fact, we are not sure of all the possible (critical) variables we should be measuring (pH, temperature, exposure time, etc.) We are looking for a list of critical items we should be monitoring, and the acceptable ranges we should be targeting. Also, any books or seminars on pretreating would be helpful.
Thanks,
Keith Hagelin
- Rockland, Maine
---
1999
Keith - The parameters that you are asking for should have been provided to you by your chemical vendor. Shame on him (or her). In a 3 stage washer/pretreat system, keeping an eye on the chemical concentration, pH, and temperature are all essential. Each of these parameters can vary from product to product, so I regret that I can't give any exact numbers. Have your chem vendor start earning their keep (and your business!) and have them put together a process parameters chart and log that can be updated at a minimum of once per day. Good luck.
Dan Brewer
chemical process supplier - Gurnee, Illinois
---
1999
You might also consider requesting a copy of your vendors quality assurance procedures for the products that you buy. This will give you a copy of test methods as well as assure you that the vendor has control over the compounding of his products. Don't settle for just alkalinity and specific gravity.
James Chunn
- Theodore, Alabama
---
1999
Dear Keith,
Both Mr. Dan and Mr. James are absolutely correct in advising you to follow the advice of your Vendors Technical leaflet for the kind of information you are seeking.
Being a user and a salesman, I know what its like being on both sides of the trade. On one hand its nice to have a salesman become your slave because you choose to buy a few liters of his material, but this poor slave will actually stand in the way of expanding your knowledge of the subject if he is going to be the only provider of what and how much he chooses to let you know.
I'm sorry to sound judgmental or philosophical about this but guess what ? I strictly tell all my colleagues to sell material only to guys who know how to use the materials we sell as there is a limit to how much of Technical assistance one can rationally provide ! In Hindi, an expert is called " Guru ". Deepak Chopra spells guru this way - "Gee, you are you". There's no help like self help (and Finishing.com too)!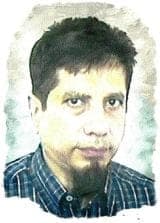 Khozem Vahaanwala
Saify Ind

Bengaluru, Karnataka, India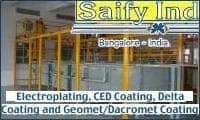 ---
1999
Keith,
Everyone here has given you good advice, I myself try to find a middle ground... When I set up our 5 stage wash line I began with the recommendation of my vendor. Temperature, concentration, pH, spray pressure (We have a conveyor spray system, so the time was set before installation by test work done at the vendors labs, which I witnessed and was involved in.)
I established that we were getting good product, water break, paint adhesion, salt fog. Then I began lowering the temperature, concentration and spray pressure (pH remained constant)to the point that it failed. I set our ranges based on the most cost effective combinations that yielded acceptable product.
Exact operating parameters vary depending on the part load, soil load, soil type, available processing water, metal mix, etc. (We run both aluminum and steel through our system.) The vendor should give you direction, then you should optimize the system to specific situation.
Kelly Draper
- West Plains, Missouri