Where the world gathers for
plating, anodizing, & finishing Q&As since 1989
-----
Pitting and rough plate of nickel sulfamate
1999
We run a nickel sulfamate plating bath (120 gal.) for salvage and repair only. At first, we started seeing pitting only on the roll area, but now the pits are becoming common place on the actual surface to be plated. The roll that develops on the perimeter of the surface use to be a nice smooth roll, but now looks a little unfamiliar and the deposit has taken on a rougher finish.
A little info:

Bath operated at 110 F
continuous filtration and agitation
Using no brighteners or hardeners
Metal prepared with vapor hone, electrocleaner, then rinse
Wetters are maintained and within range
At this point I'm on unfamiliar ground. I'll explain. For years we always used a Barrett sulfamate strike with no post rinse. When the strike needed to be replaced, we decided to go with a Woods nickel strike (67 gal.) so we could offer our customers the ability to plate on stainless steels. The woods strike is maintained at 98 F and there is a rinse (50 gal.) before the sulfamate bath. Rinse water is reintroduced back into the woods bath as make up. In addition, I have noticed the pH (range 3.6-4.4 currently 3.5) in the sulfamate bath wanting to drop. I've never had this happen, it usually rises and then is adjusted with sulfamic acid. Any suggestions? Thank you.
Jim McBride
- Northeastern U.S.
---
1999
Hi Jim.
First, watch pH in the rinse before nickel bath. Second, with a high pH range the wetting agent is breaking down, we analyze the wetting agent every third day. Third, have you analyzed the iron contamination in the bath? Fourth, maybe you have some silicone in the bath, the filter cannot remove silicon, and that can cause pitting on the area on the part.
Regards,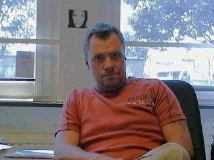 Anders Sundman
4th Generation Surface Engineering
Consultant - Arvika,
Sweden
---
1999
A woods nickel strike has a pH of below zero to about 0.5 depending on the makeup of your particular strike. This is about 100 times more acid than a sulfamate strike, therefore you are carrying a lot of acid into your plating tank. If you are checking your chloride level of the sulfamate tank, you very probably will find it significantly out of limits.
One rinse tank is not enough after a woods strike. I prefer a woods strike to a sulfamate strike for about 98% of work.
A woods strike will last a very very long time if you will carbon filter it once a month with a 10" carbon filter. Since you are plowing back your rinse water into it, you will probably need to carbon treat a little more often.
If you added a cascade counterflowed 2nd rinse, you could drop the temp of the woods strike to ambient, where it belongs, use one tenth of the water for the same rinse quality, save the heating cost, have better rinsing and save your main nickel tank. Mist rinsing by hand over the second rinse tank gives a third rinse and provides about the right amount of makeup rinse water.
James Watts
- Navarre, Florida
---
1999
As far as the pH drop, have you checked your anode to cathode ratio? I.D. plating can cause the pH to drop in a sulfamate nickel tank. Could the roughness be related to this?
Phil Pace
- Tulsa, Oklahoma
---
1999
In order to assure your pH control in a better range, please control before your concentration of Boric Acid in the bath and adjust it at 40 to 45 grs/liter and then adjust your ph near 3.8 with sulfamic acid. And for roughness, be sure that your anodes be properly covered with a polypropylene bags without holes. If pitting continue then filter bath with carbon to assure that it hasn't organic contamination and be sure of dipping parts without current for at least of 3 to 6 seconds, then switch on rectifier.
Jesus Fernandez
- Gijon-Spain
---
2000
HELLO I'M A TEACHER at the university,and I work in my search at the pitting corrosion of all metal (nickel,first) can you send me any papers (article) glad to talk to you. Thank you very
DJELTI REDOUANE
UNIVERSITY TEACHER - ALGERIE
---
2000
salut
Par le biais de ce site ,je vous prie de passer ma demande qui est en l'occurence "demande d'une bourse postdoc" specialite, chimie(corrosion)ou sciences des materiaux (fatigue,endommagement,transformation de phase..) et metallurgie. dans l'attente d'une suite favorable veuillez accepter l'expression de mes salutations les plus respectueuses.
djelti redouane
universitie - mostaganem (algerie)