Not a lecture hall but a roundtable with a seat for you!
60,000 topics spanning 36 years. Education, Aloha, & Fun
topic 4019
Zinc plated terminals compatible with brass?
A discussion started in 1999 but continuing through 2020
1999
Q. I am looking into the possibility of replacing the conventional current terminals made out of brass by Zinc electroplated or hot dip galvanized CRCA steel sheet terminals. The major concerns are -
1) the atmospheric corrosion - I am looking for a service life of 15 years without corrosion. I understand from professionals in the field that the zinc plating thickness over steel may not exceed 15-20 microns. more than that would peel off quite easily. Considering a industrial environment this thickness may not last more than 5 years.
2) The Other option can be hot dip galvanising - Has anybody got any idea how much can be plated by this method, how much would be the surface hardness as the terminals do have the screws and there can be some wear and tear due to screws moving in the threads.
3) The galvanic corrosion- these terminals may be used to tighten copper or aluminium cables with high current flowing. Will zinc plated surface be compatible with these materials.
Anyone who would like to share his view or give any comments on this ? Thanks in advance. Suneel
Suneel Arya
- India
---
1999
Q. I am sorry , I forgot to mention in my 1st mail that the electrical terminal in this case is not used for carrying the electrical current. There is a 2 mm thick copper plate on which the conductor mostly copper is kept. The copper plate and the conductor are tightened together in the terminal. The copper plate extends into the next electrical circuit and connects it to the conductor.
The terminal is made by folding the sheet strip and this also ensures that the screws do not tighten the conductor directly. Instead a floating steel plate( plated steel) pressurize the conductor evenly.
The another problem which I have realized now is that the amount of plating thickness that would be able to reach between the folds.
The idea of this replacement is not only to reduce the cost but also to improve upon the clamping force which is less in case of a brass terminal. (to minimize the chances of a loose connection).
Suneel Arya
[returning]
- India
---
---
To minimize search efforts and to offer multiple viewpoints, we combined previously separate threads onto this page. Please forgive any resultant repetition, failures of chronological order, or what may look like readers disrespecting previous responses -- those other responses may not have been on the page at the time :-)
---
---
May 4, 2012
Q. Dear All,

We are facing a problem of Steel Screw failing in salt spray test in 72 hrs. The screw is 10 micron zinc plated with yellow passivation.
The screw is assembled with brass nut and Salt spray test is being done in assembled condition. We question whether the brass (nut) is giving any effect during testing and cause for the failure? Kindly provide your suggestion. Thank you.

Regards
Rajakumar
Rajakumar Subbian
- Chennai, Tamilnadu, India
---
May 10, 2012
Q. Dear Mr. Ted Mooney,

Thank your very much for the reply.

If steel screws are tested alone, then it is passing in Salt spray test for 72 hrs.
But as per our organization standard, this is to be tested in assembled condition only and it is failing in this condition.

Please provide your suggestion.

Thanks,
Regards,
Rajakumar Subbian
- Chennai, Tamilnadu, India
---
May 22, 2012
Q. Dear Mr. Ted Mooney,

Thank your very much for the reply.

Please note that Only Steel screws are failing in Salt spray test and not the brass nut. Do you recommend to do zinc plating and chromate conversion coating for the Brass nut?

Please clarify.

Regards,
Rajakumar Subbian
- Chennai, Tamilnadu, India
---
---
Brass/Galvanizing Corrosion?
March 23, 2020
-- this entry appended to this thread by editor in lieu of spawning a duplicative thread
Q. Strange that every time I am looking for help with materials & coatings that I usually find the answer on this site!
Unfortunately I can't find the answer to my question so here goes --

I am designing a temperature sensor that will measure the temperature of a steel rail (outside in all weathers). My sensor will be potted/encapsulated with a brass plate exposed. A galvanized spring steel clip will be screwed to the brass plate and this spring clip will secure the lot to the steel rail.
So heat is transferred from the steel rail to the clip then on to the brass where temperature is measured inside the potted sensor module.

I am concerned about corrosion between the brass and the galvanized clip. Is there anything I can do to minimise the problem? Would galvanizing the brass plate be an option?

Regards
Ewan
Ewan McLean
- Edinburgh, Scotland
---
March 24, 2020
Q. Thanks for the replies.
Infra red sensor was considered but this sensor is fitted to a rail and left outside for years. Battery draw would be a problem. Also cost!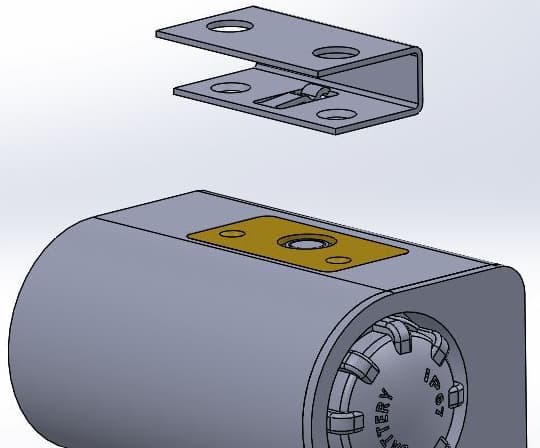 After a bit of research yesterday evening, I am thinking that one thing that could help the corrosion problem is if I used a thermal paste between the brass and the galvanized clip. This would also help with heat transfer. Might be worth some experiments.
Ewan McLean
[returning]
Findlay Irvine - Edinburgh, UK