World's #1 on-line resource since 1989
-----
Procedure for hard chrome plating onto electroless nickel coating
adv.

Current question and answers:
October 15, 2020
Q. Aluminum material per customer requirement has hard chrome plating (only a few µm) after mid-P EN (about 8 µm). However peel off or blistering is found after 2-3 month.
Initially I thought that is somehow related to pre-treatment, so further standardized it, but problem unchanged.
Then I am looking into the EN might be getting a bit passive before entering the Chrome bath, so I cut down the rinse to 2X with 1 min each and quickly go into chrome bath, but problem still exists.
Now I suspect it might due to the EN is Ni-P alloy, which conductivity is not as good as pure Nickel. Maybe the acceptance for chrome process is not that good. So I will try Ni strike in between.
Any other ideas, your inputs are much appreciated.
Raymond Wang
- Singapore

---
November 16, 2020
Q. This is the follow up of said issue.

Done Ni strike right after EN, by using NiCl2 and HCl, run at 3ASD for 5 min, then quick rinses and put into Chrome bath, serious blistering at edges (same Chrome parameters as previous thread, but blistering condition is more serious than w/o strike). So Ni strike failed.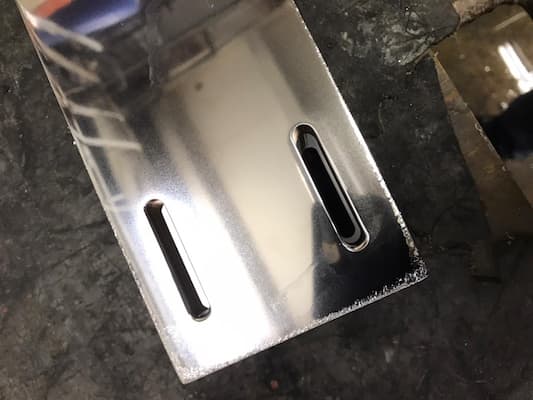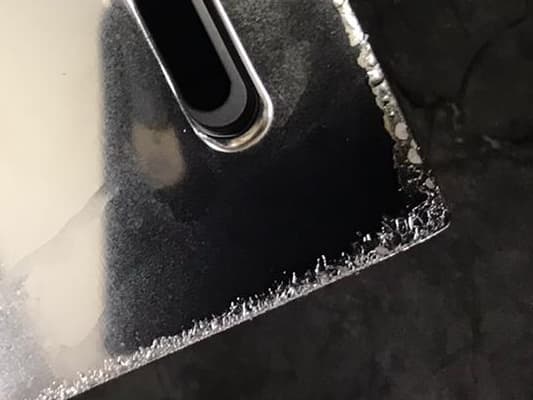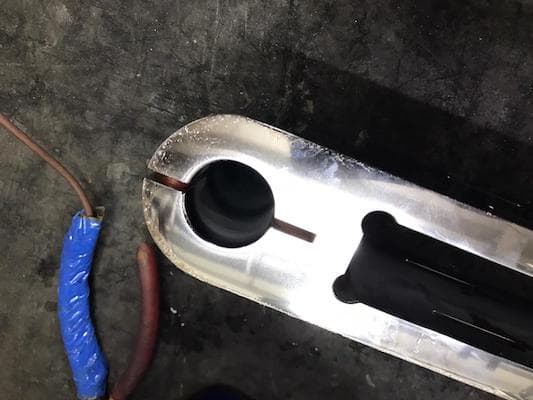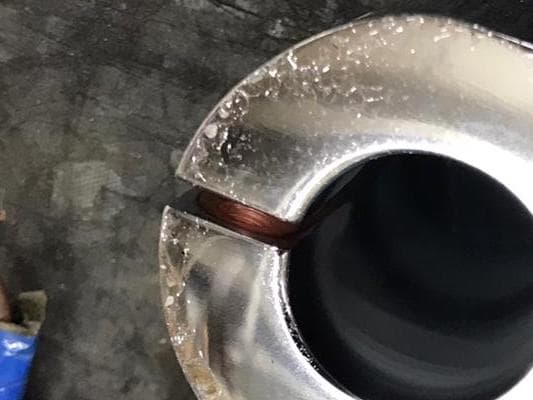 Guys, any inputs?
Raymond Wang
[returning]
- Singapore
---
November 18, 2020
A. Only a guess, but it looks like the adhesion problem is deeper than just the chrome.

Suggest you rinse and dry a few parts after EN and do a rigorous adhesion test.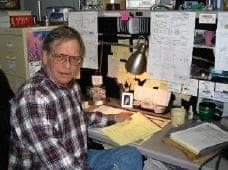 Jeffrey Holmes, CEF
Spartanburg, South Carolina
---
November 19, 2020
Q. Hi, Jeffrey,

Thanks for the comments.

Meanwhile, we have done some further studies on this issue, below are some findings.
(1) We took out the peel off layer and found it happened in between EN and Alu base material.
(2) wWe suspect maybe something related to the degreasing or the double zincate process, had done the new make up for the whole line; problem still exist (for this part).
(3) We uses flat Alu panel, repeated the exact same process, no problem.
(4) We tested Fe material, EN then Chrome, no problem.

So it seems the shape of this part, caused very high current density at edges during Chrome plating, and seems the high penetrating power of chromic "drag" out the EN layer from Alu material. This is my guess.

Next I will try to do Acid copper process after EN, hopefully the much better conductivity of Copper could help.

Will update afterwards.

Regards
Raymond
Raymond Wang
[returning]
- Singapore
---
November 19, 2020
A. There's something wrong with your EN process, probably in the pretreatment.

Are you doing a light etching clean? If not, try that.

Are you desmutting thoroughly after cleaning the aluminum? You don't state which aluminum alloy, but a fluoride containing desmut is a good idea for all aluminum.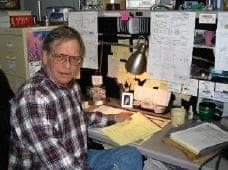 Jeffrey Holmes, CEF
Spartanburg, South Carolina
---
November 20, 2020
Q. Hi, Jeffrey,

Well noted your points.

Below are some info related to your comments.

(1) material of said parts is 6061.
(2) the flat panel used to simulate entire process is the same batch of material as said parts. However there is no blistering found for flat panel.
(3) yes, there is micro-etch and desmutting before the double zincate. 5% of caustic 1 min for etching. For desmutting, 25% of HNO3 + 50% H3PO4 and additives from our supplier; consulted them: there is F in additives.

Regards
Raymond
Raymond Wang
[returning]
- Singapore
---
November 20, 2020
A. Phosphoric acid in aluminium desmut is unfamiliar to me.

Please try 25% nitric plus 5% HF.

If you are afraid of HF (it is quite dangerous) use nitric plus NaF.

Adherent plating on aluminum is being done every day. Don't give up.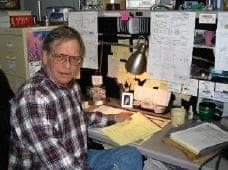 Jeffrey Holmes, CEF
Spartanburg, South Carolina
---
November 25, 2020

Hi, Jeffrey,

thanks for the comments.

As mentioned before, our etching additive already consist of F according to the supplier. And since the same material in flat panel shape won't have adhesion issue with the exactly the same process and chemicals, so I personally suspect the current distribution in Chrome plating process made the difference.

Just finished another trial, added in Acid copper in between EN and Chrome, tested 2 pcs and there is no blistering found right after plating, will store for a period of time and check again.

Rgds
Raymond
---
March 6, 2021
A. EN is not a good substrate for chromium plating.
Try a conducting layer like electrolytic copper or nickel.
By the way, why do you need the EN layer?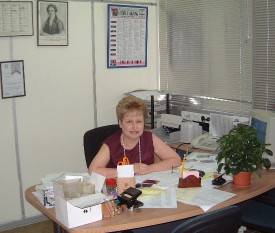 Sara Michaeli

chemical process supplier
Tel-Aviv, Israel
---
---
---
Previous closely related Q&A's starting in:
2006
Q. Dear all,

I want to deposit a hard chrome layer over an electroless nickel coating. Could anyone give me the proper activating procedure? Is there a difference if both coatings will be deposited as a plating sequence (from the nickel bath directly to hard chrome bath) or when the EN has already been plated (the previous day, week, month - whatever)?

Thank you in advance
Christos Sigalas
- Athens, Greece
---
2006
A. There are as many opinions as there are people that do it and those that have tried and failed using the "same methods and chemicals"
Normally, if you come out of the EN, rinse and immediately go into the chrome tank, activation is not required. As any nickel dries, it forms a tough oxide that is hard to remove.
Over the years I gravitated to a sulfuric-hydrofluoric acid mixture. Rack or barrel will make quite a bit of difference.
James Watts
- Navarre, Florida
---
2006

A. Electroless nickel in not an advisable undercoat for subsequent chrome (nor for most anything else). It can be activated in a highly acidic nickel bath called Wood's activator. Although there might be issues if the surface geometry is complicated with entrant angles, slots or irregular contours. Since the Woods is an electrolytic treatment it will not cover up these areas adequately.

Guillermo Marrufo




Monterrey, NL, Mexico





---

2006

A. Dear Mr. Watts,

thank you for answering.

First of all I am talking about rack plating only.

Haven't tried yet the direct (EN bath - rinse - Cr bath) method. I will do it in the future but there are some questions even regarding this "simple" process.

1. Hot or cold rinse? (probably hot)
2. Standard water or deionised?
3. What if some nickel areas need masking or geometry of the part requires auxiliary anodes to be placed for chrome to reach hard to access areas? Or, on the contrary, if thieves need to be put, in order to avoid edge roughness?
These actions take time. Will the EN coating dry during this time?

As for the difficult one (old EN), what is the proportion in the acid mixture you mention?
I have been told (and found in bibliography) that a Nickel
Strike is necessary. I have tried alkaline cathodic cleaning, then a mild sulfuric acid dip, and then Woods strike before hard chrome. Sometimes it works, sometimes the chrome appearance is rather odd - rough matte surface like sandblasted in an area and good (like polished) elsewhere, or sometimes it is a total failure (chrome peels off).

Any help would be much appreciated since my nerves are cracking, my boss is complaining and customers are impatient.

Chris Sigalas

[returning]




- Athens, Greece




---
2007

Dear Sir

Please inform me about electroplating iron with chrome; the points I need:

1- procedures
2- quantity for chrome crunet equipment
3- safety issue for this procedure
4- if you have any troubleshooting

Regards,

Hassan quzmar




student - Amman, Jordan





---

June 2013




Hi Hassan. There is a lot to it. Those subjects fill whole shelves in technical libraries, but for a quick introduction please see our "Introduction to Chrome Plating". After that, we have dozens of threads on the subject, but this one is about chrome plating onto electroless nickel rather than steel :-)
Good luck.

Regards,




Ted Mooney

, P.E.




Striving to live Aloha




finishing.com - Pine Beach, New Jersey




adv.