60,000 Q&A topics -- Education, Aloha, & Fun
topic 39665
Is Black Oxide MIL-C-13924 class 4 the same as Black Passivate?
An ongoing discussion from 2006 through 2015 . . .
2006
Q. There is some confusion in my department as to whether or not black oxide and black passivate refer to the same treatment for stainless steel. My position is that black oxide per MIL-DTL-13924 [link is to free spec at Defense Logistics Agency / dla.mil] class 4 applied to stainless steel is the same as black passivate. Am I correct?
James Favreau
- Willmington, Massachusetts
---
2006
A. I don't believe a legal definition exists for 'black passivate' w.r.t. stainless steel.

MIL-C-13924 doesn't mention 'passivate,' nor is MIL-C-13924 cited in passivation specifications QQ-P-35C [link is to free spec at Defense Logistics Agency, dla.mil], ASTM ASTM A380 [link is to the practice at TechStreet] and ASTM A967 [link by ed. to spec at TechStreet] . Passivation pretreatment seems to require black oxide removal.
Ken Vlach
- Goleta, California
Finishing.com honored Ken for his countless carefully
researched responses. He passed away May 14, 2015.
Rest in peace, Ken. Thank you for your hard work
which the finishing world continues to benefit from.
---
2006
A. As one who has been doing black oxide on stainless per MIL-C-13924, Class 4, for many years, we would consider BLACK PASSIVATE and BLACK OXIDE on STAINLESS to be the same thing. Black Passivate seems to be an old term that isn't used much any more - it's probably in the same old terminology as "immunize" for passivate or "lubrite" for manganese phosphate. The guy calling out "black passivate" probably wants his stainless steel activated by immersing in an "oil of vitriol" bath!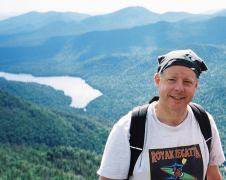 Milt Stevenson, Jr.
Anoplate Corporation

Syracuse, New York
---
January 19, 2012
A. To my knowledge passivation of stainless steel refers to removing free iron from the surface using acid (low pH) to inhibit iron oxide formation, whereas block oxide induces iron oxide formation on the surface by means of a caustic (high pH). It seems to me that black passivate would be the opposite of black oxide, chemically speaking.
Jay Harmon
- Albany, Oregon, USA
---
January 19, 2012

Thanks, Jay. All three responders offered very good answers, but I think I'd go with Milt as being closest. Terms like "passivate" don't always refer to processes for removing ferrous traces from stainless steel, but are thrown around informally as slang or shorthand -- so I don't think we can limit their meaning easily and put a fine point on them.
By way of example, zinc platers often call their chromate conversion post-dip "passivation", whereas powder coaters sometimes call phosphatization pretreatments "passivation"; and sure enough, the phosphatizer (whose whole process may be called 'passivation' by a powder coater) may call his final chemical rinse "passivation". So I accept Milt's premise that "black oxide" may be called "black passivation" by some people sometimes :-)
We thus see that the big advantage to quoting specs like "MIL-C-13924 Class 4" is that it still allows you to use a quick shorthand without it deteriorating to meaninglessness like the phrase "black passivation" apparently has :-)
Regards,
Ted Mooney, P.E.
finishing.com - Pine Beach, New Jersey
Striving to live Aloha
---
---
Passivation Class 4
August 10, 2015
-- this entry appended to this thread by editor in lieu of spawning a duplicative thread
Q. We are making a tube from 1/2" 316 SS. The customer has requested "Cleaning Specification Class 4 Passivation".

We are not familiar with this. What Standard is applicable to this request? Will this be black oxide finish?

The customer is passing through a specification and is unable to clarify.

Thank you.
Dan
Dan Margolien
QC - N Andover, Massachusetts USA
---
August 2015
A. Hi Dan. We appended your inquiry to a thread wherein the possibility is raised that it means "MIL-C-13924 Class 4" ... whereas letter 55810 seems to raise the possibility that your customer's customer might be seeking AMS2700 [link by ed. to spec at TechStreet] Class 4. Dangerous guesses.
Regards,
Ted Mooney, P.E. RET
finishing.com - Pine Beach, New Jersey
Striving to live Aloha
---
August 12, 2015
Dan and Ted,
Just to clarify, "Class 4" in AMS 2700 refers to a specific sampling plan for post-passivation testing, that is, how many parts per lot processed you are required to test. This is different from a "Type 4" which refers to a specific set of concentration/time/temperature parameters for the nitric acid passivation bath.

I am often somewhat dismayed at the number of people that are apparently unwilling or unable to ask the customer what process or what standard they are requesting. In this case it is Dan's immediate customer being not willing to ask the ultimate customer about what standard they are taking "Class 4" from. For all we know, it could be a internally developed standard rather than something from one of the usual standards organizations. It's not the responsibility of a job shop to make guesses about what a customer wants, it is the responsibility of the customer to make clear requests.

Ray Kremer
Stellar Solutions, Inc.

McHenry, Illinois
finishing.com is possible thanks to our supporting advertisers, including this one: