60,000 Q&A topics -- Education, Aloha, & Fun
topic 39591
Polishing aluminum rims for a dull matte finish
A discussion started in 2006 but continuing through 2019
2006
Q. Hi All,

I'm getting a blank set of spun aluminum rims. They look very smooth and shiny now and I prefer the dull matte look. As an amateur and not wanting to spend too much, how can I create that finish. The 2 things I've thought about were scotchbrite or sending to a machine shop for beadblast.

After I finish this do I need to anodize or clearcoat to protect the aluminum?

Thanks,
Curtis Lloyd
Off-Road vehicle hobby - Chandler, Arizona, US
---
2006
A. Curtis, anodizers can easily produce a matte finish by caustic (usual) or fluoride etching. The trick is stopping at the desired degree of etching Ž best to have matte samples for matching. The parts are then desmutted, anodized, dyed if desired and sealed. If you act sufficiently knowledgeable, the etching will be included in the anodizing job cost.

Etching, clear chem film and clearcoating should also work. Or, clearcoat over the anodizing described above for maximum protection. Use a coater experienced with sealed anodize substrates.
Ken Vlach
- Goleta, California
Finishing.com honored Ken for his countless carefully
researched responses. He passed away May 14, 2015.
Rest in peace, Ken. Thank you for your hard work
which the finishing world continues to benefit from.
---
---
Sanding aluminum to matte finish
September 6, 2019
Q. I've had a number of bent aluminum parts fabricated and want to bring them to a relatively uniform (non-directional) matte finish.

The parts are made out of 1/4" aluminum plate. They feature approximately 15" x 15" flat faces with 0.75" radius bends. The pieces are mill finish, but have light some scuffing from the deburring machine.

I've mirror polished aluminum before by sanding 300-1200 using a dual action sander and then compounding with nuvite and a rotary buffer. I've always noticed strong patterning from the sander path before compounding (like the pattern in freshly mown lawn) which I want to avoid on these pieces, but apart from that larger scale patterning I'd be happy with the surface finish at around 600. Are there any tips for avoiding these patterns? Is there a way of handling the sander to avoid this patterning, or would using a random orbital sander help?

Additionally, since the parts feature bends and there are relatively few pieces, I am wondering if I would be better off finishing them by hand, but I am unsure whether it would be possible to achieve a decent non-directional finish this way.

Any tips on technique/process would be greatly appreciated!
Robert Woods
Designer - New York, New York, USA
---
September 7, 2019
A. Hi Robert,
Is sandblasting with aluminum oxide an option for you? This is a very common method of achieving the finish you describe. Like sanding, it's a bit of an art, but the results are very nice.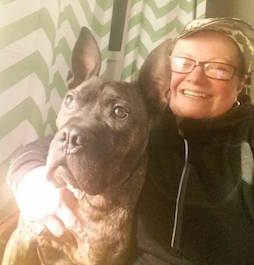 Rachel Mackintosh
Plating Solutions Control Specialist / Industrial Metals Waste Treatment - Brattleboro, Vermont
---
September 8, 2019

Thanks for your response Rachel! Blasting does seem like a good option. I'm also curious whether etching could work.

I am still interested in how to achieve the best possible finish by hand. While I'd like the pieces to have a relatively uniform matte appearance when viewed from a distance, I don't mind some micro patterns (like random orbital swirls) being visible when the surface is viewed up close. However in my tests I've found it to be very temperamental -- for example, even wiping the surface down with a soft cotton rag after wet sanding can leave streak marks that show from a distance. I am relatively new to working with this material so I guess I'm just looking for some general tips regarding technique.

Robert Woods

[returning]




- New York, New York, USA





---

September 9, 2019

Robert

Tumble deburr / mass finishing might give you the finish you are looking for.

Willie Alexander




- Green Mountain Falls, Colorado




---
September 9, 2019
A. Hi Robert,
There is sort of etching I know as 'Satin Mask' (though I'm not sure what others would call it) that involves immersion in a tank of phosphoric acid with ammonium bifluoride and stabilizers. It evens out surface deformities such as milling marks and results in a satiny, near-matte finish that takes anodizing beautifully. Definitely ask your anodizer if they offer this as a surface preparation! It is much less labor intensive than hand-blasting to uniformity.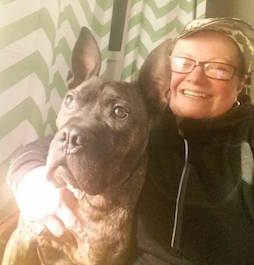 Rachel Mackintosh
Plating Solutions Control Specialist / Industrial Metals Waste Treatment - Brattleboro, Vermont