topic 39457
Galvanic Corrosion - Rheostat - Nichrome Winding - Brass Wiper
(2006)
I am looking at a rheostat which was constructed 40 years ago with a brass wiper that contacted a Nichrome winding. The portion of the wiper that contacted the winding has completely corroded away.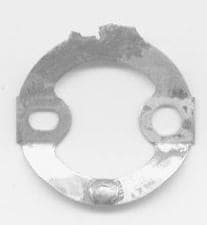 Am I correct in concluding that it was poorly designed? Was the failure due to galvanic corrosion? Will it fail again, in relatively short order, if I make a new wiper from 5 mil brass shim stock?
John W Baum
retired PhD chemist - Palo Alto, California
---
(2006)
No, I don't consider 40 years short order, nor a thermostat that lasts only 40 years poorly designed. Depending on the environment, it might last another 40 years, John, but it would depend on the humidity, etc..
Ted Mooney, P.E. RET
finishing.com
Pine Beach, New Jersey
---
(2006)
Hello Ted,

The object is a rheostat or potentiometer with a 15 ohm Nichrome winding and a brass wiper. I was hoping that someone with expertise in metals and corrosion might comment on my conclusion that this is the same kind of galvanic corrosion that one sees when copper or brass plumbing and galvanized iron plumbing are interconnected without an insulating 'galvanic union.'

The potentiometers are volume controls on a set of hi-fi loudspeakers. I've since worked on a second speaker and found a pair of less corroded pots.

I've added a new image to show the difference between a badly corroded pot and a repairable one. These images were taken before I undertook any cleaning.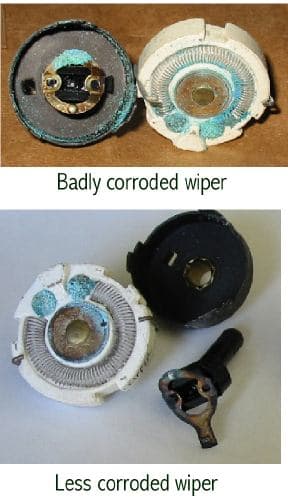 John Baum
- Palo Alto, California
---
(2006)
Sorry! Some mental slip or whatever made me think you were talking about a thermostat. But 40 year old thermostats have a similar brass wiper against a wound wire to adjust their anticipator circuit, and maybe that's why I misread.
Ted Mooney, P.E. RET
finishing.com
Pine Beach, New Jersey


This public forum has 60,000 threads. If you have a question in mind which seems off topic to this thread, you might prefer to Search the Site