topic 39401
How can I remove copper nickel layers from a copper core without attacking the copper core?
A discussion started in 2006 but continuing through 2017
2006
Q. My question revolves around a problem encountered in the world of Numismatics(coin collecting).
There exists a field of collecting in numismatics that we refer to as errors.An error in the production of either the blank used for producing the coin or in the proper aligning of the blank when struck are only 2 of the many errors that can occur.

In the production of 10 cent, 25 cent,and 50 cent coins at the US mints the blanks are made of a clad 3 layer composition with an inner core of pure copper and outer layers of copper nickel. Here is where some people within the error authenticating community have found a disagreement that I (1 of a group of round table members)would like to answer with some authoritative reference.

The problem revolves around the following scenario. Some clad layer coins have been struck missing one of the clad layers. The assumption is that these coins come from blanks punched out from the end of a coil that is missing one of the clad layers.

There are some within the error authenticating community that feel these coins are actually the result of someone using a caustic solution to remove the clad layer. The question that always surfaces is the following;
What type of caustic solution would attack the copper-nickel and not do damage to the pure copper inner core? We need an answer to this question so that some resolution can be agreed upon.

Any help with this question would be greatly appreciated.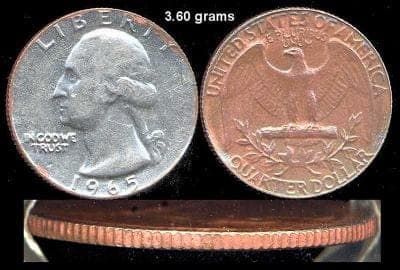 Jose L.Cortez
Retired from IBC - Seattle, Washington, USA
---
2006
A. Nickel can be chemically stripped from copper by a plating shop. Whether this particular copper-nickel alloy can be selectively stripped from the copper of the core is something that probably wouldn't be known without trial and error though. To me, not being very familiar with the striking art, it would seem that only the outer layer would have substantial definition. If the coin was struck with the cupro-nickel cladding in place, and then the cladding was removed, wouldn't the core have a poorly defined image if any at all?
From this distance, your photo looks like an ordinary quarter that has been the victim of a student's copper plating experiment. But again, that's from this distance.
Ted Mooney, P.E.
finishing.com
Pine Beach, New Jersey
---
October 18, 2017
A. After reading this question I ran some experiments. I have successfully removed the Nickel layer from a common Quarter. This however left a coin with a minimal impression. It was obviously a quarter but looked very worn. Most of the impression will be in the top-most layer. If the copper is crisp, I would consider it authentic. If not crisp well...
Ronald Coone
Expression Woodworks Inc. - Lewisville North Carolina USA


This public forum has 60,000 threads. If you have a question in mind which seems off topic to this thread, you might prefer to Search the Site