Live! From Pine Beach NJ: The world's most popular metal finishing website, and the internet's friendliest corner
topic 39056
Pin holes & pitting in copper plating of Ni-Cr plated plastic
A discussion started in 2006 but continuing through 2018
2006
Q. We are a tier 1 supplier of plastic Nickel-Chrome plated parts to OEMs.

Presently, we are facing the problem of pinholes or pitting after plating, especially from the copper bath and these pinholes or pits are on the top surface of the component.

Can somebody help me to resolve this issue?
M Prashanth
plastics - Pune, Maharashtra, INDIA
---
2006
A. Chloride contamination in your copper tank and impurity from your anodes is where to start looking first; additives next.
Khozem Vahaanwala
Saify Ind
Bangalore, Karnataka, India
---
2006
A. Are all your chemicals in range? How high is the trivalent chrome in the etchant solution? Any organic overdoses in Copper and/or Nickel? How are the rinses?

Regards,
Dominik Michalek
- Mexico City, Mexico
---
---
November 15, 2018
Q. Dear Sir,

We are a POP company in Izmir / Turkey and I am working there as a chemist for 6 years. I got a big problem with related to the acid copper bath.
We have changed the organic supplier of the copper bath. (If only we did not. The nightmare started after that). When I add HCl acid to adjust the chloride level, immediately a strange burn occurred on the edge of the parts that I have not seen before. (I am sending it as attached first and second photo) Then we add make up to get rid of the burns. It (burn) has changed to a strange dots (third picture).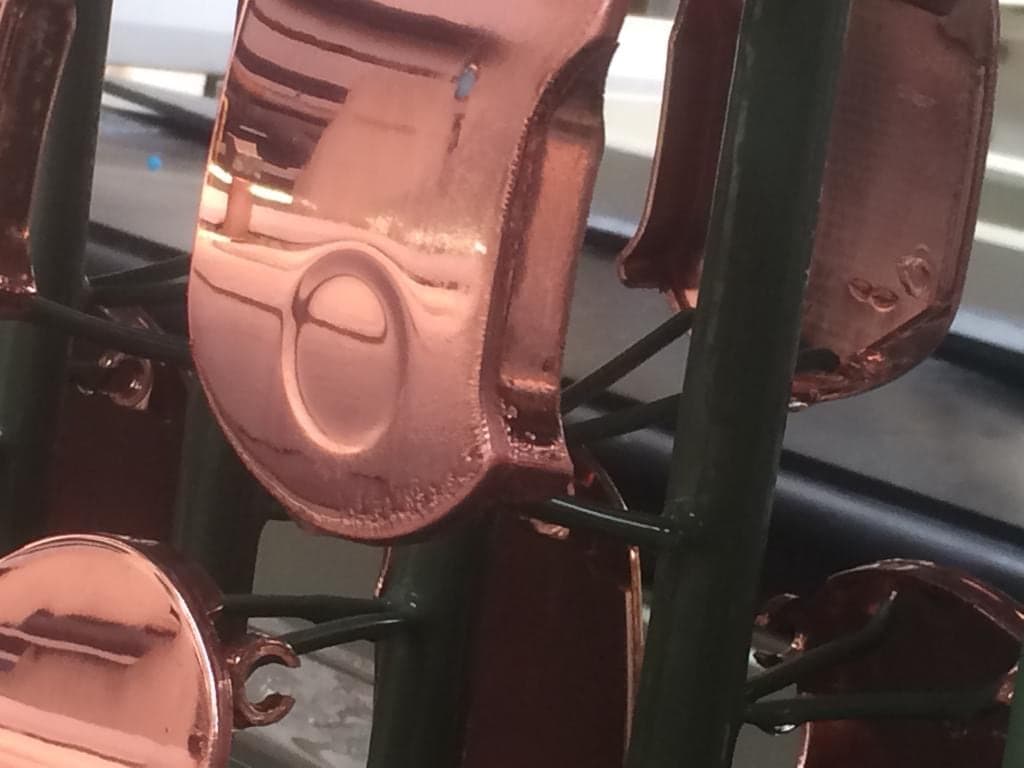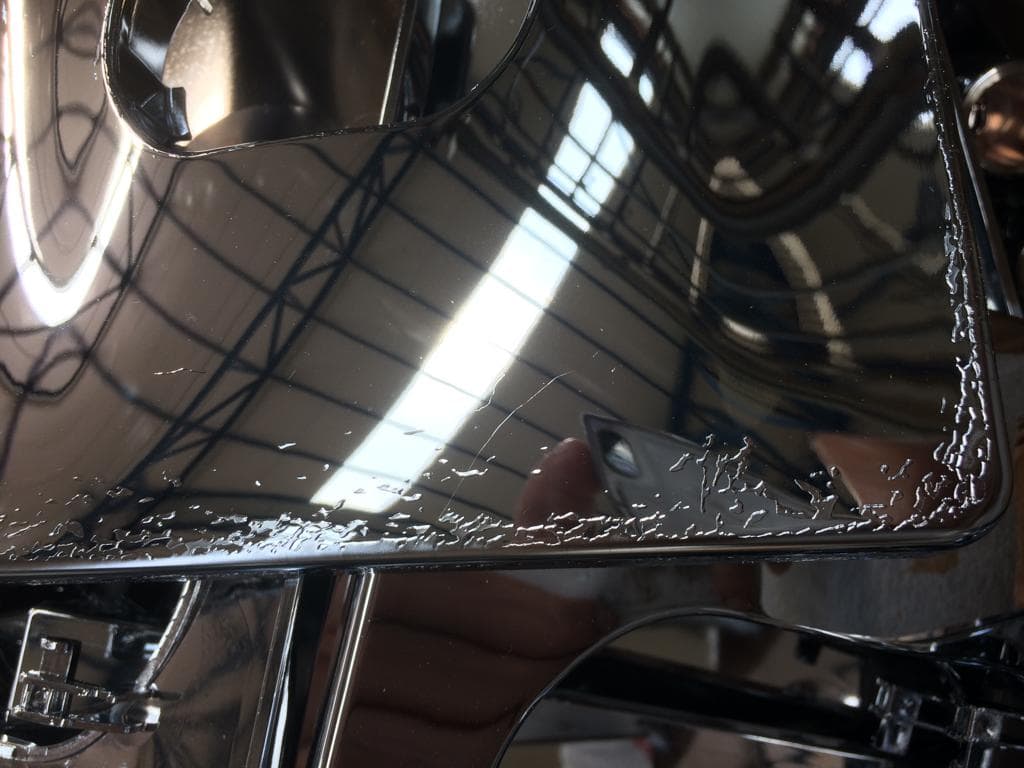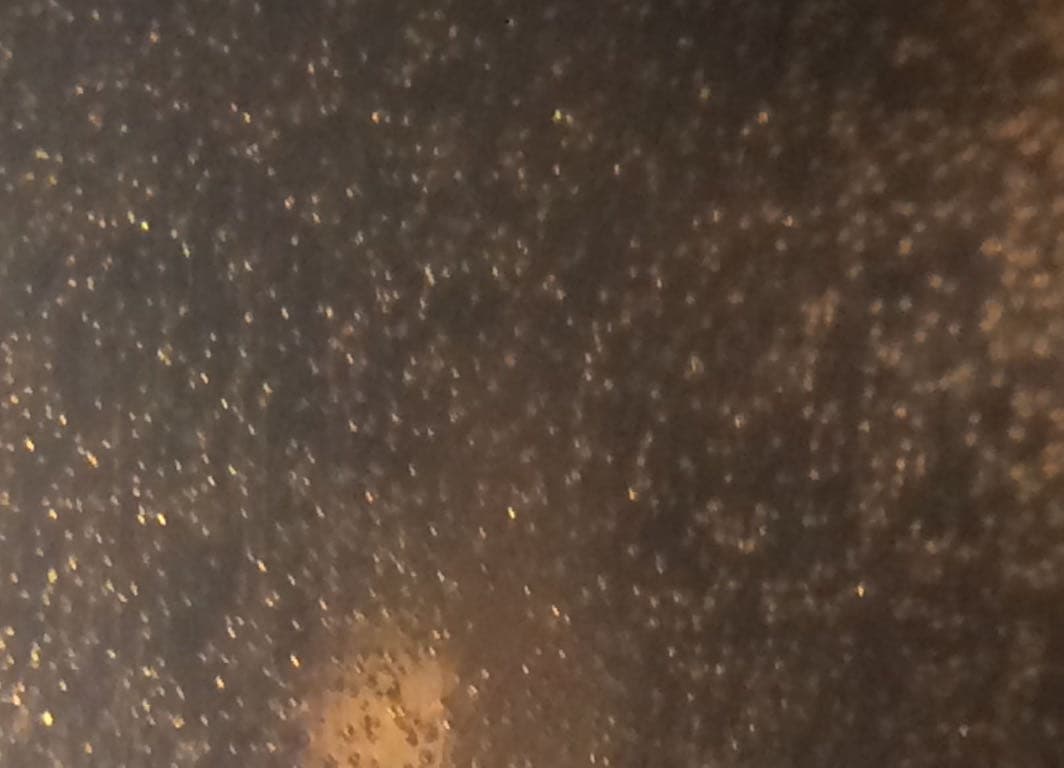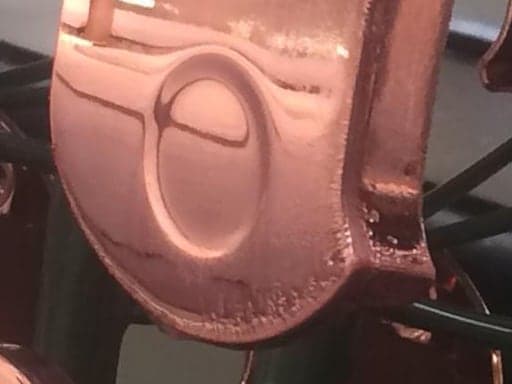 TUTORIAL FOR NEWBIES:

Most plating solutions require addition agents/brighteners which are special organic materials designed to assist in making the plating brighter, lower stress, pore free, harder, etc. Too much of these additives, or the wrong additives, or exhausted ones is problematic too. The general way they are removed is by some sort of treatment with activated carbon, commonly called "carbon treatment"; sometimes the efficacy of carbon treatment can be improved by oxidizing the materials with hydrogen peroxide (H2O2) first.
After there was no success, the bath was carbon treated (1 ml/l H2O2 stirred for a while than 5g/L carbon addition stirred 2 hours, waited 8 hours). Unfortunately no success after carbon treatment. Again much work has been done without any success, second carbon treatment decided. (+2 g/L KMnO4 stirred +1 ml/ L H2O2 stirred then +5 g/L carbon stirred then waited 8 hours) No achievement.
Then we have changed the supplier of the organics. No achievement. This story ended with 6 carbon treatments, 2 suppliers and unfortunately we could not make good progress. I am not sure maybe there is a contaminant came from the first supplier which we could not take out? Can it be possible for you to give any advice?
I will be grateful If you help me. Thank you very much in advance.
Best regards,
Dr. Alev GÜNYAR
Chemist
Turkey
---
TUTORIAL FOR NEWBIES:
A "Hull Cell" is a small plating test cell (usually 267 ml in capacity) where test panels are plated; it fills a lot of different roles in a plating shop. The test panel is slanted so that it is very far from the anode at one end and very close at the other, so we can see what the plating looks like across the full range of current densities
November 23, 2018
A. looks like your brightener package is out balance.
What do your Hull Cell panels look like?
Jason baron
- Granville , South Carolina, usa
---
November 29, 2018
Q. Well there was nothing on the Hull-Cell panel. This made me to think about the conductivity problem on the acid copper bath. Therefore I made the rinse before this bath acidic to increase the activity on the surface of the materials. It helped; however I have to find out a solution to overcome the main problem. Carbon treatment is not successful. So what could be done?
Dr. Alev Gunyar
[returning]
- Izmir, Turkey
---
November 2018
A. Hi Alev. I don't know what "there was nothing on the Hull-Cell panel" means :-(
Do you mean that you put some of the solution into a Hull Cell and attempted to plate it and could get no copper deposited onto the panel at any current density? More likely you mean that the Hull Cell plated fine and without defects, right?
Regards,
Ted Mooney, P.E. RET
finishing.com
Pine Beach, New Jersey
We need "Aloha" now more than ever
---
November 29, 2018
Q. "Nothing" means Hull Cell plated without any problem. No burn, no dullness, etc. -- near to perfect.
Dr. Alev Gunyar
[returning]
- Izmir, Turkey
---
December 4, 2018
A. Hello Alev, if the hull cell looks fine, and the bath chemistry is within range I would investigate possible equipment malfunction. Check anode to cathode ratio. Your tech data sheet for the bath will have that info. Standard is 2:1 Minimum. Assuming you have anode bags, check the bags for holes or tears. Make sure the bags are not clogged. If they are more than 6 months old, change them out. With a load in tank, put a clamp meter on anode and cathode bars to check current, compare results with the rectifier. Carbon treatment should have removed most, if not all of the organics from the suspect brightener. You may want to ask your current brightener supplier if the system is 2 part. The last one I used had a separate CARRIER component. Hope this helps, and good luck.
Mark Baker
Electronics plating - Phoenix Arizona USA
---
December 21, 2018
A. I have seen a problem similar to this but it was related to the Chloride level in the acid copper bath. If you were running this bath before without issue and it was only after the chemical change I doubt it is an equipment issue but rather a change you made to the chemistry. Can you share the baths chemistry values? As I said above, from personal experience, I was a similar issues with strange burning in a new acid copper bath with too low chloride, we typically recommend 70 mg/L of Cl- ion in our build.
Cory Stilson
Okuno International - Novi, Michigan, USA


If you have a question in mind which seems off topic, please Search the Site