topic 3927
Galvanic corrosion of aluminum transmission tower with non-aluminum fasteners
(1999)
Hello I am an engineer facing the task of using non-aluminium bolts to fasten aluminium transmission tower sections (within a coastal area). The main concern is of galvanic corrosion occurring between the dissimilar metals. The materials currently considered are 6082 Aluminium for the sections, with stainless steel bolts. If anyone has any knowledge or experience of joining these two materials in a corrosive environment, I would very much appreciate any help what so ever...
Gareth P Blackett
University of Surrey - UK
---
(1999)
Hi Gareth
You have many options:
1.You could probably try insulating washers to avoid metallic contacts between steel and aluminium.
2. Anodize (& of course you will have to seal the pores) the aluminium and fasten with steel bolts. Anodizing will electrically insulate aluminium, so even after fastening there will be an insulating layer between steel and aluminium.
3. Coat either aluminium or steel with some paint (you would choose to coat the metal with smaller surface area) and then fasten the system.
Wish you a great success.
With Best Regards
Dr.K. Murugan
- Mumbai, India
---
(1999)
You can make a Teflon coating on the stainless steal bolts. Teflon in non conductive and will insulate the two metals.
Jordi Pujol
- Barcelona, SPAIN
---
(1999)
Try GI (galvanised Iron) screws. It seems Zinc might make a better galvanic couple with aluminium compared to stainless steel. Please let me know if this helps.
Suneel Arya
- India
---
(1999)
Hi Dr Murugan ,
In Australia one of the "approved" coatings is a Mechanically Deposited Coating ( Alloy ?) of Zinc & Tin (75% Zn / 25% Sn ), the corrosion resistance is terrific ( over 1500 hours to red rust ) and there is no Bi - Metallic corrosion .
best regards
John Tenison - Woods
- Victoria Australia
---
(2000)
Gareth, I would recommend you look into the DACROMET and GEOMET line of coatings.
David J. Wolf




Medina, Ohio
---
(2000)
WE SOLVE THIS PROBLEM DAILY BY COATING THE FASTENERS WITH ION VAPOR DEPOSITED ALUMINUM. IT WORKS ON ANY KIND OF METAL ATTACHED TO ALUMINUM.
Jerry Wahlin
plating shop - Compton, California
---
(2000)
hello Gareth The situation you describe is similar to bolting together airplane sections. I'm not sure about the physical barrier methods described above. The Tin/Zinc alloys do work, also the IVD aluminium. Both have advantages and disadvantages. IVD will probably need lubrication and possibly peening, and there might be a problem with recessed areas.
Tin/zinc will deposit thicker in some areas than others, and hydrogen embrittlement can occur (this can be heat treated), also a conversion coating really helps the corrosion resistance. One question why use stainless steel bolts?
Ian Brooke
university - Glasgow, Scotland
---
(2000)
Dear Gareth, your problem is not new, a lot of engineering companies having this type of problems coat hi-tech fluoropolymer based coatings on threaded fasteners or any contact metal in corrosion. there are PTFE based coatings are available.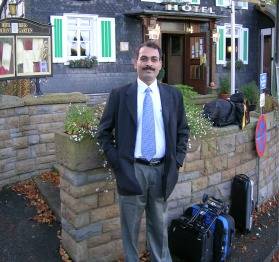 Kalyan Dhakane
Mumbai, India
---
(2000)
At the marine lab, we use plastic sleeves and washers between the bolts and the aluminium frame. We also incorporate a few sacrificial anodes made of zinc. Using these techniques we don't have any problems.
william thomson
marine laboratory - oban


This public forum has 60,000 threads. If you have a question in mind which seems off topic to this thread, you might prefer to Search the Site