topic 3924
Stainless steel matte finish. Achievable by dipping?
(1999)
Q. How do you make a polished stainless steel surface non-reflective without damaging the silver solder joints too much?
Glass bead blasting is proving too abrasive for the silver soldered joints. How do surgical instrument companies do their surgical instruments?
I heard REM Chemicals, Inc. in Southington, CT USA have extensive experience with acid/alkaline surface treatment processes for surgical instruments but they don't reply to my faxes.
Does anyone else specialise in surgical instrument finishing processes?
raphael perez
- Sydney New South Wales Australia
---
(1999)
A. Hi Raphael ,
You could try etching with the following :- 18 % V/V of 70% Nitric Acid 6 % V/V of Hydrofluoric acid (or 10% w/w Ammonium Bifluoride 2 % V/V Hydrochloric Acid). It is a fairly standard Stainless Steel Etch and certainly removes the mirror finish. If it's not successful, try blasting with Garnet. But remember if you do blast & or otherwise "Work" the surface of the S/S then you have destroyed the "Passive Film" which protects the S/S from rusting; the Stainless Steel will then rust. You must repassivate the S/S, and the best way to achieve this is thru electropolishing the S/S.
Regards
John Tenison - Woods
- Victoria Australia
---
(1999)
A. Not trying to be provocative after you've already tentatively dismissed glass bead blasting/peening, but I'd suggest that you not dismiss it until you're truly sure it can't work -- because my feeling is that peening is the right approach. I've seen controlled area peening whereby you could skip over those soldered areas. Regards,
Ted Mooney, P.E.
finishing.com
Pine Beach, New Jersey
---
(1999)
Q. Fine glass beads give you a good finish but expose small holes in the silver solder joint that were not there on the polished surface. Large beads work OK at not exposing these small holes but the finish is unsatisfactory. It's not the soldering technique because I've applied the largest beads that give a satisfactory surface finish to new instruments, exposing the same small holes. I've asked surgical instrument manufactures how they do it but they are unwilling, understandably, to help me. The instruments I'm having trouble with are needle holders which makes masking very difficult. Can you help?
Raphael Perez
[returning]
- Sydney New South Wales Australia
---
(2007)

Q. What are the advantages of the matte finished stainless steel? Is matte finished stainless steel more superior than the brightly polished stainless steel?

David Yeo




Engineer - Brisbane, Queensland, Australia





---

(2007)

Is travel by train or by ship a better way to get from point A to point B, David? ... We can't even consider the question until we know whether A & B are seaports on different continents or landlocked points. Similarly, your question simply can't be answered in the abstract.

What are you building? Why might you possibly want a bright finish on it? Why might you possibly want a matte finish on it? Please give us a fighting chance to help you. Thanks.




Ted Mooney, P.E.




finishing.com




Pine Beach, New Jersey




---
---
October 22, 2011
Q. I work for a company that makes stainless steel larygoscopes for anesthesiologist. During our training session we were told a matte finish will allow for a smoother intubation over a high polished shiny finish. Does the finish on the stainless steel make a big difference on the smoothness of the metal.
Nino Chetta
- Elmsford, New York, USA
---
October 25, 2011
A. YES. All metal, unless special order are mill finished at about 30-32 RMS. Smooth does not necessarily translate into a mirror polished finish. You can achieve reflective finishes on very rough surfaces.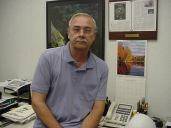 AF Kenton
Nova Finishing Systems Inc.
Hatboro, Pennsylvania
---
October 28, 2011
Nino

As AF Kenton mentioned, you can electropolish a nice shine on rough as well as smooth surfaces, but you can also produce a nice matte finish while still maintaining a surface finish of ~20 microinch Ra by electropolishing.
Willie Alexander
- Colorado Springs, Colorado
---
---
April 2, 2016
Hello I want matte finish in SS. Please help me out, I'm Chinese. Products are available in SS type 202. Chafing dish plus. Resolve my query, is there any dipping process?

Dharmesh Chotaliya
- Kandivali, West Mumbai, India


This public forum has 60,000 threads. If you have a question in mind which seems off topic to this thread, you might prefer to Search the Site