Where the world gathers for
plating, anodizing, & finishing Q&As since 1989
-----
How To Rust Craft Store Metals like Jingle Bells & Safety Pins
Q. I want to rust safety pins, but will the rust-resistant nickel plated "modern" ones rust?
Kate mojo
- Davis California
January 26, 2021
Ed. note: When in Rome ... Since 1989 we've strived to build a legacy of aloha, camaraderie, & mutual help which has proven incompatible with anonymity; all are welcome to view everything on this site anonymously, but are asked to use their real name & town if posting :-)
A. Hi Ms. Mojo. The nickel plating itself can't rust, and it deters the underlying steel from rusting, but it does not prevent it if there is porosity or pinholes in the plating, which there usually is. The rust will appear in the form of pimples through that porosity, but you won't get an even rust finish. Here's a pic of a nickel plated bicycle fender where you can see the pimply nature of the developing rust, and a nickel plated bathroom rack for sale at a big box store already rusting if you look closely.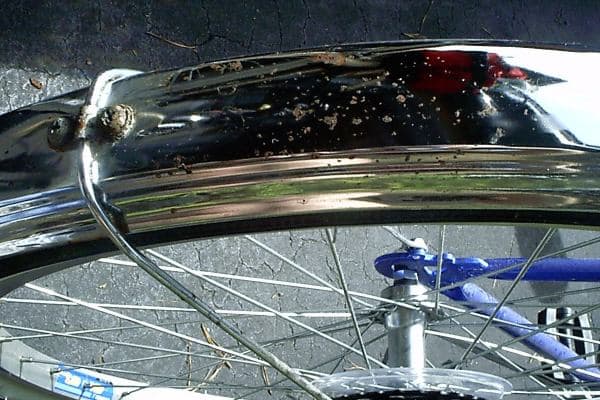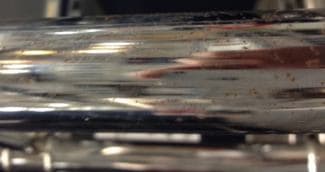 Several folks on this page suggest using cinnamon to imitate rust; I personally haven't seen it, but it sounds like a good way to go when dealing with nickel plating which doesn't rust :-)
Luck & Regards,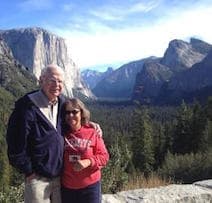 Ted Mooney, P.E. RET
Striving to live Aloha
finishing.com - Pine Beach, New Jersey



A. The cinnamon when you put it on an object it looks like glitter; once the item dries, take a paint brush and loosely, very lightly, brush the item. The loose cinnamon will come off ... but you must seal your item to stop it flaking or coming off more! You can use a clear coat spray or mod podge to seal them.
Penny Martin
- Erin New York
January 6, 2023
---
---
---
Closely related historical posts, oldest first ...
Q. Hi all. I'm an at-home crafter and I constantly require "aged" pieces of metal from jingle bells for my projects at Christmas, to safety pins for everyday crafts. I have been purchasing these online at fairly high prices and would like to attempt to "rust" these items on my own. Right now I have a .99 cent package of safety pins and a few gold jingle bells mixed in a rubbermaid container filled with vinegar and salt. *Sigh* they've been there for oh..3 days now, and NOTHING. The only change I see is on the interior of the bells. The inside is rusting wonderfully but the outside must be treated with something to of course, prevent rust lol. I realize this is an industrial site, but I thought a few of you might be kind enough to share a quick, at-home remedy to breakdown the possible coating on these types of craft items. I have been told in the past that sanding them can help speed things up, but honestly I need something that will do this in a minimal # of steps and be as timesaving as possible. Thanks for your replies!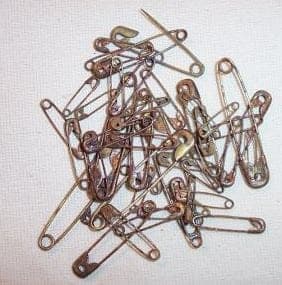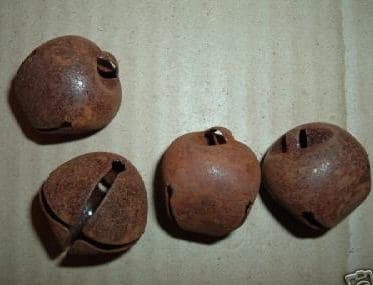 Susan Jackson
- Mayfield, Kentucky, USA
2005
Q. I, too, am looking for directions to rust bells and pins, etc. quickly. I would appreciate any help. Thank you.
Doris Mary May
- Brookdale, Mb, Canada
2006
A.
Perhaps try some diluted Muriatic Acid [affil link] (Hydrochloric acid), which should be available at your local hardware store. Make sure you wear rubber gloves [←affil. link], and eye protection (goggles [←affil. link]).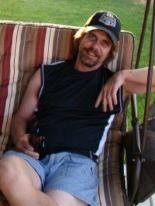 Marc Green
anodizer - Boise, Idaho
A. Safer and simpler is kitchen salt solution, it must be sprayed or brushed on grease-free objects! Good luck!
Goran Budija
- Cerovski vrh Croatia
A. TRY BLEACH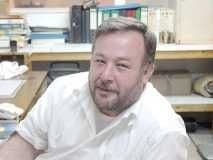 Khair Shishani
aircraft maintenance - Al Ain, UAE
A. Hi. Okay, I have done this. First thing is to cover it with bleach all day or overnight... maybe even set it in a window or outside, for the heat. Then after you drain it, cover with vinegar and salt. Put it outside again all day or over night but check on it later in the day. I hope this helps you.
Paula Hardin
- Picayune, Mississippi
A. Try 1/2 cup bleach, 1/2 cup apple cider vinegar and 1 tsp of salt. Put in a jar, cover loosely and let sit for 2 days. Remove with old fork onto paper towels. Set items outside to dry and turn them occasionally, so all sides dry. Piece will rust while drying.
Trish Cooper
- Ruther Glen Virginia USA
2007
A. Take a plastic shoe box type container.
Add safety pins. You can purchase these from a 99 cent or dollar store. You can do a couple hundred at a time. Just so long as it's a single layer of pins. The more pins, the bigger the plastic bin.
Cover with salt. Literally, COVER with SALT.
Also usually available 2 for a dollar at the dollar mart.
Then add peroxide. And yep, you guessed it, 2/1.00 at the dollar mart. Usually, 3 bottles should do it. You want about an inch of liquid peroxide above the salt layer.
Store in a non humid area. NOT OUTSIDE, and not anywhere where the solution will evaporate too fast. The process takes about 2 weeks BUT it's well worth it. You actually get rusted pins, not pins that appear to be rusted and then the rust rubs off.
Anna Van Luven
- Victorville, California
Q. Anna . . . Since the pins are ACTUALLY rusted, should the process be done while they're open so that they can be closed? Or, is it no problem to open the pins when the process has been done while they were closed?
Debbie Dellatore
- Bloomsburg, Pennsylvania
August 17, 2008
Update: Don't bother trying the above method (salt and peroxide) to get "real" rusty pins. It doesn't work . . . . AT ALL! I tried it and my pins sat in this stuff for 3 weeks. They are still as shiny and silver as the day I bought them.
Debbie Dellatore
[returning]
- Bloomsburg, Pennsylvania
September 1, 2008
Ed. note: please see the Sharon Gannon's question and the responses to it, Debbie.
A. I went through the same trouble as you! My Mom gave me this "recipe". I use only the cheapo gold pins and bells and this works like a charm.
It does take time but is well worth it.

1/2 cup cider vinegar
1/2 cup bleach
1 teaspoon salt

Mix in a one quart Mason jar. Cover loosely and put in a safe place. I let mine sit for a couple days and then dry them in a paper towel and let them sun dry. They may not look all that rusty but they will rust more as they dry.
Kristi G
[last name deleted for privacy by Editor]
- North, Texas
September 29, 2008
---
---
Q. I'm attempting to rust metal and tin stars, bells, etc., and I'm being unsuccessful. I'm using vinegar and bleach, what else can I do?
Sharon Gannon
The Olde Cellar - Wayne West Virginia US
December 10, 2012
A. Hi Sharon. We appended your question to a thread on the subject.
First, check that the items are magnetic because, if they are not, then they are not steel and will not rust. Assuming that they are steel, I suspect that they may have a clear lacquer or clearcoat on them which is preventing your chemicals from reaching the metal.
If you have a VOM Multimeter [affil link], you can check for the resistance between two spots on the objects to see if there is a non-metallic coating on them. Try lightly sanding the area on one item as a test of removing the coating, and check the resistance again, and/or see if the sanded area rusts. You can put them in acetone [←affil. link], which will strip lacquer. If they do have a clearcoat that isn't removed with acetone, it can be removed with Aircraft Stripper, but that's truly noxious toxic stuff.
Then they should rust with your procedure or any procedure you see on this page. Good luck.
Regards,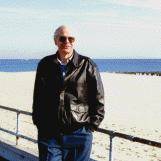 Ted Mooney
, P.E.
Striving to live Aloha
finishing.com - Pine Beach, New Jersey
December 11, 2012
A. I decided to take handmade paper and rust it with the vinegar and salt method. Worked wonderfully overnight (with my already rusted objects on the paper).
Q. NOW, how do I stop any continuing rusting. I am letting the paper dry out ... it is beautiful.
Dona Geib
- Reseda, California, USA
May 2, 2013
A. I've tried many different things to get the rusted look also. I've been successful using bleach for 24 hours, then wash them off, dry them, then put them in Apple cider vinegar for 24 hours. Remove, rinse, then let them set in the sun to dry and set the rust. This works great for me every time. Hope this helps some of you who're just as discouraged as I was.
Cynthia Campbell
Stay at home mom - Luray, Virginia United States of America
November 27, 2017
A. Toilet bowl cleaner ... On a cheap cookie sheet, pour toilet bowl cleaner on desired item to rustify and set out in sun
Anna Dery
- Saugus, California USA
December 23, 2017
Bleach and Vinegar together makes toxic chlorine gas folks. Please don't try this at home.
ellie schaffer
- Oak Hill Virginia USA
February 19, 2018
A. Hello. Let's skip the chemicals and make it a little easier. Lay your bells and pins on aluminum foil, spray paint black (I use Krylon Colormaster paint & primer in black matte). Let dry. After they dry you can dip each piece or handful into a bowl of cinnamon, shake excess off by tapping off on side of bowl and let dry. Looks much more like the craft store rusty bells...you will love it! Smells great and is worth it. Have a nice day.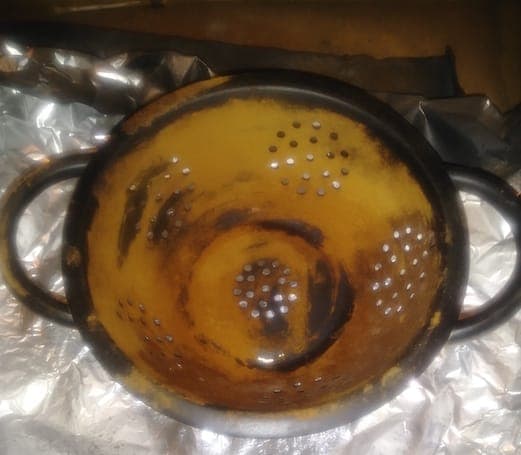 This is a little colander that I bought at my local dollar tree. When I bought the colander the color was silver metal. I used the technique I described but chose not to cover the whole piece but looks just like rust. I came up with this about a year ago and have made some pretty nice pieces with this technique. Thanks.
Deborah Ansar
Dayton Ohio USA
May 3, 2018
---
---
Q. You said you painted with black paint and let dry. Put them in cinnamon and shook off extra and let dry? Cinnamon is dry, so did you leave something out?
Judy Beatty
- Greenfield Ohio
November 9, 2020
A. Hi Judy. Deborah's posting was from 2-1/2 years ago, so I don't know if or when she'll reply. But in the meanwhile I'd interpret her instructions as "let partially dry / let dry to tackiness".
I don't know about the longevity of the cinnamon. Back when my son was in grammar school his class had a project to make scrapbook albums with a different grain on each page: rice on one, corn on the next, rye on a third, wheat on a fourth, oats on the fifth. When we brought it down from the attic a few years later, it was a scrapbook of different species of grain worms :-)
Luck & Regards,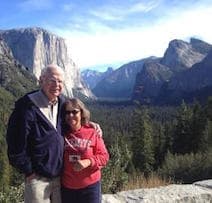 Ted Mooney
, P.E. RET
Striving to live Aloha
finishing.com - Pine Beach, New Jersey
November 2020
A. The cinnamon rusting technique I use is this: Spray paint item desired color. Let dry. Spray with spray adhesive. IMMEDIATELY sprinkle with cinnamon. Then spray with a clearcoat of some sort. Repeat adhesive/cinnamon until you achieve look you want. Finish again with clear coat.
J BELTZ
- Tamaqua Pennsylvania
October 31, 2021