Not a lecture hall but a roundtable with a seat for you!
60,000 topics spanning 36 years. Education, Aloha, & Fun
topic 38754
Nambé in the dishwasher
A discussion started in 2005 but continuing through 2020
2005
Q. Household pieces such as Nambé

Googled disherwasher and silver ... found you.
Husband put Nambé in dishwasher ... dulled. No luck with polish. 'Experts' say "lost cause", however the entries on this site seem to imply otherwise. Any advice?
Julia Kelly
Layperson/Consumer - Western Springs, Illinois, USA
---
2005
A. Nambé (pronounced nom-BAY, after a tiny village near Santa Fe, NM) is an eight metal alloy that doesn't contain silver or lead or pewter, and reportedly was invented at Los Alamos Laboratories in the early 1940s. The alloy is as shiny as sterling silver and is hefty in weight [maybe an improved Nickel silver?]

For dulled pieces: sparingly apply Nambé Polish on a soft cloth, then gently rub with a circular motion until the polish turns black and grainy. Buff with a soft cloth to remove the polish, then hand wash the item.
If still dull, apply polish using 0000 steel wool [affil. link to info/product at Rockler].
If unsuccessful, expert repolishing (removes metal, can only be done twice) is required. Contact Nambé Customer Service (for repolishing) 1-800-443-0339 http://www.nambe.com

Hand-wash your Nambé metal with mild soap, a soft sponge and water. Dry immediately with a soft clean cloth. Never put in the dishwasher. Never leave Nambé in standing water; severe discoloration may occur. Never place Nambé in a microwave oven.
Ken Vlach
- Goleta, California

Finishing.com honored Ken for his countless carefully
researched responses. He passed away May 14, 2015.
Rest in peace, Ken. Thank you for your hard work
which the finishing world continues to benefit from.
---
October 16, 2018
A. I bought Mother's Mag & Aluminum Polish [affil. link to info/product on Amazon] on Amazon and it brought my dishwasher-ruined Nambé back to life, with a reasonable (not crazy) amount of rubbing. Awesome.
Jackie Sieling
- Austin, Texas USA
---
---
June 6, 2020

Nambé damaged by dishwasher. I was heartsick when someone put my Nambé salad servers in the dishwasher. They came out full and damaged. I finally got around to researching what to do and thanks to this posting (by Jackie) I got some Mother's Aluminum Mag Cleaner. It worked like a charm and my servers look just like new. The attached photo shows the difference, but the spoon looks even better less the light reflections. Thank you!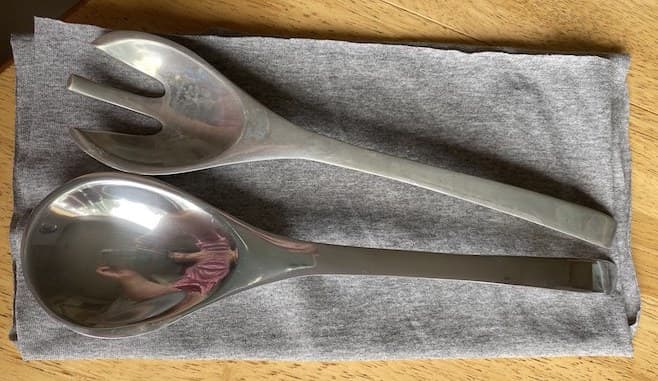 Kath Okeefe
- Minneapolis, Minnesota USA
---
August 23, 2020
A. I second Mothers Polish as well. I put my Nambé in the dishwasher and it was completely dull. After Mothers, it looks better then the second piece that has never seen the dishwasher.
Leroy Kelley
- Germantown Maryland