topic 38525
Trivalent vs. hexavalent chromate conversion coating
A discussion started in 2002 but continuing through 2017
(2002)
Q. Acknowledging the trend to eliminate or at least reduce hazardous processes and in particular those associated with chrome VI, I am researching alternatives to the typical 1200 series chromate conversion process for corrosion protection of aluminium and its alloys. However, I have yet to identify a process that gives similar properties e.g. good corrosion protection, electrical conductivity, adhesion to other surface coatings (paints, etc) and adhesives, etc.
Possible alternatives identified include Alodine 2000, and 5200 but both fall short of the 1200 process.
Any guidance will be appreciated........
Regards,
Roger Hoodless
aircraft industry - Gt. Baddow, Essex, UK
---
(2002)
A. I will keep a close eye on this query and the responses. My firm has just this week shipped its first Alodine 5200 non-chromate, aluminum conversion coated job. The drawings specifically called for this process, rather than the typical and very familiar Alodine 1200 process. After coating, the parts were still silvery in appearance and it was difficult to ascertain whether or not there was any coating present. The 5200 reportedly applies a "manganese titinate" coating but upon X-ray analysis, neither manganese nor titanium was readily visible.
Besides 5200, my firm is keeping an eye on a reactive silane technology developed at a US university (Cincinnati) and another heavy metal conversion coating technology from a firm in Chicago area. Both have been tested in various military applications by firms much larger than ours.
When you have the chance to let me know further on your trials and experience with 5200, please fill me in.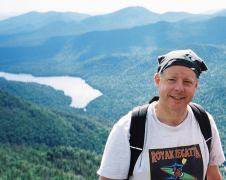 Milt Stevenson, Jr.
Anoplate Corporation
Syracuse, New York
Ed. note: Observe that Milt's response is from 2002, as times were changing. His company doubtless now has years of experience with hex-free conversion coating.
---
---
Need trivalent chrome or chrome free conversion coatings for aluminum
(2003)
Q. We are a custom manufacturer of sheet metal parts, mainly for the electronics industry. We do chromate conversion coating on a lot of aluminum parts as an end finish (both yellow and clear), in batch sizes of 100 to 1000 parts. Most parts range in size from 2" x 2" to 24" x 24". We need to change to either a trivalent chrome or a chrome free conversion coating. I would like to know if anyone has made a change of this sort, and if so what type of product they have used (be specific if possible). My preference is to use trivalent chrome if possible, because I think it would offer better corrosion protection. So far the industry reps we have talked to have not provided a clear path to change.
Alan Purdey
Manager of Process Improvement - Vancouver, British Columbia, Canada
---
(2003)
A. Hi Alan. One approach is to go by accepted specs like MIL-DTL-5541 which links to a QPL (qualified products list) giving you the accepted non hexavalent alternatives. If anyone wants to comment generically on trivalent chromates, silanes, zirconium coatings, DI rinsing, or whatever, that's fine. But we can't print any recommendations of specific proprietary products because experience proves that they immediately degenerate into spam and the posting of advertisements :-)
Ted Mooney, P.E.
finishing.com
Pine Beach, New Jersey
---
---
Alternatives to chromate conversion coatings
(2004)
We are currently exploring alternatives to chromate conversion coatings. Our specific concern is the interaction of water produced during the de-humification of air and high fin pitch. Does anyone have any suggestions on materials and processes we can use to become chromate free compliant? A Mil-C-5541 [link by ed. to spec at TechStreet] Class 3 coating would be best.
David Melo
Advanced Technology Engineer - Garden City, New York
---
(2004)
There are numerous chrome-free conversion coatings. Two of finishing.com's supporting advertisers specialize in exactly that product. We can't publish responses that suggest that one particular proprietary product is the answer. Instead, these suppliers can contact you privately. But if anyone wants to offer help with classes of chemicals, generic processes, references to publications, etc., that would be great.
Ted Mooney, P.E.
finishing.com
Pine Beach, New Jersey
---
(2004)
adv.
We can help with silicate based coating corrosion protection. This is a zero chrome technology. The results are better performance in a variety of areas, from corrosion protection to heat tolerance. This is done all using only silicates, common sand-like minerals found in the earth's crust. No chromium. No phosphate. No cadmium. Just better performance without environmental or regulatory worries.
Ravi Chandran, Ph.D
New Brunswick, New Jersey
---
---
(2005)
Does the plating thickness need to change when going from hexavalent to trivalent?

Is there a salt spray time to plating thickness comparison?
Wayne Koopman
- St. Louis, Missouri
---
2006
In working with the Hexavalent Chromate Conversion coating and the new RoHS, ELV and WEEE compliant trivalent coating, I've found that the trivalent conversion coating has a thickness of about half. As far as salt spray hours, there is a new trivalent chromate available that offers equal or better corrosion protection and meets or exceeds Mil-C-5541 [link by ed. to spec at TechStreet].
Kim Price
- Springfield, Massachusetts
---
2006
Dear Wayne,
The plating thickness does not have to change for the trivalent chrome passivations. The process and chemical control will have to be better.
The new type chrome-VI free passivations will give the required salt spray protection to white rust.
Regards,

Trudy Kastner
electroplating service
Durban, KZN, South Africa
---
2006
Suppose that cost and availability is not an issue (might be, but for the purposes of this correspondence lets say it is not) - if Trivalent is the only choice, and tint/color is not a care - what secondary sealers can be applied to a tri plated part to offer optimized salt spray performance? Is 200 hours or more possible? Is it reasonable for mass production?
CJ Matiszik
- Los Angeles, California
---
2006
Hello, CJ. My understanding is that your rating (to white rust) would be at the absolute upper end. Figure 120-150 hours for the thick film complex trivalent chromates, plus about 75 hours for the sealer. Automotive specs are 120 hours.
The speaker for our Phila Branch AESF meeting this week was Joe Ciejka of Luster-On who gave a presentation on "The New Faces of Trivalent Chromates" which was universally applauded as outstanding, and those numbers are what my notes show--but a call to Joe may be worthwhile because he knows this subject inside out.
Ted Mooney, P.E.
finishing.com
Pine Beach, New Jersey
---
2006
The plating thickness is responsible for the red rust prevention. The chromate is responsible for the white rust prevention. Therefore, Changing the chromate type, does not need a change in plating thickness.
Sara Michaeli
chemical process supplier
Tel-Aviv, Israel
---
---
August 17, 2017
Q. A customer has just asked a very puzzling question. What is the difference between Iridite NCP and Trivalent Passivation?

My understanding is that:

Iridite NCP was developed because of ELV, RoHS and WEEE directives to provide an alternative to chromate conversion coatings on aluminium. To quote Macdermid website "In comparative corrosion tests on the most common aluminium alloys, Iridite NCP significantly outperforms chromate coatings, passing over 1000 hours neutral salt spray on all but the highest copper containing alloys."

Trivalent Passivation has been developed for exactly the same reason, although sources on the performance do tend to differ, from our own plating experience it can perform as well as chromate conversions and in our salt spray tests achieved 1500 hours. (I am specifically talking about the 1500LT)

This question is not for a specific application -- they are just curious generally how these two differ and if one outperforms the other? I appreciate that is a bit vague!
Oliver Bronte
- Bradford, West Yorkshire, England
---
August 2017
A. Hi Oliver. Iridite NCP is one brand name of a proprietary chrome-free passivation treatment for aluminum ... there are many others. So the question really becomes what is the difference between a trivalent chromate treatment and a chrome-free treatment for aluminum.
Well, they use different methods to prep the aluminum, and the chrome-free system may not meet MIL spec requirements. Iridite NCP is on the MIL DTL-5541 Qualified Products List, but perhaps not for the type and class you want to certify to. Another difference could be that you have expectations that one or the other may not deliver on...
Fifteen years ago, plus or minus, when trivalent chromates started taking over from hexavalent chromates, people encountered some surprises: they were meeting corrosion resistance requirements because that is what everyone was focused on, but some trivalents did not offer proper electrical conductivity, other trivalents did not offer proper paint adhesion, certain processes where chromated parts were sent back through pretreatments no longer held up and had to be redesigned.
So the overall answer to your question is that non-chromate aluminum treatments function on a different principle than chromated aluminum treatments, and they may be absolutely fine for your needs, but they are not automatically interchangeable. Good luck.
Regards,
Ted Mooney, P.E. RET
finishing.com
Pine Beach, New Jersey
Striving to live "Aloha"
---
August 21, 2017

Thanks as ever Ted! Looking through mcdermid's own material, it does seem to suggest that the trivalent passivate in question is to be used primarily in conjunction with zinc plating as well. Although trivalent solutions are hardly new, I suspect to many people ordering/now using them they will be and there doesn't seem to be as much information available as their chromate predecessors.
Oliver Gwynne
Bronte - Bradford, West Yorkshire


This public forum has 60,000 threads. If you have a question in mind which seems off topic to this thread, you might prefer to Search the Site