Not a lecture hall but a roundtable with a seat for you!
60,000 topics spanning 36 years. Education, Aloha, & Fun
topic 38381
Refinishing, painting, or powder coating fireplace screens
A discussion started in 2005 but continuing through 2020
2005
Q. I have a 40 year old house with two fireplace doors (and the frames around them) that the previous owner must have tried to clean with a brass cleaner ... they are in bad shape.
Can they be recoated or painted a dark color? It is a wood burning fireplace.
Sheila Borowski
mom - Fergus Falls, Minnesota, USA
---
---
---
2005
Q. I have an old fireplace screen from the seventies that I wanted to clean up and dress up.
The old pink marble around it is going to be changed out to a nice contemporary earthy slate.

So it's been suggested to me that I simply take it outside and (after laying it out on cardboard), spray paint it to give it a nice new even coating. I want it black and have "BBQ black" for the job.

This was recommended by two powder-coaters who thought the high heat of their process might warp the metal and not enable the paint to bake to sufficient temperatures to be used in a fireplace.

Are there any dangers or cautions in hand-sanding a brass-plated metal? I have a hand sander and I've started, but don't know if I should allow the brass metal dust to dust up into the environment. Should I collect it and dispose of it somehow? Should I wear a face mask?
Fran Lyman
student/hobbyist - Kirkland, Washington
---
---
---
December 2, 2010
Q. Hi,
My name is Valerie & this seems like a helpful site regarding finishing metal surfaces. I bought a black wrought iron fireplace screen because I loved the look of it and it only came in this color.
My question is can I buy a Krylon metallic spray paint in the matte nickel finish [Krylon Brushed Nickel [affil. link to info/product on Amazon] ] to spray over the black? I wasn't sure if it would go over the black ok and if putting this kind of paint on the screen would make it flammable when there is a fire in the fireplace next to it?
Thank you so much for your help.
Val
Valerie Beaudette
- Palmer, Massachusetts, USA
---
---
October 9, 2012
-- this entry appended to this thread by editor in lieu of spawning a duplicative thread
Q. I have a fireplace front that is gold plated over nickel. Can I powder coat over the gold plating?

Thanks,
Julie Salvitti
- Olympia, Washington, USA
---
---
April 30, 2013
Q. I have a very old copper fireplace screen, early 1900. I want to clean it up and get the copper look back.
I started in a corner of it and it's like it has a silver coating covering it. Does anyone know what I should do?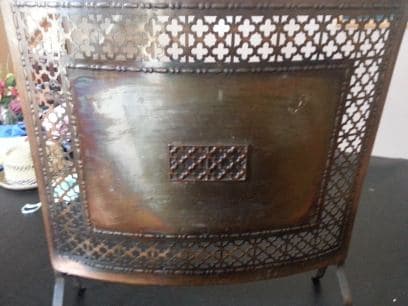 Shannon Bostrom
- Commerce City, Colorado, United State
---
May 7, 2013
Q. Hi,
This is a full sheet of copper. It is not magnetic. In the 1900s they did a hot oil over to protect the copper from the heat. I believe that is the silver color I am getting.
Shannon Sharp
- Commerce City, Colorado, United States
---
---
January 27, 2015
Q. My painter was working on painting my brass and glass fireplace doors. They were washed down, rough sanded, and painted with Krylon 2x brown paint and primer. They looked really good after they were sprayed. The next day I noticed that there was an area that looked shallow in the light. Later when the light changed I realized that the paint was lighter in a straight line area. Called the painter and he came back. As soon as he finished taping and started to spray the area the area he sprayed started to get a blistering look. It dried hard. Is there anything that you can recommend?
Annette Finch
- Memphis, Tennessee, United States
---
---
April 10, 2016
Q. I HAVE A FIREPLACE ENCLOSURE WITH GLASS DOORS AND BLACK MESH SCREENS. WHERE THE FIRE BURNED TOO CLOSE TO THE SCREEN, IT HAS TURNED GRAY, HOW DO I RESTORE THE BLACK FINISH SO THAT IT IS UNIFORM?
JAMES JONES
- OYSTER BAY NEW YORK USA
---
---
August 3, 2019
Q. I want to paint my brass fireplace doors. A self etching primer is recommended under my high heat paint. I cannot find a primer that says it is both high-heat and self etching. Is there one out there? Any other recommendation?
Gail McCulloch
- Shreveport, Louisiana, United States
---
March 10, 2020
Q. Hello, I have a mid-century cone fireplace with an old matte black finish that I would like to change to international orange. One company said they only do black ceramic high heat coating for this application and it would cost me near $2000! I can buy a brand new Malm fireplace for $3000 ... I don't want to prep or paint myself. Is there a reason we cannot powder coat a wood burning fireplace? Thanks for any info you may have!
Lin Carp
- San Mateo, California