topic 38155
Is worn silverware a Health Hazard
(2005)
The silver plating on our flatware is showing signs of use... Several places have been worn to the point of revealing a metal underneath, which looks yellowish (maybe bronze?). I read somewhere that fry baskets reveal some kind of harmful metal when the chrome plating wears thin. Do you suppose whatever metal is being revealed in our flatware poses a health hazard ?
Howard W
[last name deleted for privacy by Editor]
Consulting - Springfield, Missouri
---
(2005)
A. I'm confident that the exposure of the base metal of silverware is harmless, Howard; but the usual nickel-silver base metal (which contains no silver and has a very slightly yellow color) can have a "taste". My own silverware has been that way most of my life and I just endure it rather than the effort and expense of getting it replated :-)
Sorry, I don't know quite what you're alluding to regarding chrome plated fry baskets, but I personally don't think they're a substantial danger either.
Based on thousands of rather similar letters we've received, Maslow's prediction was apparently wrong -- when our most apparent safety needs are met, we don't necessarily move in the direction of transcendence; rather we tend to focus on smaller safety issues. Car dealers couldn't sell seat belts for $10 when I started driving, and now the number of airbags in a car has become a crucial selling point. I guess it's our nature :-)
Ted Mooney, P.E. RET
finishing.com
Pine Beach, New Jersey
---
(2005)

Ted, you haven't been nippin' off that jug of homemade hooch have ya?




Sheldon Taylor


supply chain electronics
Wake Forest, North Carolina



---

(2005)

I often nip off the jug when I'm working late at night here, although it's Makers Mark, not homemade. I didn't think I was being weird, Sheldon, although a bit obtuse: Maslow noted that it is impossible to enjoy a symphony while dying of starvation or with a pistol to our head. Only after lower level needs like "safety needs" are met can our attention rise to the next level of the pyramid, and so on.

But seeing a never-ending stream of letters here every day where people are worried about what seems to be ever smaller health risks, I'm just thinking that maybe it isn't possible to rise above concern over safety needs after all. Okay, maybe just a little weird :-)




Ted Mooney, P.E. RET




finishing.com




Pine Beach, New Jersey




---
(2005)
Gee whiz, another pseudo intellectual. If you must... Maslow has nothing to do with it. Occam's Razor would be a more appropriate metaphor. Everyone in the house is a bit ill and we are eliminating possible causes one by one.
I daresay that even those who have achieved the peak of self-actualization... having been taken ill would have them look further back down the pyramid for the cause.
Howard W
- Springfield, Missouri, USA
---
(2005)
All conceded, Howard, and very sorry that you and your family aren't feeling well !
But 18 years experience running this forum has proven that readers don't respond to abstract inquiries like your original one, as opposed to your fleshed-out personalized follow-up. As system operator I don't let our forum degenerate into just a long list of unanswered questions, so I do anything I can to keep the threads alive when no one else is responding, including philosophizing.
Surely you see that people express concern and try to help when you note that the family is ill, whereas they leave the question unanswered when it's posted as an abstract proposition devoid of any context -- that's why we pointedly and continuously ask people to please post their actual situation. Feel better soon.
Ted Mooney, P.E. RET
finishing.com
Pine Beach, New Jersey
---
(2005)
Howard, Have you asked a doctor if there is any way to test for a high level of trace metals in the blood stream? I can't imagine that enough material is coming off of the utensils to cause a problem but having a doctor check for it specifically might be able to put the issue to rest. Hope you and the family get to feeling better.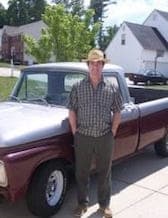 Sheldon Taylor
supply chain electronics
Wake Forest, North Carolina
---
(2005)

It seems to me that my toenails are growing faster now that I have started using Premium gasoline. Is that because of the fumes coming from the raisins in the bottom of my toaster?

Daryl P. Spindler, Sr.,

CEF




- Greenbrier, Tennessee





---

(2005)

Daryl - Yes.

I am shocked, SHOCKED, to hear that you - as a consultant - aren't aware of the dangers of raisin infested toasters.

Jim Gorsich

Accurate Anodizing Inc.

Compton, California, USA




---
(2005)
A quick pH test will give you some insight as to the current status of your water supply, additionally I would suggest having your doctor look into the reasons you have been getting ill more frequently. Have you gotten any new pets? Switched diets? Is there a new industrial plant in town?

Think of things like that, plating coming off of your silverware isn't going to do any damage to you or your family unless it is REALLY old silverware.
Marc Banks
Blacksmith - Shiloh, North Carolina
---

(2007)

Excuse my saying so, but all this a little like little children making a mountain out of a mole hill - more so Americans who remain children till they are 75 at least.

Maslow has nothing to do with an obsession that has no base. A typical example is the California standard for metal food containers (Prop64) for lead leaching to be less than 0.1% ( dipped in 4% acetic acid for 24 hours). It is just ignorance that motivates such standards.

As per the reasoning behind this standard, all Europeans would die of lead poisoning if their food was served from Silverware!
In reality 10 ppm of lead leaching would give someone a headache if they used the same container for 1000 years.Yet this American obsession of making mountains out of molehills even for irrelevant issues.
More than Maslow, it is Mcgreggors theory of Hygiene /motivation that would apply here.
Ridiculous
But then out of anything ridiculous great things can occasionally come out- inventions and research and so on. Lets hope this happens now and solutions are found to tarnishing problems for silverware.

Deepak Whorra


silver craftwork
New Delhi, India




Ed. note: Publically criticizing people of a particular race, country, or religion on a public forum can lead to a bad place, Deepak. You'd better duck :-)

---

(2007)

Heyyyy Ted,

A little bit of fun and knowing that the little American children have the best sense of humour is what made me write that.

But humour aside,if there is a situation of illness in the family, then all reasons must be looked into and so the question of a bare substrate does have relevance. But more appropriate, it is a bad water source - either municipal or pipelines being rusted or contamination.
Being a Silversmith ( survived for generations in this business too), I am quite confident that the silverware is not responsible.
Incidentally my family has sold to royalty very often- - both European and Indian Maharajas.

Deepak Whorra


silver craftwork
New Delhi, India


This public forum has 60,000 threads. If you have a question in mind which seems off topic to this thread, you might prefer to Search the Site