World's #1 on-line resource since 1989
-----
White or Grey Streaks on Anodised Extrusion
A discussion started in 2005 but continuing through 2020
2005
Q. Dear Sir/ Madame,

We are an aluminium extrusion manufacturing company and we are facing a problem of white and dark grey streaks on the surface after anodising. The details are:

Aluminium Alloy : 6063 T6 (Mg 0.7%, Si 0.5%, Fe 0.15%, Cu 0.096%)

Finish : Clear Satin Anodising 201r1

Process adopted:

1. Etching in Caustic (65 gms/ltr) at 50 °C for 10 mins.
2. Desmutting in Nitric Acid
3. Anodising in Sulphuric based bath for 25 mins to get 10 micron coating.

After this process we get white or dark grey streaks anywhere in the length of the extruded profile. The position of these streaks is not fixed and it appears anywhere. The pieces are 16 inch long.

If you can suggest a possible method to get rid of these we will be very grateful.

Thanking you,
Best regards,
Chinmay Agrawal
metals - Jaipur, Rajasthan, India
---
2005
A. Try with a 2% HF in the nitric acid bath. But you will need a lot of ventilation.
Ram. Gar
- Livonia, Michigan
---
2005
A. Further to the last reply, try a 20 percent nitric solution without the HF -- a lot less nasty! Leave to soak for about one to two hours, then rinse and process as normal. The problem is the extrusion lubricants, which the nitric seems to remove, the time factor is a bit of an issue regarding production costs, but reworks are nil as far as I've found. This has worked well for me over the years. I hope this is of some use.
J Roberts
- Bournemouth, Dorset, England
---
2005
A. The streaks visible after anodizing mostly come from extrusion process. There are several causes:

1) The weld lines for hollow extrusions from porthole dies.
2) Lack of quality in the extrusion billet. Too thick segregation zone around the periphery of the billet, nonuniform homogenization or non-homogenized billet.
3) Oxides being extruded due to too much difference between the diameters of the billet and container hole.
4) Dirty inside surface of the container hole.

Chemical etching emphasizes visibility of such defects after anodising.

"Satin Brushing" prior to anodising can minimize risk of streaks. "Satin Brushing" is done by a machine using sets of brushes made of stainless steel wire. This process also minimizes cost of caustic etching as you need less time (about 30-50% less) for the caustic etching.
Timur Ulucak
aluminum extrusions & finishing - Istanbul, Turkey
---
2005

One does not want to wire brush parts that are to be anodized, as the bristles can dislodge from the brush, and become embedded in the substrate, leaving pits, or bare areas after anodizing.




Marc Green




anodizer - Boise, Idaho





---

2006

We have been wire brushing all aluminium extrusions we anodise to minimize the risk of white/gray streaks that may arise from extrusion process. The "satin brushing machine" we use a special machine dedicated for that purpose. The result is about 800 USTonne good satin anodised extrusions for architectural use. We have three machines (one with 3+3 sets of brushes, one with 4+4, one with 6+6 and just ordered the forth one with 6+6 brush sets. The SS wires that make the brushes are 0.15-0,40 mm thick.

Regards,

Timur Ulucak




aluminum extrusions & finishing - Istanbul, Turkey





---

2006

Timur is probably ok in using SS brushes for his jobs, where small pits from embedded SS wouldn't be noticeable. But, as a rule, it's not a good idea, especially where good corrosion resistance is required.




Marc Green




anodizer - Boise, Idaho



---
July 12, 2014
Dear Chinmay,
Firstly I feel your chemical composition is on the higher limits of 6063 alloy (you said Si 0.5% & mg 0.7%).
Also you need to check the welding chamber depth of your dies; I suggest you to maintain the weld chamber depth around 22 mm.
Because your chemical composition is high, that's why your extrusion pressure is also higher than normal; and to overcome that problem your operator is pre-heating the billets more than normal temperature which surely leads to various surface defects.
You said that "Fe" content of your billets is 0.15% max which I doubt if you are not using primary grade billets. Still I think up to 0.25% of "Fe" content doesn't make much of difference if you can limit your billet composition: Si 0.40 to 0.44%, Mg 0.52 to 0.55%, with 'Fe' content 0.25% max.
Also check bearing length of your dies. Never over-design your dies thinking that the stronger you make a die that will give you more die life ... that's a myth. In fact you make a weaker die in turn. I am sure you will get better result if you try what I suggest.
Gautam Banerjee
Technical Director
- pune, maharasthra, india
---
---
Stripes appearing in aluminum after anodizing
January 14, 2019
Q. In my factory, (not a job shop) we laser cut and punch several thicknesses of aluminum daily. We recently received a shipment of .090" 5052-H32 Aluminum heat tracked sheet with plastic Nitto sheet on one side. This is a standard material for us. Upon receiving our parts back from anodize, we can see very bold, uniform lines on the surface, both sides. The lines are blue tinted, and the base material has turned a gray color. We have seen this result from three different anodize vendors now, so it must be in the material. These lines show up on type II clear, and Type III Hard coat.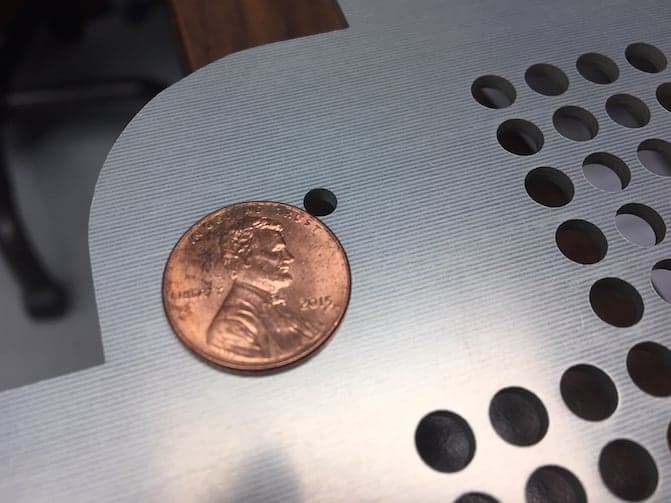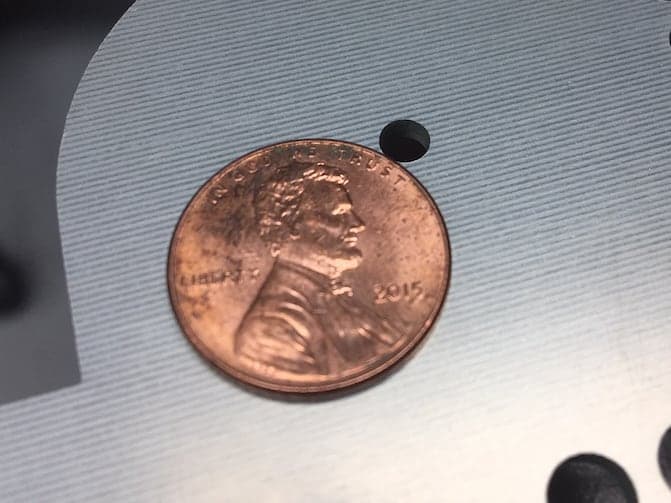 These parts have also been put through a timesaver on the back side, yet the stripes still appear. Has anyone seen this before? Does anyone know what is causing this?
Evan Parent
Manufacturing Engineer - Philadelphia, Pennsylvania, USA
---
---
White Streaks during anodizing of 6063 extruded Aluminium
November 17, 2019
Q. We are anodizing 6063 Aluminium Extrusions, Gloss level required is between 160-250. Our main problem is white streaks of .2 to 6 mm with length of 30 mm to 200 mm. About 50% of components get rejected. Process we follow is:
Degreasing, Rinse, Desmut in 24% Nitric, Rinse, Chem Bright with 65% Phosphoric +30 % LR Grade sulphuric with additive followed by by DM water Rinse Desmut again in Nitric 30 % DM water Rinse, soft Anodizing, DM Water Rinse two times, Cold sealing & Rinse, Hot sealing & Rinse. Air Blow and Hot air Dry.
Please suggest the solution. We get extrusions from Homogeneous Material which is 2 years old
SK Dewan
Employee - Ludhiana, Punjab, INDIA
---
November 19, 2019
A. The white streaks are not caused by your anodizing but by the bright dip as your gloss requirement is very high, according to your bright dip solution formula provided, how long is your bright dip (>1.5 min)?
John Hu
- Singapore
---
November 24, 2019
Q. Thanks, but it is 45 sec and temp is 95 to 105 °C
SK Dewan
[returning]
TECH AUTO PVT LIMITED - Ludhiana, Punjab, INDIA
---
March 10, 2020
Q. How to avoid thick streaks on 6063 extruded aluminium after brightening followed by Anodizing and Sealing?

SK DEWAN
[returning]
TECH AUTO PVT LIMITED - Ludhiana, Punjab, INDIA
---
April 27, 2020
A. We have a lot of experience in bright dip, anodizing, and problems in 6063 alloy. These white streaks produced in the extrusion process can only disappear with a good combination of mechanical polishing, alkaline etching and a good glossy chemical process.
With a good chemical with additives, you can obtain a perfect shine and reduce the attack on the stripes.
Thank you.
Albert Garcia
- Cornella de Llobregat, Catalonia, Spain