topic 37641
Nickel-cobalt electroforming process Q&A's
A discussion started in 1995 but continuing through 2017
1995
Q. I am looking for a transfer of technology and supply of equipment for electroforming. We are a mold and die manufacturer looking for implementation of this technology in our facility. We have the common state of the art manufacturing equipment but need further guidance in tool and die manufacturing particularly in this field. Any information on the matter shall be greatly appreciated. Thanks
We are a die and mold maker and wish to add nickel and copper electroform equipment for use as mold and electrode for plastic molds.
Jimmy Chan
---
A. Hi, Jimmy. NiCoForm [a finishing.com supporting advertiser] has demonstrated great ability in nickel and nickel-cobalt electroforming. You might wish to talk to them and see if they can license the information and guidance you are looking for. Good luck.
Regards,
Ted Mooney, P.E.
finishing.com
Pine Beach, New Jersey
---
---
To minimize your searching efforts and to offer multiple viewpoints, we've combined some threads into the dialog you're viewing. Please forgive any resultant repetition or failures of chronological order.
---
---
(2003)
Q. Dear Sir or Madam:
Hi, I would like to producing embossing die by using High Hardness Nickel Electroforming processing,My purpose is transferring holograms on soft metal surface,like gold, silver or aluminum. The Nickel embossing die's hardness must be above HV500 with low inner strength.
Thank you very much.
Zhang Wei
Shanghai Inst.of Laser Tech. - Shanghai, China
---
(2003)

A. Look into licensing a nickel-cobalt electroforming process; it will deliver mechanical properties that you won't be able to get out of pure nickel.




Ted Mooney, P.E.




finishing.com




Pine Beach, New Jersey





---

(2003)

A. The simplest way is to use sodium saccharin in a nickel sulphamate bath. A stress-free deposit can be obtained with an addition of between 0.2 and 2g/l of saccharin. However, if the nickel is to be heated above 160C it will embrittle because of the included sulphur. To overcome this, use cobalt in place of saccharin and deposit a nickel-cobalt alloy (say 10-15% Co in the deposit).

Trevor Crichton




R&D practical scientist




Chesham, Bucks, UK




---
---
2005
Q. Who will be kind to tell me the process of Ni-Co electroform, including all the solution concentration?
Jack Chou
Microform tech. co ltd - China
---
2005
A. Plating and electroforming nickel-cobalt alloys is not straight forward as the cobalt is depleted much faster than the nickel. The advantage is that such alloys can be heat treated and used at higher temperatures without running the risk of of sulphur embrittlement - a common complaint when hardeners such as saccharin are used. As a rule of thumb, the ratio of cobalt to nickel deposited from a given electrolyte composition does not vary significantly with pH, but it does with temperature and current density. The temperature does not have a great effect, but increasing it form say 25C to 60C will result in an increase of about 15-20% in the cobalt concentration in the alloy. The biggest effect is that of current density. For instance, for a bath plating 30% cobalt at 0.2A/dm**2 may only plate 10% cobalt at 10A/dm**2. To electroform nickel-cobalt alloys you need
Cobalt depletion is quite complicated. A bath with 15% cobalt can produce a deposit with about 45% cobalt, whilst a bath with 40% cobalt will give a deposit with about 80% cobalt.
Electroforming will require continuous dosing of the electrolyte so that the bath cobalt level remains constant. You will also need to use nickel and cobalt sulphamate, as sulphates will give a much more stressed deposit. Stress relievers normally used with nickel electroforms may not work with cobalt baths, so you have to be careful about additives. The best way is to use as basic solution as possible with a minimum of additives. Luckily adding cobalt also brightens the nickel deposit.
I have never heard of anyone using S-cobalt as an anode, as you would use S-nickel in conventional sulphamate electroforming, so chemical dosing is essential. Using straight cobalt anodes will result in passivation of the cobalt and loss of control. Adding chloride will help cobalt dissolution but will also increase the stress in the alloy. As with most alloy deposition, there is always a stress problem, so it is best to minimise any possible problems.

Trevor Crichton
R&D practical scientist
Chesham, Bucks, UK
---
---
Electroformed Nickel Cobalt alloy, heat treatment info?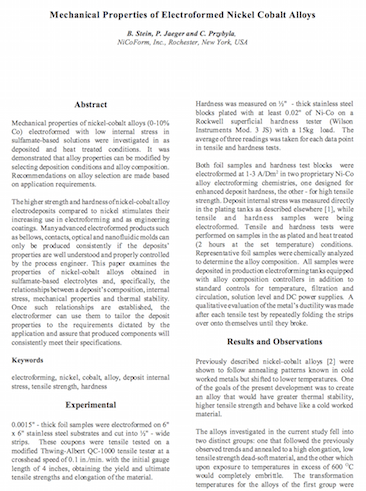 August 18, 2017
-- this entry appended to this thread by editor in lieu of spawning a duplicative thread
Q. Does anyone know where I could get the info for Nickel Cobalt alloy electroforming? And the specific heat treatment requirements? Any help would be great! Thank you in advance.
Michael Smith
- Quezon City, Philippines
---
August 2017
Hi Michael. Berl Stein, et al, wrote a paper that sounds like exactly what you're looking for :-)
Regards,
Ted Mooney, P.E. RET
finishing.com
Pine Beach, New Jersey
Striving to live "Aloha"


If you have a question in mind which seems off topic, please Search the Site