World's #1 on-line resource since 1989
-----
Trees on stainless steel acid copper plating process
2005
I have a tank for acid copper plating on stainless steel (CuSO4 200 gr/lt + H2SO4 100 gr/lt + HCl 70 ppm).
My problem is that after 4 hours of plating build up trees (seems to a pine).- When de hours are more they are more.
What I can do for eliminate this problem?

Grates for you,
Juan Manuel Moreno Arens
Hobbyist - Santiago de Chile
---
2005
To plate on stainless steel you will need to start with a high chloride nickel strike.

Search this website and I'm sure you will even find a formula.
Peter Van de Luecht
- Melbourne, Vic, Australia
---
2005
Treeing is controlled by the addition of grain refiners which direct more current away from the high current density areas, such as a growing dendrite or tree. Here is a photo of a nickel tree that built up during heavy electroforming (many hours of plating) One photo shows the back of the dendrite where it was attached to the mandrel being plated (it was an long opening in some masking tape that loosened up during plating, allowing plating solution to seep in. The plating starts off very slowly, but as the plating grows out from the tiny slit in the tape, it grows into the open and more and more current starts the tree blooming. The chemistry of this bath does not allow the use of grain refiners, since it changes the mechanical properties of the deposit, usually stress is a problem, so we let the trees grow where they don't interfere, and just make paperweights out of them. Sometimes the tree is the only useful thing that comes from 48 hours of plating;-) You can see in the photo a greenish line which is some dried salts showing where the tree grew out of the tape opening.
| | |
| --- | --- |
| | |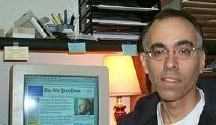 Tom Pullizzi
Falls Township, Pennsylvania