Live! From beautiful Pine Beach New Jersey: Welcome to the world's most popular metal finishing website
topic 3777
How to refinish stainless steel sheets damaged by razor knife
1999
A new employee used a razor knife to cut the protected covering from # 3 stainless steel and left a deep cut running against the grain. How can I remove this?
Ronnie Lawhon
- Little Rock, Arkansas
---
1999
Sounds like you may need to electropolish followed by re-passivation. This should reduce the appearance of the scratch, but you won't remove it unless you either mechanically grind the whole area down or build up the scratched area by some means (low temp weld?). - Jeff
Jeff Verive
- Bolingbrook, Illinois
---
1999
Actually, it's a two-fer. Electropolishing by itself will leave a finish at least as passive as electropolishing followed by nitric acid passivation.
It is also possible to brush plate nickel into the gouge if the nickel filling will suffice for the operational and aesthetic requirements. Regards,
Ted Mooney, P.E.
finishing.com
Pine Beach, New Jersey
Striving to live "Aloha"
---
1999
No. 3 finish stainless is a broken coarse brush grain.
It is harder to sand out the scratches and match the grain then it would be with a continuous HairLine grain.
I've seen HairLine grain stainless used with welds which are later sanded with matching grain scotch brite pads or sandpaper that removes all weld marks.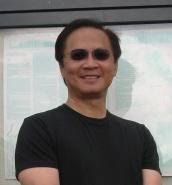 Michael Liu Taylor
specialty stainless steel distributor
Dallas, Texas
---
September 16, 2009
You can try using a straight-line sander or an angle grinder with a scotch-brite drum attachment. MAKE SURE you use a guide inline with grain lines and rest the sander against it.
The BIG problem is the grain finish on factory made sheets of stainless is that they are "machine made". By that I mean, the whole sheet is run through a Timesaver (giant belt sander who's sanding width is the same width as the whole width of the sheet going through it). The resulting finish is superb and more consistent than anything someone could do by hand. To replicate this finish by hand is extremely difficult and is as much art as it is science. Probably the main reason there are scratch and dent discounts for stainless steel appliances!

I wish you best of luck!
Cliff Kusch
electropolishing shop - North Vancouver, British Columbia, Canada
---
February 18, 2010
A good way to prevent this scratch in the first place is to use a copper knife, self made of course, but no matter how hard you put copper to stainless it won't scratch it and it will cut the paper off with ease.
Robby Mills
- little rock, Arkansas


If you have a question in mind which seems off topic, please Search the Site