topic 3736
Aluminum emissivity and absorptivity
(1999)
Q. I'm desperately seeking values for the emissivity and absorptivity of Aluminum. If you could offer any assistance it would be much appreciated.
Cian Wilson
student - Dublin, Ireland.
---
(1999)
A. Dr Charles He is the person at NASA Goddard Space Flight Center that can help you with the answer.
He is involved with:
Laser Ellipsometer
Reflectance and Transmittance
Ultraviolet/Visible Spectrophotometer
The Goddard Space Flight Center Materials branch is located at http://arioch.gsfc.nasa.gov/313/html/home.html
Their key contacts are located at http://arioch.gsfc.nasa.gov/313/html/key_cont.html
Vernon Harvey
aerospace - Beltsville, Maryland
---
(2001)
I have an aluminum plate and I want to increase its emissivity up to .9 at least. What are some things I can do?
Douglas K. Martins
- Oak Ridge, TN
---
(2005)
A. There are many things you could do to increase emissivity,
1. Anodize aluminum could get you close to 0.9
2. MCA structure could get you close to 1.0 refer details in this paper:
Infrared Physics & Technology, Volume 45, Issue 3, p. 159-167
Rajeev Pillai
- Houston
---
---
July 15, 2013
Q. I have a question related to the question above. I am working to decrease the variance in the emissivity of aluminum at a set temperature for a long period of time. Aluminum oxidizes at higher temperatures and the oxidation causes the emissivity to vary over time. Is there any type of treatment (coating or anything else) that would help make the aluminum have a constant emissivity that I could look up easily for calculations on an experiment I am working on? We have considered powder coating but I can't find the powder coating's emissivity constant and I am unsure if anodizing would help hold the emissivity constant.
BJ Williams
- Logan, Utah, USA
---
July 16, 2013
A. Anodized aluminum (aluminium) works but the emissivity scale is quite a bit higher than plain aluminum. You can also use gold or other coatings but if you are going to high temperatures you'll probably want a thick diffusion barrier like nickel and even with that layer, the gold could disperse during use. Another thing to try is polishing the aluminum, especially if you need a low emissivity.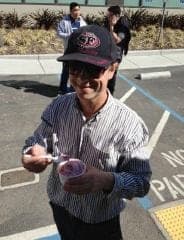 Blake Kneedler
Feather Hollow Eng.
Stockton, California


This public forum has 60,000 threads. If you have a question in mind which seems off topic to this thread, you might prefer to Search the Site