topic 3718
Pre cleaning of painted parts spoils zinc passivation
(1999)
Dear Sir,
-We have a multiple joint mechanism that is initially zinc passivated.
-We require to paint a part of this mechanism (that has no joints) in white for aesthetic reasons.
-We have been doing so by masking the unwanted part while powder coating.
-However we find that the part that is not painted has begun to corrode.It also does not seem to have the Zinc plating that it initially had.
-Does the cleaning bath (phosphating before painting) harm zinc passivation? How can we prevent this?
Ratanjit Singh Sohal
- India
---
(1999)
For my opinion you cannot phosphate passivated zinc but for sure you are attacking the passivation by low acidic solution. (It can attack the zinc also in some conditions).
I suggest you will try to paint strictly on the Zinc Plated passivated surface (Clean the surface before with some means like solvent to remove dust) there are a lot of passivations that are preparation for paint.
If you don't succeed in my suggestion you have to remove the passivation and to coat the zinc surface with chromate conversion process.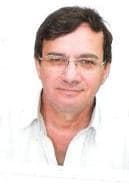 Yehuda Blau
YB Plating Engineering and Quality - Haifa Israel


This public forum has 60,000 threads. If you have a question in mind which seems off topic to this thread, you might prefer to Search the Site