Live! From beautiful Pine Beach New Jersey: Welcome to the world's most popular metal finishing website
topic 36879
Zinc Nickel (Clear) Trivalent Plating
A discussion started in 2005 but continuing through 2019
2005
Q. Dear Sirs,

I want to know what is Zinc Nickel (Clear) Trivalent Plating, and what is different between this and clear zinc plating only.

Please help me.
Nick Poon
owner - Shenzhen, Guangdong, China
---
2005
A. Hi, Nick.
Components are zinc plated for corrosion resistance, but the zinc plating itself is subject to early corrosion (white rust). To prevent white rust, zinc plated parts and parts plated with zinc alloys invariably receive a post treatment, which traditionally was a hexavalent chromate conversion coating, and which could be thin (clear), thicker (yellow), or thickest (olive green).
Because of concern over toxicity, and RoHS and WEEE standards, it is common today to employ trivalent chromates instead of the traditional hexavalent chromate post treatments. These are usually inherently clear, and use dye to obtain a yellow color if desired.
Zinc-nickel is an alloy plating (usually proprietary and available from the major plating process suppliers) that offers better corrosion resistance than plain zinc plating. The chromating process is somewhat different because the conversion reaction proceeds somewhat differently on the alloy, and the proprietary supplier should be consulted regarding available color, and presence or freedom from hexavalent compounds in the chromating process. Good luck.
Ted Mooney, P.E.
finishing.com
Pine Beach, New Jersey
---
---
2006
Q. My question is more about the corrosion resistance of the Trivalent Zinc i.e. salt spray versus Electroless Nickel or Cad. The salt spray requirement is 240 hrs @ 5% solution. The components are carbon steel and will be used in the Fire Protection industry. Complete coverage is a must and the sleeves must withstand crimping with no cracking or flaking of the plating. Also, are there other coatings on the market that will offer the above that is cost effective and environmentally friendly.
Mack McPeeters
- Greensboro, North Carolina
---
2006
A. Hi Mack. Cadmium is a cumulative toxin similar to mercury and lead and should not be used unless the situation is extraordinary and the combination of properties offered by it is essential.
Electroless nickel is a fine finish, but is neither malleable nor a sacrificial coating, and I think it would be unsatisfactory for an item to be crimped.
A zinc alloy plating is probably good, and tin-zinc may be better than the alternatives when crimping is involved. 240 hours should not be a problem for a well applied proprietary zinc alloy plating with suggested proprietary chromates.
Ted Mooney, P.E.
finishing.com
Pine Beach, New Jersey
---
---
January 21, 2010
Q. In reference to Zn Ni Trivalent Chrome plating - when or how does the toxic gas become dangerous? Is this during the plating process or is it simply during the handling of the parts at the end-user's location where the part would continuously emit a toxic gas?
Elizabeth Nerness
- Windom, Minnesota
---
January , 2010
A. What toxic gas is that, Elizabeth?!
Zinc-nickel plating with trivalent chromate conversion coating emits no toxic gas at any time. In fact, I've never heard of any plating that does. It is possible that a couple of different things might be confusing you.
If the chromate conversion coating on the zinc-nickel plating were the more old-fashioned hexavalent chromate, that thin "gel" on the parts might be considered carcinogenic -- although billions of components of all types were hexavalent chromate conversion coated for decades, including the overwhelming majority of the world's screws, washers, nuts and bolts. Due to source reduction efforts, RoHS, etc., hexavalent chromating is rapidly becoming rare, and the replacement technology, trivalent chromate, is not considered carcinogenic -- in fact, trivalent chromium percolinate is sold as a supplement in health food stores.
Chrome plating (as opposed to chromate conversion coating on other platings like zinc-nickel) is usually conducted in a bath of chromic acid. The process generates a great deal of hydrogen gas bubbles, which can (if not properly managed) convey tiny droplets of the chromic acid into the air during the plating process, similar to how champagne or ginger ale bubbles can carry those products into the air. This chromic acid solution is toxic and carcinogenic, and proper fume suppressants and/or ventilation and fume scrubbing systems are required to capture those droplets. Once the chrome plated surface is rinsed, it presents no dangers to the end user.
Get back to us if this wasn't clear.
Regards,
Ted Mooney, P.E.
finishing.com
Pine Beach, New Jersey
---
January 22, 2010
Q. Thank you for your response!

So in summary, the Hexavalent plating is dangerous to people in and around these parts such as an automobile? Or is it only overemphasized and not really a problem?

Regards
Elizabeth Nerness
[returning]
- Windom, Minnesota
---
January 22, 2010
A. Hi, Elizabeth. You are playing your cards a little too close to the vest for an ideal discussion. After two postings, I still don't know where you are trying to go or what you mean by "hexavalent plating" -- chrome plating or chromate conversion coating? Please be forthright about exactly what you are trying to determine and why, and maybe we can respond more directly.
There are potential dangers everywhere, but if we weigh the danger of unreliable automobiles when proper corrosion-resistant finishes are not applied, against the very minor concern of people potentially touching hexavalent chromated automobile parts, there is utterly no comparison.
Regards,
Ted Mooney, P.E.
finishing.com
Pine Beach, New Jersey
---
January 24, 2010
Q. Hi Ted,

I'm sorry for the confusion. Please allow me to start over.

We have a product in which we are told that the metal parts need to have a "coating of Zinc-Nickel electrolytically deposited on our ferrous metal surfaces from alkaline baths where corrosion protection treatment is required." "A supplementary hexavalent chromium free coating and/or trivalent chrome may be applied."

1. Does this mean that the Hexavalent chromium free coating offers the same protection from corrosion & from being a danger to people as the Trivalent chrome does?

2. Is the Hexavalent chromium free coating basically a Zinc-Nickel plate with a topcoat?

3. Are the costs of both of the platings (hexavalent chromium free coating and trivalent chrome) very similar? Or is the trivalent chrome process a substantially higher cost? Thank you!

Elizabeth
Elizabeth Nerness
[returning]
- Windom, Minnesota
---
January 24, 2010
A. Thanks, Elizabeth; I understand.
Zinc-nickel plating, like plain zinc plating or other alloys of zinc, requires a supplementary post-treatment to prevent tarnishing and early corrosion. In the old days, hexavalent chromate conversion coating was the method of choice.
After RoHS regulations and other concerns about the toxicity of hexavalent chromate, and intense development efforts, the choice for the last 5-10 years has been to use a trivalent chromate conversion coating or a non-chromate conversion coating. Some say trivalent chromate coatings are marginally more protective; some say even trivalent chromium might some day also be banned, so non-chromate is a better long-term bet -- and I suppose there may be a seed of truth in either statement.
But for practical purposes the two are roughly of equal safety, roughly equal protective value, and roughly equal cost, so I would choose the plating shop which I preferred and accept whichever supplementary conversion coating they have adopted unless your parts must meet a particular specification which dictates whether to use trivalent chrome or chrome-free conversion coatings. Yes, the new generation of top coats is a bit more expensive than the old hexavalent chromates, but not greatly so, and the question is moot because that's all you'll be able to find in the very near future anyway. Good luck.
Regards,
Ted Mooney, P.E.
finishing.com
Pine Beach, New Jersey
---
---
June 22, 2011
Q. I am wondering about the plating that is on fasteners (bolts nuts, screws) you can buy at most hardware stores. The bags and boxes say zinc plated, but my guess is that they are more likely trivalent chromated coatings. My question is how temperature resistant are these coatings. Will they fume off at less than 750 °F. My understanding is, no, since the boiling point of the zinc chromate is way higher than that. I want to use these fasteners inside my bbq grills, and I can't seem to get a straight answer anywhere I look. No food would be in contact with any of these fasteners ... ust charcoal, and some other metals, such as the edge of a steel walled drum.

Thanks,

Dave
David Trotter
- Rochester, Minnesota
---
June 23, 2011
A. Hi, Dave. Zinc plating is the least expensive plating, so, in the absence of specs -- i.e., just buying hardware off a shelf -- it's probably zinc plated. Zinc plating requires a chromate conversion coating or it would get white rust almost immediately. Traditionally, this was based on hexavalent chrome because it is inexpensive, extremely reliable, and highly corrosion resistant. But trivalent chromating has become more popular in recent years due to European RoHS requirements and automotive requirements, and technical improvements which increased its corrosion resistance. These days much hardware now receives trivalent chromate, but to assume that a given box in the hardware store has trivalent chromate would probably be a leap. A few years from now it will probably be a safe bet.
To my knowledge there are no specific laws stating what hardware you are allowed to design into your line of BBQ grills (except that if they are sold in Europe they probably can't have hexavalent chromate conversion coating).
I would certainly not use cadmium plated hardware, and these days I would not use anything with hexavalent chromates.
Millions of people get food poisoning every year from the food they put on their grill; sometimes it's very severe. Contrariwise, I don't think there is any evidence that zinc plated, chromate conversion coated assembly hardware in a BBQ grill has ever endangered anyone. I'm not saying that no epidemiologist should look into the subject, but I don't think that any ever has. And I think that those of us who are charged with coming up with designs in a world of finite resources and where every possible construction material has downsides and potential dangers, can lean on pragmatism.
It's fine to seek a straight answer, but you won't find a world with no shades of gray, no differing circumstances, and no second guessing :-)
Regards,
Ted Mooney, P.E.
finishing.com
Pine Beach, New Jersey
---
---
February 21, 2019
Q. Hi,my name is sudharshan from bangalore, india. I have a problem in zinc nickel trivalent plating. We are doing zn/ni plating with clear passivation. After the clear passivation the components gets some yellow shades also with clear appearance, why is that? What may be the problem? Please tell the answer in a practical way. Thank you.
Sudharshan Velusamy
Surtec chemicals - Bangalore,India
---
February 2019
A. Hi Sudharshan. Please send some clear photos of the problem to for inclusion here.. Unfortunately, trying to clearly understand what something looks like from a brief description is nearly hopeless. Could be a stain, a reaction, a discoloration in the process chemical, a thin-film interference/iridescence pattern ... and trying to ascertain the possible causes of such a look that isn't understood is hopeless squared :-(
Also please tell us whether the zinc-nickel plating process is acid or alkaline, and barrel or rack, hexavalent or trivalent, and a purchased proprietary or home-brew. Thanks!
Regards,
Ted Mooney, P.E. RET
finishing.com
Pine Beach, New Jersey
Striving to live "Aloha"
---
February 24, 2019
Q. Alkaline zn/ni trivalent barrel plating ...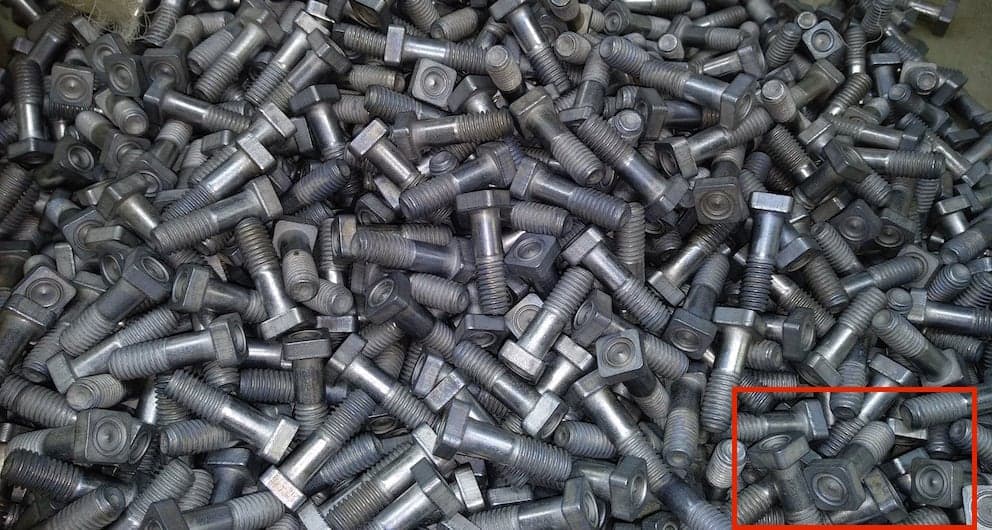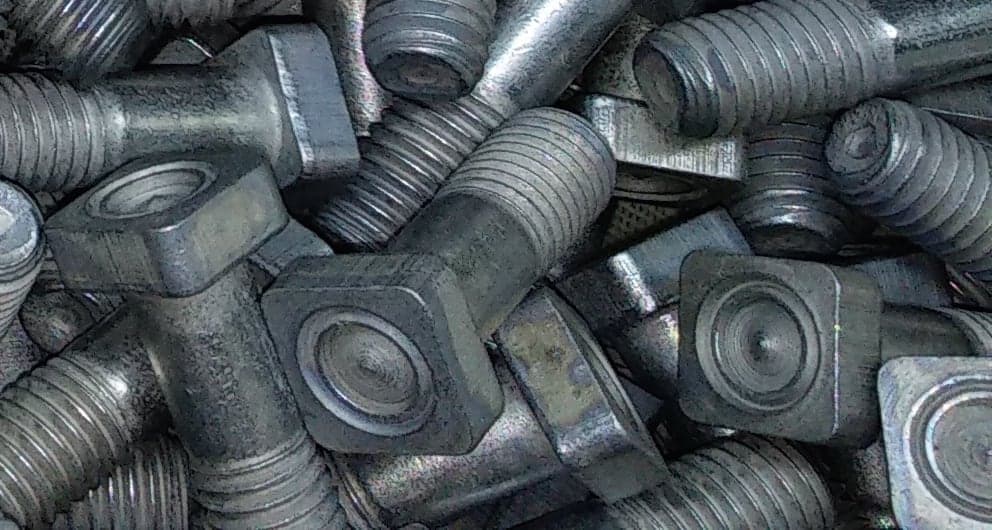 Sudharshan Velusamy
Surtec chemicals - Bangalore,India


If you have a question in mind which seems off topic, please Search the Site