Where the world gathers for
plating, anodizing, & finishing Q&As since 1989
-----
RCA test for electroless nickel

Q. Thank you for your comment.
I would like to know how accurate is this nitric acid test?

Are there any references about this test?
hazan eden
- Israel
September 27, 2023
A. Hi Hazan,
Ron Duncan said "usually high phos coatings pass the test easily, while coatings containing less than 10% phosphorus usually fail in seconds".

I don't know if any living people can offer deeper data than "usually", but we'll see :-) Luck & Regards,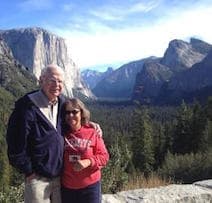 Ted Mooney, P.E. RET
Striving to live Aloha
finishing.com - Pine Beach, New Jersey



---
---
↓ Closely related postings, oldest first ↓
---
---
"Electroless Nickel Plating: Fundamentals to Applications"
by Fabienne Delaunois et al
from eBay,
Abe Books
or Amazon
(affil links)
Q. I have recently started EN plating for some valve industry. I would like to know the process of knowing the phosphorous content in the plating done because it plays very important role in corrosion resistance properties. Is there some test by which I could come to know whether the plated component is corrosion resistance? Is there something called as "RCA Test"? Or nitric acid test? please let me know the reference to this.
Vikram Patel
- Pune, Maharashtra, India
2001
Ed. note: Ron Duncan addresses the RCA / nitric acid test further down this page.
Acronyms:
ICP = inductively coupled plasma
A. Use an atomic absorption spectrophotometer [adv: item on eBay & Amazon], or an ICP [adv: item on eBay ] . Both will measure phosphorous but you will need to dilute.
Bill Berilco
- Simcoe, Ont., Canada
"Chemical (Electroless) Nickel Plating"
by G. G. Gawrilov
from eBay,
Abe Books
or Amazon
(affil links)
A. Dear Vikram ;
To know the corrosion resistance of your ENPlated job.. Yes..here are my inputs:
SALT SPRAY TEST as per ASTM B733 [affil link] standard for more than 12microns (0.5mil)...and the hrs of salt spray to be specified by the customer...depending on the base metal and the plating thickness req'd...
NITRIC ACID DIP TEST for less than 7 microns thickness in EN plating.
FERROXYL TEST (POROSITY TEST)
25 gm of potassium_ferricyanide [affil link] + 15 gm of sodium chloride...to be mixed in 1 litre distilled water (the mixture can be varied in proportion based on requirement). The part to be tested should be thoroughly cleaned and then dipped in this solution (ferroxyl) for 30seconds. Take the part, clean again in running water...
and observe the part for blue spot deposition. (
THIS TEST IS PREFERRED FOR MORE THAN 15 MICRONS THICKNESS EN PLATING and NOT PREFERRED FOR ROUGH CASTING PARTS) BOILING WATER TEST (FOR POROSITY).
Vijayakanth
WeP Peripherals Ltd - Mysore, Karnataka, INDIA
---
---
Q. Somebody told me that there was a test that permits us to distinguish High phosphorus from medium phosphorus electroless nickel. This test name is "RCA" and based on used on nitric acid. Is the RCA test is a standard test?
P. LE VASSEUR
SCHNEIDER ELECTRIC - ESPAGNAC, FRANCE
2005
A. The nitric acid test was originally developed by the RCA Labs in New Jersey in the 1960's as a quality control test for incoming electronic components.

The standard nitric acid test is an immersion of a coated coupon or part into concentrated nitric acid (70 percent by weight concentration) for 30 seconds. If the costing turns black or grey during the immersion, it fails the test.

The nitric acid test is actually a test of passivity, but usually high phos coatings pass the test easily, while coatings containing less than 10% phosphorus usually fail in seconds.

Deposit porosity and co-deposited contaminants also effect the results.

The test is not part of any national standard but is used by different companies as part of their purchasing specs.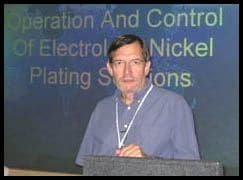 Ron Duncan
[deceased]
- LaVergne, Tennessee
It is our sad duty to note Ron's passing on Dec. 15, 2006. A brief obituary opens Episode 13 of our Podcast.
2005
---
---
Q. Can somebody tell me whether low stress sulfamate nickel plating plate can pass RCA nitric standard or not?

Don't coat high phos coatings!
CD. Jack
yihshan - Shenzhen, China
2007
A. Hello Jack,
I'm no testing expert but it seems to me that nitric acid would destroy sulfamate nickel plating almost instantly.
Luck & Regards,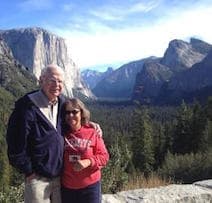 Ted Mooney, P.E. RET
Striving to live Aloha
finishing.com - Pine Beach, New Jersey



---