60,000 Q&A topics -- Education, Aloha, & Fun
topic 36730
White stains in electroless nickel plating
A discussion started in 2005 and continuing through 2020 so far.
Adding your Q. / A. or Comment will restore it to our busy Current Topics page
2005
Q. My company is doing electroless nickel plating on brass. However, we are facing white stain issue more than 10% of total production every day. The all chemical concentrations involve are controlled in the spec. The nickel bath was made up in the past 2 1/2 years. only top up nickel was done. I would like to know does this nickel solution make up life time can contribute to the issue?
Cheng Souk Ping
Plating company - Penang, Malaysia
---
2005

A. Unless you are using one of the baths with highly specialized equipment to remove the breakdown products of the hypo, the normal amount of tank turnovers (100% replacement of the nickel ion = one tank turn over) is 4-20 with 8-12 being common. I am rather shocked that you can even plate with a 2.5 year old bath, even at 100% analysis.

James Watts




- Navarre, Florida





---

2005

A. When you say all chemical concentrations are in the spec what do you mean, basic chemicals? Do you analyze sodium orthophosphite, deposited phosphorous? Do you keep track of metal turnovers? How do you maintain pH and temperature? Is your work load fairly constant? Two and a half years is quite a long time. Undesirable by-products will keep forming regardless of care taken during the operation.

Guillermo Marrufo




Monterrey, NL, Mexico




---
2005
A. While a 2-1/2 year old bath is quite old and may have been contaminated over the years with any number of things, bath age is normally defined in terms of the amount of nickel that has been plated from it.

A cycle or turnover is that age from plating out the original nickel content of the bath. Most baths contain 6 g/L of Ni. So for them one cycle is when 6 g/L of nickel is consumed and replaced. That is the equivalent of about 6.6 g/L of electroless nickel plated.

Most mid phos type baths only have a life of between 8 and 12 cycles. After that, the amount of orthophosphite and sulfate contamination is so high that the bath becomes quite low and the coating's quality is quite low.

Your white stain may or may not be the result of this contamination.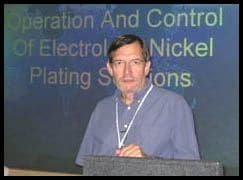 Ron Duncan
- LaVergne, Tennessee
It is our sad duty to note Ron's passing on Dec. 15, 2006. A brief obituary opens Episode 13 of our Podcast.
---
---
To minimize search efforts and to offer multiple viewpoints, we combined previously separate threads onto this page. Please forgive any resultant repetition, failures of chronological order, or what may look like readers disrespecting previous responses -- those other responses may not have been on the page at the time :-)
---
---
RoHS EN leaves white stain, non-RoHS doesn't
2005
Q. Having problem plating RoHS EN on 300 Series Stainless Steel 0.4 mm thick cover (Surface 90 mm X 70 mm). Result 80% with white stain. This only happen when I use RoHS EN. If I use non-RoHS EN, there's no white stain found on surface. Anyone can help. Thanks
Stewart
[last name deleted for privacy by Editor]
Plater - Malaysia
---
2005
A. Interesting, we never encountered white stains on Lead and Cad Free electroless Nickel.
usually are shadows when you have overstabilized bath.
Sridhar Bushigampala
- Toronto, ON, Canada
---
2005
A. Lead and cadmium free EN is less bright than regular EN.
Yet white stains cannot be a result of RoHS EN. Something else must be wrong.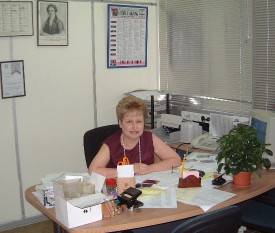 Sara Michaeli

chemical process supplier
Tel-Aviv, Israel
---
2005
Q. This white stain also is new for my chemist. My chemical supplier suspect is the surface too big. Previous we are plating disk clamp (40 mm diameter) and no problem all the time. Recently I try to shake the jig non-stop during EN bath. This only help me to reduce to 50% reject.
Stewart
[returning]
Plater - Malaysia
---
2005
A. What do you mean by "recently started to shake parts"?
Agitation in EN plating process is mandatory!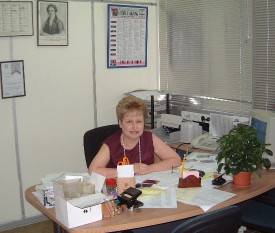 Sara Michaeli

chemical process supplier
Tel-Aviv, Israel
---
---
August 30, 2013
Q. Hi,

Our company produces Hard Disk Drive components and we have the electroless Nickel Plating process. However, our company has a problem about the white stain and black dot issue on the parts. Example: I run 3 jigs, only 1 jig has this reject. So, if this problem is due to EN bath, why don't 3 jigs have same reject?

Please advice what I can do to prevent this issue and find the root cause.

Regards,
Zana
Nur Zana Binti Japar
- Selangor, Malaysia
---
---
September 20, 2013
Q. I would like to ask if dried oil on raw material will cause white marks after electroless Nickel process. If so, what are the causes of this occurrence?
Grace J.
- Cebu, Phils
---
---
White Stains and Unplated areas in EN Plating
November 16, 2020
Q. Hi all, our company is performing Electroless Nickel Plating on cold rolled steel and we are facing a serious plating defect where some of the parts are unable to be coated with EN. White stain is also found on surface. We have checked all parameters (Temperature 90 °C and pH control to 5). What is the possible cause of this defect?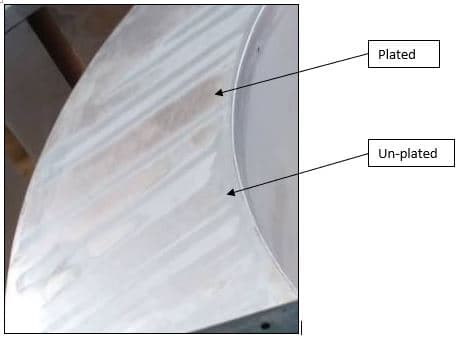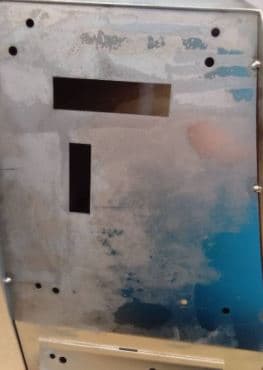 TOO YI WEI
- Simpang Ampat, Malaysia