Live! From beautiful Pine Beach New Jersey: Welcome to the world's most popular metal finishing website
topic 36584 p2
Rust on new stainless steel appliances
---
---
A discussion started in 2005 but continuing through 2019
September 8, 2009
Q. Anyone else having problems with Frigidaire refrigerators releasing moisture humidity or rust-colored liquid on the outer coating of the plastic coated doors; especially around the water and ice-cube dispenser? I reported them to the Attorney General's office, FTC, and Consumer Protection. My appliance is under warranty and was purchased through Best Buys, and I'm being lied to and getting a run around. So...I'm ready to fight for my protection of rights as a consumer. Anyone else experiencing this?
Marianne J
[last name deleted for privacy by Editor]
home owner - Camden County, New Jersey
---
October 11, 2009
Q. We are having the same problem with our Frigidaire refrigerator. We now have two small pitted holes that are leaking a rust colored liquid. We purchased the appliances at ApplianceMart and they have been no help. We also called Frigidaire and they said they have never heard of this problem. We asked to have a rep for the company come and look at the problem. Frigidaire told us that they don't have anyone in our area (Minneapolis) to look at the problem. Any suggestions?
Mary Quinn
- Minneapolis, Minnesota
---
November 22, 2009
! We have ... well, had, they're three years old now, stainless appliances ... all have developed rust also. No muriatic acid and bleach has ever touched them (read this whole thread lol). They're all made by Frigidaire. I'm not happy.
Dee Rhind
- Bridgewater, Massachusetts
---
November 30, 2009
Q. We too bought a complete kitchen set of "stainless steel" appliances from Maytag (Jenn-Air for the range hood) from Sears less that five years ago and are experiencing issues with rust in what is called stainless steel. We called Maytag and they would not do anything. We called Sears and they would not do anything. We bought Maytag because of their reputation. Now we would not buy anything from a company that cannot stand behind their products. All they would say is to have a service person at our expense come over to the house and prove that the rust is a manufacturing defect. Again, this is at our expense.

Is there a government agency that reviews such matters?
Michael Smith
- South San Francisco, California
---
December 28, 2009
! We started noticing small rust spots appearing on our GE Profile refrigerator doors and couldn't believe it. I've gone on line and discovered this thread of folks having the same problem. We purchased our refrigerator from Home Depot but from what I've read neither the manufacturer or retailer will stand behind their products. I will try using the products listed and hope for the best. A very sad situation to say the least!
Barbara Reinhardt
- Minneapolis, Minnesota
---
December 30, 2009
A. Barbara, as to your issue of rust, the appliance industry is experiencing an increased problem with 'rust' due to the fact that they are beginning to use more 430SS (magnetic type) metals as a way to reduce costs. This is real Stainless but has more iron; therefore, susceptible to rusting/staining.
adv.
Scratch-B-Gone quickly fixes this problem and our Ultra Shine chemical adds a protective coating to retard rust.
No manufacturer warranties their 'Stainless skin' except against rust through.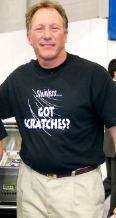 Barry Feinman
BarrysRestoreItAll
Carlsbad, California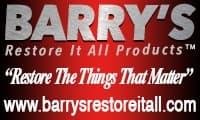 ---
December 31, 2009
I have had a plastic vinyl coated type Frigidaire refrigerator for several years, and within months after having it it had rust spots all over the door of it. Nothing would remove the rust, and it now looks like a refrigerator with the measles look of rust spots all over it. Its a total eyesore. It was like humidity from the inside out. As a result I would NEVER purchase a Frigidaire appliance again. Neither would people who come over and see it. It is totally awful. I can't wait to get rid of it. Betty in the midwest.
Betty Ehler
- Minnesota, USA
---
February 16, 2010
Q. Hi,
Does anyone know if Borax [linked by editor to product info at Amazon] is safe to use in washers with stainless steel tubs?
Thank you.
Tom Slick
- Roselle, Illinois
---
September 5, 2010
! I purchased 3 Frigidaire Appliances in May 2010 and in July 2010 noticed rust spots on all doors and handles! Initially, after staying on the phone with Frigidaire for almost 1 hour they told me it was the cleaning product I was using (Weiman's and Magic) I was not happy, called back very frustrated and they referred me to an appliance Co nearby and they are replacing the doors-we'll see what happens next - I am not a happy consumer.
Susan Amaral
- Nottingham, New Hampshire
---
September 10, 2010
! I could hardly believe it when I saw rust on my stainless steel! I called Jenn Air a moment ago and they said that they do have a rust remover powder product. I was able to order it from them on the phone. I hope it works but if it does not, I'll let you all know in October! Good luck to us all!
Mary Smith
- Chicago, Illinois
---
September 16, 2010
Q. I have a 11 month old Whirlpool SS fridge with freezer on bottom. It runs great. We love that design.
I have rust on my freezer door. Will not come off. Called Whirlpool and tech was just here now. He took one look at it and said he will order a new SS door and he will come back in a week to install it. Good luck to everyone!

Victor
Victor Mosca
- Dallas, Pennsylvania USA
---
October 12, 2010
Q. Alright I'm now scared after reading all the posts about Muriatic (Hydrochloric) acid. I used a tile and grout cleaner that has it not thinking that it would in any way damage the stainless steel appliances. The nylon brush that I used splattered the solution on the bottom of the stove and dishwasher as I was scrubbing the grout. I became immediately concerned after I tried to wipe it away with SS cleaner but it didn't work. I immediately made a baking soda paste and covered the affected areas on the stove and dishwasher and then used baking soda on the floor to neutralize the acid. I do not have rust but am now scared that I may be in trouble...have I acted quickly enough? Anything else I can do to get rid of the dark spots that formed because of the acid?
Peter Forsman
- Jersey City, New Jersey
---
October 18, 2010
adv.
Peter, although Scratch-B-Gone refers to scratches in its name, it works equally effectively on stains, rust, and spots due to acids in a flash.

Barry Feinman
BarrysRestoreItAll
Carlsbad, California
---
October 19, 2010
A. Hi, Peter. Never use hydrochloric acid in your home again! The thing to remember is that hydrochloric acid is NOT a liquid, it is a gas dissolved in water. Although the most immediate damage may be done to areas where it is splashed, the acid fumes permeate the air and attack your electronics, wiring, and chrome finishes as well as your stainless steel surfaces.

Regards,
Ted Mooney, P.E.
finishing.com
Pine Beach, New Jersey
---
October 27, 2010
Q. I remodeled my kitchen 3 years ago and purchased all matching GE profile brushed stainless steel appliances. My dishwasher and refrigerator have rust spots that started to appear about 1 month ago. I always use stainless cleaner on my appliances. The floor tile work was completed before the appliances were installed so I do not believe this is a problem of the "environment" these are poorly manufactured low grade doors. I waited decades to remodel my kitchen and have matching appliances, I did not buy low end products and now I have rusty doors.
Mary Rose Chasler
Home owner - Fredonia, New York, USA
---
January 13, 2011
Q. Hi I used hydrochloric acid mixed with water to clean the floor tiles and after a few days the stainless steel appliances stated to build up rust what can be done to remedy the situation?
Iroshi Deliwala
- Clayton, Victoria and Australia
---
January 12, 2011
A. Hi, Iroshi. First off, don't do it again. You can try sodium bicarbonate (baking soda) to neutralize the acid, but a lot of damage has already been done, and this still leaves chlorides (which are bad for stainless steel) on the appliances. So, after the neutralization, a salt remover could be tried. But the wiring of the appliances has also been exposed to the acid and may be less reliable now.


Regards,
Ted Mooney, P.E.
finishing.com
Pine Beach, New Jersey
---
January 14, 2011
Hi,

Thank you!

Regards,
Iroshi
Iroshi Deliwala
- Clayton, Victoria and Australia
---
January 20, 2011
! I have 3 different brands of SS appliances and 2 SS sinks. The sinks have no rust but all the appliances do. I have worked in the food industry for over 20 years and most commercial kitchens have stainless steel everything and I have never seen rust in these environments. For sanitation reasons most commercial kitchens see a lot of bleach water used in cleaning them throughout the day and then once a week the use of a stainless steel cleaner to buff and shine (these are usually a spray or cream with a kind of oily finish). Having this expertise and the ability to buy the commercial cleaning products, this is what I have used in my home kitchen. I don't use bleach but a damp towel or sponge for daily cleaning and the SS cleaner once a week or so. When I first saw rust (after about year) I thought it may be because I live in the damp Northwest but after hearing so many stories from people all over the world my conclusion is that all these appliance companies use an inferior SS product. I thought that after a number of years of stainless steel products being on the market that they would "work out the kinks" and look to how SS sinks and commercial products are made but it doesn't seem to be the case. I am very surprised that many of you were able to get replacement fronts for any of your appliances as I was told by the appliance store that it was just normal "wear and tear". You should feel lucky. If anyone has found a product or method for removing the rust, I would love to hear about it, I hope to sell my house in the next couple years and really don't want to have to replace all the appliances in order to do so!
I really like the clean, modern look of stainless but certainly wouldn't recommend it to anyone who's in the market. In the future I will either go with the shiny black (which I had in the past and loved)or think about spending the extra $ and buying commercial appliances.
H. HEARSEY
- SEATTLE, Washington
---
April 2, 2011
A. The appearance of rust or 'golding' can be due to improper cleaning chemicals such as ammonia or chloride based products or can be that the manuf is beginning to use 430SS material which has a higher iron content therefore it is magnetic and more exposed to rusting. Corrosive living environments will cause the later to see rust more quickly. Our Scratch-B-Gone kit will quickly and totally remove this problem. Thanks for the question

Barry Feinman
BarrysRestoreItAll
Carlsbad, California
---
April 20, 2011
! I thought I was the only one with the rusting problem until reading the above. I bought GE Profile appliances and began noticing the rust appearing. I have tried repeatedly to remove them to no success. I tried to contact General Electric with no success to talk to anyone. I was just left on hold three different times. I purchased these appliances at Home Depot and will contact them. How can we make this problem public so people will not buy these inferior products?
Gayl Davis
- Shingle Springs, California, USA
---
April 23, 2011
! I also had problems with my 2009 GE Profile series refrigerator. I had purchased an extended warranty from my appliance sales place so I called them and they talked to their local GE sales rep and GE sent out a service man to look at the refrigerator. He looked at the doors and agreed that they were rusting and they are in the process of replacing the doors. The top two have been replaced and the bottom freezer door came in damaged so they are reshipping it out to me and I should be done with this by next week. Sounds simple but I did have to get rather firm with my appliance sales team and the GE service people, but after making it clear that we had one of two situations on our hands, either a manufacturer defect or fraud they decided it was best to deal with this as a manufacturer defect and replace the doors. After reading this thread I am very surprised that some enterprising lawyer has not started a class action law suit against these manufacturers.
T Francis
- Long Beach, California USA
---
June 7, 2011
! I have rust spots on the face of my stainless steel Maytag dishwasher. I believe that this is a product flaw due to cheap steel that was not treated properly during manufacturing. The rusting should not occur under any circumstances on true stainless steel. I was told to write to:
Executive Department, 553 Benson Road, Benton Harbor, Michigan, 49022

I will also be seeking a product recall. Please do the same.
Jessica Corey
- Saint James, New York, USA
---
September 7, 2011
A. My Thermador stainless steel cooktop developed some small rust stains near the burners when it was only about 6 months old. I tried several stainless steel cleaners that had no effect. Then I read about Bar Keepers Friend =>
and gave it a try today. I was amazed to see that it completely removed the rust stains and left no marks on my cooktop. I would recommend this product for cleaning rust off of stainless steel appliances to anyone now.
Dave Strothmann
- Pine, Colorado, USA
---
October 25, 2011
A. I also would recommend Bar Keeper's Friend. Buy it in your grocery store in the cleaning aisle.
Removed my rust problem on oven and refrigerator and staining on dishwasher from Jet Dry spill. No scratching at all. Doesn't leave an oily film for finger prints either.
Sharon Clarke
- Plattsburgh, New York
---
November 3, 2011
Q. I had the same problem here as everyone else. Nice new stainless steel fridge and BAM - rust starting.

No I have not gone willy nilly with muriatic acid or the other things spoken of here repeatedly. I just tried to clean it as recommended by the manufacturer instructions.

Well - I can get it clean. I used three things:

Baking Soda
No-Scratch Scot Brite Pads
Elbow grease.

Now I am hoping that using a stainless steel polish and cleaner will prevent the problem from happening again. We shall see.
Tom Boston
- Norwood, Massachusetts, USA
---
December 7, 2011
Just an FYI from an "Appliance Specialist" These door panels are not 100% steel and can rust if not properly taken care of. NO WATER SHOULD EVER BE USED!! They need to be cleaned ONLY with a DRY & CLEAN rag and stainless polish. If you use anything else you run the risk of rust. The cosmetic warranty on all appliances is 30 days. It does not make them "bad products" you are just not reading your instructions and using common sense. Metal + water = rust. Plain & simple. Also the agents they have answering the phone at the manufacturer's do not have training in specific materials, etc. They are there to set up repairs and notate issues you are having and then to read you the warranty in the back of your manual.
Amy Ledo
- St Paul, Minnesota, USA
---
December 16, 2011
! Sorry Amy but your comment is extremely off Base saying that Metal + Water = Rust. 90% of all kitchen sinks in the U.S. are made out of?..... You guessed it Stainless Steel. How many of those are rusting after repeated use with soap and water. (Lack of) Quality manufacturing is your answer for most everyone's issues on this forum. To be disrespected by customer service and told it is a cosmetic issue is unacceptable. My 6 month old whirlpool stainless appliances are having the same issues reported here and I can assure you the manual says clean with soapy water and rinse or use a stainless steel cleaner. I have always had stainless steel appliances even in my basement and have never seen rusting like this. Whirlpool customer service management told me it is cosmetic and maybe I could use touch up paint but there is nothing they can do about it. Just an insult to hear that being said,... Paint seriously? Could you imagine buying a new Cadillac and 6 months later the paint started falling off and you were told sorry its cosmetic... no one would accept that and GM or any manufacturer would accept blame because it is on their product.

Bottom line customer service is horrible in this country and no one wants to accept responsibility.

Very upset and sick to my stomach about spending 5K and getting a POS product
Mike Zimmerman
- Pottstown, Pennsylvania, USA
---
February 13, 2012
! I believe that consumers should be informed of the quality of stainless steel built into products with labels identifying the stainless steel quality ratings and a graph (much like on EPA milage rating on new cars stickers). This information will solve the whole problem and probably lead to the demise of stainless steel appliances when consumers are informed that rust issues may occur in the life of the product.
Joe Lawrence
- Foley, Alabama
---
February 13, 2012
Hi, Joe. I agree.
However, in these days where the Supreme Court says "corporations have the same rights as people", there are no limits anymore on lobby money and access, so laws don't come from the consumer protection direction anymore; they come only when the large corporations decide they want them and they tell Congress exactly what to write. The way to get the corporations to want a law, and therefore to get Congress to write them, has become to launch class-action suits in sufficient volume that the kind of labeling that you want will protect the corporations from further suits. If enough people with rusting clear-coated "not real" stainless refrigerators would join class action suits for damages for having been misled by the manufacturers, you'd very soon have the labeling laws that you want. You'll only get pennies on the dollar from such suits, with the law firms pocketing most of the settlement, but getting your money back is not the point. The point is to get the laws changed -- so find a class action suit and do it!
Regards,
Ted Mooney, P.E.
finishing.com
Pine Beach, New Jersey
---
---


If you have a question in mind which seems off topic, please Search the Site