Live! From beautiful Pine Beach New Jersey: Welcome to the world's most popular metal finishing website
topic 36552
Is Type III suitable instead of Type II for overall finish?
2005
I have a part that is normally Type III hardcoated in certain wear areas, with the exterior Type II anodized for corrosion resistance. The unit is used in an aerospace/military application. The supplier mistakenly applied the hardcoat all over. Is there an accepted or common practice in the industry dealing with acceptability of this configuration?
David Wakefield
aerospace - Corona, California, USA
---
2005
Maybe - it depends on the environment you'll put the part in.

There are basically just two major differences between type II anodize and type III - the first and most obvious is that the type III is thicker, this gives it the increased wear resistance. The second difference is that to maximize the abrasion resistance, type III is not normally sealed; unfortunately this lowers the corrosion resistance of the coating.

In some situations, the drop in corrosion resistance due to lack of sealing would be offset by the increased thickness - but in others the lack of sealing would have the greater effect. Under which conditions the first scenario would occur and under which the second, I'm not certain; I've never seen a study that actually compared the two coatings head to head to see how much the extra thickness offset the lack of sealing.

The best way to make an educated guess would be to examine (on parts in service) whichever of the areas normally anodized to the type III requirements that is most exposed to the same conditions as the exterior of the part - if corrosion isn't a problem, then you're probably okay.

If the part is crucial, but you don't want to have it completely reworked, it may be possible to mask the wear areas and seal the balance of the part in hot water or Nickel Acetate; you may want to discuss this possibility with your anodizer.

Good luck.
---
First of two simultaneous responses -- 2005
There is no maximum thickness limit for Mil-A-8625 [link is to free spec at Defense Logistics Agency, dla.mil] Type II coatings. The requirements for Type II are that it be 1) an anodic coating formed in a sulfuric acid electrolyte, 2) completely sealed in a suitable chemical solution, 3) meets the minimum coating weight, 4) passes a corrosion resistance test, and 5) complies with the dimensional requirements of the applicable drawing.

Therefore, if you sealed a Type III coating and the extra coating thickness does not exceed dimensional tolerances, it would meet all of the Type II requirements.

Technically, if you performed a coating weight and corrosion test, this Type III could be certified as Type II.
---
Second of two simultaneous responses -- 2005
If it walks like a duck and quacks like a duck, I call it a duck! On the other hand, if it struts like chicken and crows like a chicken, I call it a chicken. Now in my book of animals, taught to me at a very tender age, I never called a chicken a duck and visa versa. Here I am 50 years later and now you're trying to re-teach me my basic math facts - 2 is sometimes 3 and sometimes 3 is 2. This ain't logical - is sulfuric anodize really chromic anodize? (I still don't buy this one even if the mil spec says if its real thin, it is!). Bottom line, if I'm asked to supply a chicken dinner, I'm not bringing the patron a duck! If someone sends me a purchase order or drawing saying "give me a 2", while the car salesman would try to upsell me to a "3", I'm going to tell them I'm giving them a "2" and certify it as being a "2". I've seen too much of "one-ups-manship" of late to let this one go!

P.S. Ted, you'll have to apologize to the entire finishing world for me...it's the night before the dreaded ISO audit and I'm feeling a bit looney!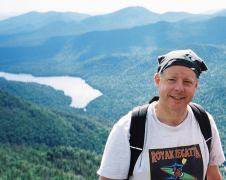 ---
2005
To those who generously responded to my question:

Thank you! I appreciate your feedback. My inclination is to insist upon Type II & Type III, respectively, where specified (MIL-T-FP41). However, parts are needed ASAP (aren't they always) and $ is always an issue. I believe in this situation the Type III corrosion resistance will be sufficient. But I will recommend masking and sealing the external surfaces.

Thanks again.
David Wakefield
- Corona, California, USA
---
2005
Milt - good luck with the ISO audit, those are always fun...

But, just to clarify to anyone who might be reading this thread and was just a LITTLE confused by the duck/chicken analogy:

Type 1 = chromic anodize, very thin, not ussually dyed, used when sulfuric might be trapped in the part and in other specialized circumstances.

Type 2 = sulfuric anodize to a minimum of 1000 mg per square foot. Class 1 is not dyed, class 2 is dyed. Both are sealed to increase corrosion resistance.

Type 3 = sulfuric anodize done at a much lower temperature and higher current density than type 2 to give a thicker and denser coating that has more abrasion resistance. Sealing decreases the abrasion resistance so this coating is not normally sealed, although it can be.

Leaving out type 1, type 2 is most preferable when cosmetics are important, type 3 is most preferable when the extra abrasion resistance is needed.

And, ahh, throw in some ducks and chickens where necessary...


If you have a question in mind which seems off topic, please Search the Site