topic 36516
Pitting in plating process
A discussion started in 2005 & continuing through 2017 . . .
(2005)
Q. We are a manufacturer of hydraulic tubing and have been experiencing problems with our hydraulic fittings we purchase. After brazing and pickling we send the parts out for plating. In the past only parts that went through a furnace braze process experienced the pitted corrosion(sporadically). Recently additional parts started having the same pitting. Corrosion is particularly evident in the o-ring grooves and threading.
Good part, followed by bad part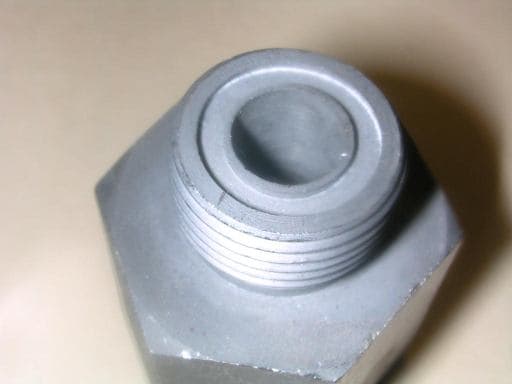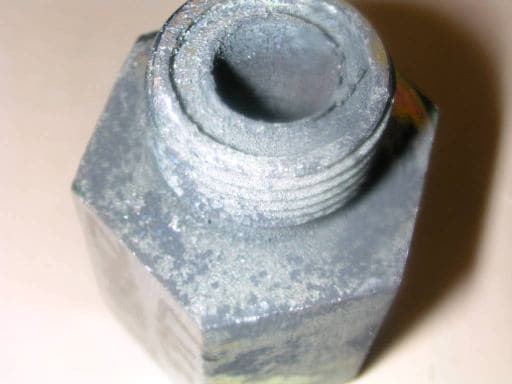 The fittings are made from a standard 1045 (previous supplier used 12L14). Some come through the process great, others have the pit corrosion and there is no rhyme or reason to it. Does anyone have any suggestions how to test failed parts to determine what has happened?
Eric Weiss
Hydraulic Tubing manufacturing - Milwaukee, Wisconsin USA
---
(2005)
A. Hi Eric,
I'm happy to see that you have sent a picture for us to go by. I think this will help resolve your issue.
First, as a barrel plater, I would not be having a good day if I held those pitting parts in my hand. I would be concerned about incorrect steps I may have taken to preclean or strip these parts.
It seems that your plater possibly used a nitric strip or perhaps little or no cyanide strike( or a ni. strike in some shops)prior to an acid cu. plate? Using or over using an incorrect or too strong pickle to remove any heat treat could also result in the look of the parts in the picture. And hearing that the parts are 1045 parts would lead me to believe that the preplate process may need to be adjusted from the typical process for most steel parts
I really hope that some of the info I have provided will help you to resolve your plating issue and I would really look forward to seeing more input from others in the forum.
Please let us know the results so that we can all learn something.
Good luck!
Michael Null
- Barrel Plater Methuen, Massachusetts, U.S.A.
---
(2005)
Q. Overall process -

1. Degrease parts with a drip dry process
2. Copper / Silver braze parts
(some are manually brazed some are furnace brazed, there has been no consistency on which the problem occurs)
3) Pickle parts
4) Rinse
5) Send out for plating

We have had some problems found at all stages of the process. The parts will run fine for months and suddenly will start having sporadic problems.

Is there anything in the metal (1045) that could change that would create this problem? Would surface texture or minor changes in chemistry affect our process significantly enough to cause these issues to appear?
Eric Weiss
[returning]
- Wisconsin
---
(2005)
A. I agree with Eric, nasty looking.
Is the product been quenched at all after heat heating.
Your plater might be having trouble cleaning the articles and leaving it in the acid too long.
Is he using any sulphuric based cleaners at all in his line? I had a similar problem once and it was the sulphuric cleaner. (you will not see the pitting after the sulphuric)
Try not to pickle it before it goes to the platers. Let them handle all the cleaning.
If they can let them send it for cleaning to someone who can put it into a tumbler or vibrator with PLENTY of rough glass beads. It will take all surface muck off (this must be done wet).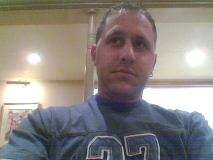 Gary Joseph
Johannesburg, South Africa
---
---
May 19, 2017
Q. Hi all,

Pit marks are the defect I have to ask suggestions about --
We do Zinc Iron white passivation on fasteners, especially on bolts that also in shank portion are un-threaded. The pit marks are noticed. Base Material is boron steel. Manufactured by cold forging. Alkaline Zinc Iron plating process.

Are pit marks a common defect in fasteners? If yes, will it affect the performance compared to non pit marked fasteners.
Thanking you for the responses.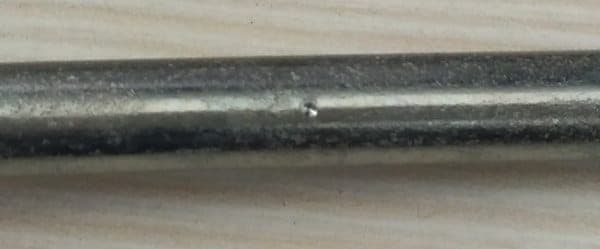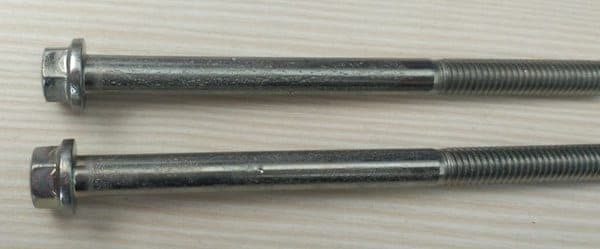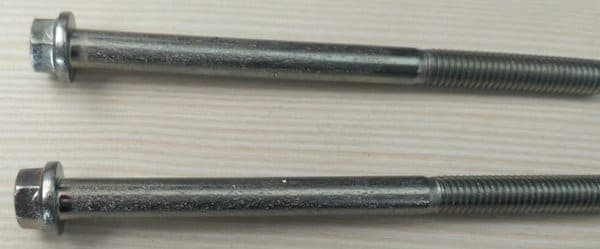 C kesavaram
- CHENNAI, Tamil Nadu, India


This public forum has 60,000 threads. If you have a question in mind which seems off topic to this thread, you might prefer to Search the Site