World's #1 on-line resource since 1989
-----
Decomposition/Plate-out of Electroless Nickel Bath
Current question and answers:
November 11, 2020
Q. We have an EN plating, but it went out of the bath by itself by forming a foam. What is the cause and the solution?
Matewos Demelash
- Addis Ababa, Ethiopia

---
November 20, 2020
A. Hi Matewos.
1. It is very difficult to assume anything without a detailed information about the type of bath, and what exactly was a problem (photos?).
2. If this is a proprietary EN solution - contact your supplier, they will be the best source of information.
3. Very common problem for EN - bath is out of balance. It has to be proper concentration of Nickel and reducer, correct ratio between them, temperature, pH, proper concentration of additives (stabilizers, complexers). Sometimes, if the additives are out of balance, there is no way to recover the bath, you have to make a new bath.
4. If the problem with plate-out - discard the old bath, clean the tank from Nickel, make a new bath.
Leon Gusak
- Winnipeg, Canada
---
April 5, 2021
A. There are many things that can decompose an EN bath/
Do you filter the solution regulary?
Do you take out the solution and disolve the Nickel at the bottom of the tank?
Do you analyse the solution twise a shift ?
Do you replenish every hour?
Do you keep PH and temperature at the recommended levels?

There is more but this is good for starting.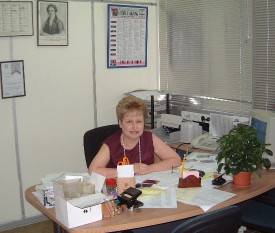 Sara Michaeli

chemical process supplier
Tel-Aviv, Israel
---
---
---
Previous closely related Q&A's starting in:
2005
Q. Dear All,

I have a big problem with my electroless Nickel bath for ABS.
Plating Line including tanks has newly set up.
In electroless Ni bath, strange hemisphere shaped Nickel (diameter: 1~5 cm) deposited on tank's bottom and filter cartridge in circulation pump. I used carbon cartridge. The bottom of deposits has metal color but outside is dark gray..
Please, let me know a cause or your experience.

Best Regards.
Bomook Chung
- Seoul, S Korea
---
2005
A. Hi Bomook. Sounds to me like spontaneous plate-out. Electroless nickel plating isn't easy :-(
What is your tank made of? What brand and type of electroless nickel are you using? Thanks.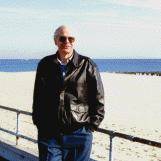 Ted Mooney
, P.E.
Striving to live Aloha
finishing.com - Pine Beach, New Jersey
---
2005
Q. Thanks for your answers.

Tanks made of PVC.

EL-Ni is alkaline ammonium-citrate type bath.

Thank you.
Bomook Chung
[returning]
- S. Korea
---
2005
A. There are surely many things that I haven't seen that may still be fine, but I've personally never seen a PVC electroless nickel tank; I think polypropylene or cathodically protected stainless steel would be better. The baths I'm familiar with run about 185-190 °F. -- is your bath operating cooler than that?
EN will, of course, spontaneously deposit on any catalytic material. If the tank was not cleaned properly or was improperly filtered, that could be the problem. It could also be a chemical imbalance with insufficient stabilizer, but I'm not an EN chemistry expert. Is this home-brew or a commercial solution? If a commercial solution, the supplier's tech service people should be helping you start up this line. Good luck.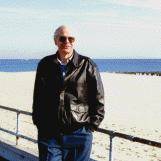 Ted Mooney
, P.E.
Striving to live Aloha
finishing.com - Pine Beach, New Jersey
---
2005
A. Some alkaline EN's, especially ammonia based ones operate at a much lower temp. They are also more prone to self destruction if the stabilizer is not maintained in a perfect range.
How is the tank passivated? How often? A critical step, particularly as the tank surface get some wear or roughness.
James Watts
- Navarre, Florida
---
2005
A. The EN bath is alkaline and therefore working at R.T.
I think PVC is not bad for Tanks.
I found some clue for spontaneous deposition.
I observed cross-sectioned deposits with SEM and EDS.
As a result, Na, S, Cl, Ca, Pb, etc. is analyzed. Of course, Ni and P were measured. I think these are one of materials of rack coating. What do think of this? Does it make sense?
Bomook Chung
[returning]
- Seoul, Korea
---
2005
A. Alkaline EN baths for plating on plastics are designed to plate at room temperature, and may continue to plate at summer time ambient temperatures, especially if the filter pump is left running. May than likely the inside of the filter began plating, which consumed all of the stabilizers (the Pb and S in the EDS), which then allowed plating to continue in the tank.

In future, turn off the pump, cool the bath if possible, and replenish the bath to its normal range, before shutting down.

From a strength viewpoint, PVC is adequate for the tank for an alkaline EN bath. However, it is more prone to plateout than polyethylene or polypropylene, which are preferred tank materials.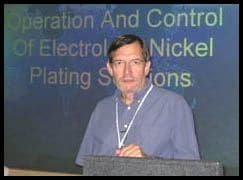 Ron Duncan
[dec]
- LaVergne, Tennessee
It is our sad duty to note Ron's passing on Dec. 15, 2006. A brief obituary opens Episode 13 of our Podcast.
---
2005
A. I see some good advice in the other answers. However, carbon pack filters cannot be used for this electroless nickel, Carbon will remove a portion of the stabilizers and make the bath unstable.

Don Baudrand
Consultant - Poulsbo, Washington
(Don is co-author of
"Plating on Plastics"
[affil link to the book on: Amazon or AbeBooks ])
---
---
August 28, 2014
-- this entry appended to this thread by editor in lieu of spawning a duplicative thread
Q. Hello everybody!

I have a question about electroless plating. Yesterday was my first time to try how electroless nickel plating works.

In a small beaker I added:

8.8 g Nickel chloride
2.6 g sodium hypophosphite
0.6 g ammonium chloride
0.8 g boric acid
I dissolved all this in 100 mL water
T = 90 °C
pH = 5.1

I plated on a metal plate (the same I use in Hull cell).
The bath worked for 10 or 15 minutes; after that pH dropped below 2.
I want to know why the nickel is deposited not only on the metal plate which I wanted to plate, but lots of nickel was at the bottom of the beaker?
Bojan Koren
- Bovec, Slovenia