education ... fun ... aloha spirit
Chime right in! (no registration req'd)
-----
"Burr removal from non metal parts"
2005
I have a plastic material, PEEK. I am supposed to drill micro holes on the material. After drilling on the CNC machine, there are burrs on and in the holes. I am currently using hand deburring to remove the burrs.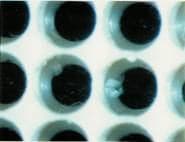 Is there any way to remove the burrs without using manual removal?
Kelvin Loh
Mechanical engineer - Malaysia
^
---
2005

Low pressure blasting with soft abrasive.

Guillermo Marrufo




Monterrey, NL, Mexico




^





---

2005

How much money do you want to spend? Probably the best way to process burrs is to use a cryogenic blast system. If the parts are small enough and are not too concerned with the over all surface finish, you can try mass finishing using ceramic media with either wet or dry ice.




AF Kenton


Hatboro,
Pennsylvania


^