topic 36071
Corrosion build up between Aluminum and Steel plates
(2005)
We are having problems with corrosion between a steel base plate and aluminum plate and structure, bolted together, and used for a machine holding fixture. This tool runs in a coolant environment used with a 5-axis milling machine. Over time, flakes of corrosion have built up to a point of mechanically separating the plates and causing the fixture to mislocate. There is an N/C set point approximately 24 inches above the base of the tool. The mechanical separation of the plates has caused a .076 mislocation of the hole for one fixture and .030 for the opposite hand. Once the tools are disassembled and cleaned, the set point goes back to its original location. The steel base plate has a black oxide coating and no damage has occurred to the surface even though flakes of corrosion were scraped away. The mating aluminum plate had corrosive flakes of material built up on it, but once removed, the plate looked OK. The flakes of material, which must be created by some action between the coolant, and some type of electrolysis, generate enough force to mislocate the upper portion of the tool and snap the head off of cap screws. I was wondering if anyone else is having this problem.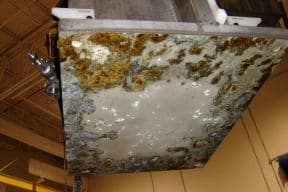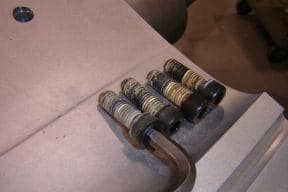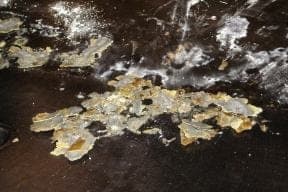 Ronald Tovar
helicopters - Fort Worth, Texas
---
(2005)
What material is being machined? The absence of damage to the mating plates means that the corrosion products causing your problem do not come from any reactions involving those plates. That in turn suggests that finely divided material from the work, suspended in the coolant, is being deposited between the plates where it slowly oxidises. No matter what metal is being machined, the volume of the resulting oxides will always be greater than the volume of the metal before it oxidises, leading to exactly the symptoms you describe.

A modification of that thought is the possibility of a slow reaction between a constituent of the coolant and the finely divided metal from the work. Maybe the coolant contains an organic sulfonic acid which can react with the metal dust, forming a more voluminous layer of a metallic salt? But same end result.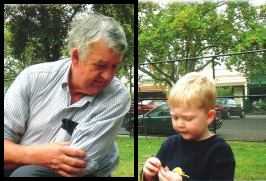 Bill Reynolds
consultant metallurgist
Ballarat, Victoria, Australia
We sadly relate the news that Bill passed away on Jan. 29, 2010.
---
(2005)
Chemistry 101. Iron is 0.44 volts below hydrogen and aluminum is 1.7 volts under hydrogen, so galvanic dissolution begins in the presence of an electrolyte (anything other than distilled water !).

Anodizing the aluminum will help. Hard Coat will help more. Powder coat will help even more.

Best recommendation. Leave off the black oxide and electroless nickel plate the iron and the nickel so than similar metals are next to each other.

Robert H Probert
Robert H Probert Technical Services
Garner, North Carolina
---
(2005)
Ronald,

I may be up a gum tree but why in the heck don't you use some type of non conductive material between those plates?

a. Polyethylene. Cheaps as wurst. Not good on compressive but available in sheet form to perhaps 2" thick.
b. Teflon. Slightly better on compression. Expensive. NO, NO ... I maybe wrong but tfe creeps somewhat.
c. Glass impregnated Teflon ... should be much better on compression but is it available as a one piece item?

Lastly, a v. minor point ... what are the bolts made of? And if this is a question of conductivity, just grease them with molyslip (molybdenum disulfide).
Freeman Newton
White Rock, British Columbia, Canada
(It is our sad duty to
advise that Freeman passed away
April 21, 2012. R.I.P. old friend).
---
(2005)
In the line of thinking of Mr. Probert, I noticed on the picture that the parts seem difficult to disassemble from the machine and to take them to a plating house, so you can have the two brush nickel plated on site (both aluminum and steel). Bolt them again, seal the outer gap to avoid entry of debris and recalibrate your zero position. Each nickel plating will be 0.0005" at least to provide good resistance, so you will see a variation of 0.001".
Guillermo Marrufo
Monterrey, NL, Mexico
---
(2005)
I appreciate the responses. The part being held by the fixture during the machining process is carbon fiber with fiberglass pads. We are using a synthetic coolant during the machining process. The machines have a good filtration system to remove the fine particles.
Ronald Tovar
(returning)
Helicopters - Fort Worth, Texas
---
(2005)
Well, I'm stumped. Dust from those materials being machined seem unlikely to react or expand if it's trapped between the steel and aluminium. And there's no damage to either the steel or the aluminium surfaces so neither of those is contributing anything, either. Can only suggest you wash and dry the crud from between the plates and take it to a laboratory for chemical analysis by X-ray fluorescence -- the elements present and their approximate proportions might provide some guidance.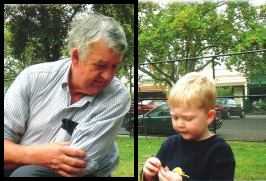 Bill Reynolds
consultant metallurgist
Ballarat, Victoria, Australia
---
(2005)
The next step, per suggestion, will be to have the material analyzed.
Ronald Tovar
(returning)
Helicopters - Fort Worth, Texas
---
(2005)
Has the EU accomplished their feat already? Has their RoHS, ELV and WEEE, WEEE, WEEE all the way home wiped our minds away from the obvious? The classic means of making steel fasteners and aluminum galvanically similar was to, dare I say, CADMIUM plate the steel member! There, I've said it. I'm not saying you shouldn't consider anodizing or chromating (oh, there I did it again!) the aluminum member; given the extreme condition you've photographed, doing both would be in order. Galvanically speaking, best of luck!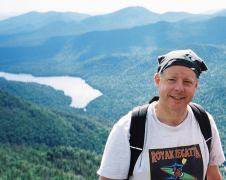 Milt Stevenson, Jr.
Anoplate Corporation
Syracuse, New York
---
(2005)
If there was reaction involving either or both of the steel and aluminium mating surfaces, then there would necessarily be damage to one or the other or both of the surfaces. I agree that one might expect galvanic action affecting the aluminium, or simple corrosion affecting the steel. But the OP has made it clear that the mating surfaces are not damaged, which rules out any reactions involving either of those surfaces.

That leads to possibility of reactive material being suspended in the machining coolant and carried into the joint. The coolant is filtered, but for every filter there is a particle size small enough to pass. Even so, the material being machined would seem to be inert -- unless its dust SLOWLY absorbs coolant without any actual chemical reaction and SLOWLY swells as it absorbs.

What other possibilities are there? As I said, I'm stumped, except to use XRF or similar to identify elements in the crud (lovely word "crud" -- dates back to around the 12th century, I believe) which in turn should point to the source.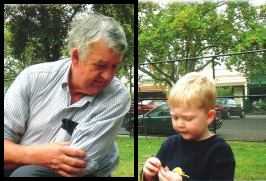 Bill Reynolds
consultant metallurgist
Ballarat, Victoria, Australia
---
(2005)
I found the following bit of information on the web. It appears that the carbon fiber dust suspended in the coolant is the culprit. Even though the coolant is filtered, microscopic particles remain. In fact, looking at the flakes of corrosion, you can see black shaded areas, which I assume is the carbon fiber dust. The coolant that remains trapped between the plates, in conjunction with the carbon fiber dust, is triggering the galvanic corrosion problem.

Galvanic coupling of materials
The objective is to avoid coupling materials from different groups unless required by economic and weight considerations. If dissimilar metal coupling is required, proper finishing and sealing techniques and guidelines are used to prevent corrosion. For example, graphite fibers, which are used to reinforce some plastic structure, present a particularly challenging galvanic corrosion combination. The fibers are good electrical conductors and they produce a large galvanic potential with the aluminum alloys used in airplane structure. The only practical, effective method of preventing corrosion is to keep moisture from simultaneously contacting aluminum structure and carbon fibers by finishing, sealing, using durable isolating materials such as fiberglass, and providing drainage.
Ronald Tovar
(returning)
Helicopters - Fort Worth Texas USA
---
(2005)
What about e coating, and then powder coating? Send me a sample.
Glen Bartolotti
- Arlington, Washington
---
(2005)
Good outcome -- nice to find an answer to a problem!

Implicit in the answer that you found, is that there must in fact be some damage to the aluminium surface even though you couldn't see it -- perhaps tiny local pinholes from the galvanic action, but with the surrounding surface uncorroded and hence still dimensionally accurate.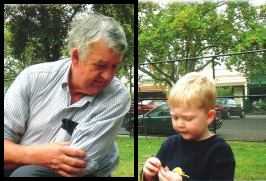 Bill Reynolds
consultant metallurgist
Ballarat, Victoria, Australia
---
(2005)
I just returned from a Materials Science Camp for high school teachers provided by ASM. In it a Princeton professor studying corrosion of building stone gave a talk showing how crystal growth can destroy building stone as they grow in tight spaces. If the problem is not galvanic, look for and eliminate evaporation of water which contains any concentration of a salt. You can prevent the problem by using a polymer that will form hydrophilic contact with both sides of the area where the crystals grow.
Tom Pullizzi
Falls Township, Pennsylvania
---
April 3, 2008
my opinion is that the corrosion is not causing the problem. It is very unlikely that the corrosion under the fixture is actually movingthe tombstone. Something else is causing the movement of the fixture. The fixture should be properly mounted and keyed to the table. It is more likely that a broken tool or machine crash will move the fixture. I have seen a .25" drill break and move a 800 pound fixture. I do not know of anyway of stopping corrosion underneath a machine fixture. The metal chips will corrode along with the fixture itself. The corrosion under the fixture should not hurt anything in a machining environment.
jared fox
- columiba, South Carolina
---
April 28, 2008
This is a very common problem. I ran in to this in 1978 when working on aluminum runnning boards mounting to steel brackets and trailer hitches bolting to aluminum bumpers on cars and trucks. It is a galvanic process. The automotive industry uses stainless steel to mount aluminum trim to prevent the galvanic corrosion. Nickel plating the steel parts and using stainless steel mounting bolts and nuts should help prevent the galvanic action. However, be careful to use different grades of stainless in the bolts and nuts and plenty of lube. Identical Stainless steel grades can seize.
Keith Kropf
- Broken Arrow, Oklahoma
---
November 17, 2008
This looks like galvanic corrosion between the dissimilar metals (Fe and Al). Coating of the less noble material, Fe, may be a good solution.
Howard Gabel
- Santa Barbara, California


This public forum has 60,000 threads. If you have a question in mind which seems off topic to this thread, you might prefer to Search the Site