Where the world gathers for
plating, anodizing, & finishing Q&As since 1989
-----
Chemical Film, Mil-C-5541, on Aluminum-Vacuum Systems
2005
I recently used chromate conversion aluminum per MIL-C-5541 [affil link] on a vacuum system. When I disassembled the vacuum the chem film had changed appearance from dull to bright yellow. I have never seen chem film coatings change color under any circumstances-this is my first experience with it in a vacuum. Any ideas as to what is going on here? Can furnish a picture: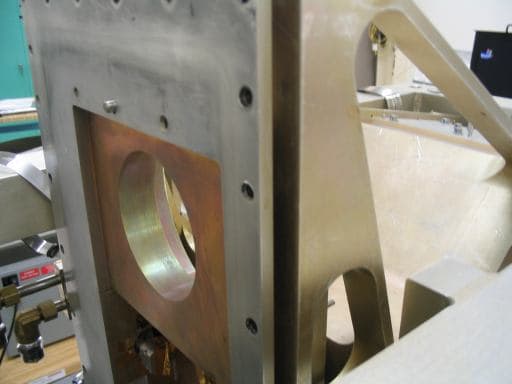 Thanks!
Bill Pinzon
aerospace systems - Greenlawn, New York
---
2005
Hi Bill,

On occasion we vacuum impregnate aluminium castings after they have been chem filmed, I can't say I have ever noticed any brightening of the conversion coating. However I have had some nickel-plated assemblies which exhibited some light tarnishing. After environmental testing at high vacuum these assemblies came out bright and shiny. You may be getting a similar effect, i.e., something is being removed from the surface during vacuum.

As an idea of the top of my head, follow a component through the conversion process and immediately after the final rinse lightly run your finger over the surface. Check to see if there is a thin film of smut. It may be this that is being removed giving the appearance of a brighter coating.

I have had similar experiences with castings were the chem film seemed to have taken fine to the metal but a thin film of smut was left on the surface making the coating look 'dirty'. I ultrasonic cleaned these parts and the chem film did indeed look brighter / cleaner.

If this is the case check your treatment line for contamination, old de oxidiser etc etc. It's also worth checking the component manufacturing processes, for instance the problem I encountered was due to contamination from a blasting process.
Richard Mosley
- North Yorkshire, UK