Where the world gathers for
plating, anodizing, & finishing Q&As since 1989
-----
Black residue on IPA cloth wipes following passivation
2005
We're having issues with cleaning our stainless steel and AL6XN tanks. The tanks were originally mechanically polished, to 20-25 Ra finish. We've gone through an alkaline (caustic and/or TSP [trisodium phosphate [affil link]]) cleaning, followed by citric acid passivation. Following passivation, we perform wipes with isopropyl alcohol wetted wipes. We get a black to gray residue on several of the tanks/wipes. For our stainless steel electropolished vessels, we typically get clean samples - no residue. Is what we are seeing typical? If not, any suggestions on cleaning methods? Does the use of IPA contribute to what we are seeing?
Brice Lee
pharmaceutical production - Carlsbad, California
---
2005
The IPA has nothing to do with removal of the black - there should be (actually I should state THERE ISN'T any reaction between the IPA and the stainless steel). The black is arising from somewhere - could be your passivation process, however, I'd suspect that it's present on the unpassivated stainless as well. You may wish to test this out! Assuming that the degree of black on the untreated and treated vessel are the same, you simply need to modify your CLEANING portion of the process - the PASSIVATION cycle does not remove grease or desmut stainless itself! My guess would be that this is some sort of organic residue - grease, oil, etc. The fact that it comes off with IPA supports this! I would try (1) heating up your cleaner / TSP and doubling the exposure time with the addition of some elbow grease or other mechanical scrubbing (e.g. aggressive solution flow), (2) prior to the alkaline cleaner, try a organic solvent-based wash (like Isopropyl Alcohol [affil link], MEK / methyl ethyl ketone, SafetySolv, etc.), (3) electropolish might be considered as it electrochemically scrubs the surface. Lastly, go back to the fabricator and ask them what they used to mechanically polish the parts with - it might give you a hint on what to use to remove it. As my wise father (60-years in this business) often reminds me, "there is nothing worse to remove than a metallic smut!" This being the case, best of luck!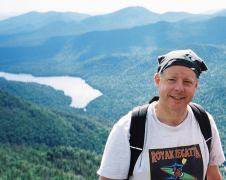 Milt Stevenson, Jr.
Anoplate Corporation

Syracuse, New York
---
2005
Brice:

I agree completely with Milt's suggestions. A couple of other thoughts to add.

Milt's idea of heating the TSP/alkali is and excellent suggestion. Heat accelerates cleaning tremendously. An engineering rule of thumb is that reaction rate doubles for every 20 degree F. increase in temperature; not that accurate a number but illustrative of the concept.

You should investigate what was in the tank before you cleaned it. I've seen the same sort of issues as you have that were caused by incomplete cleaning.

In addition to the organic contamination that Milt suggested, Aluminum, Zinc and other metals may show a dark powdery residue when they have been in a high pH environment.

Best luck,
Ernie James
- Vista, California
---
2005
Mechanically polished vessels often result in a black to gray residue present in wipe tests. This material is general found to be microscopic particles of stainless steel from polishing operations, and sometimes with a very small amount of organic content. Stainless steel surfaces adsorb organics and micron size particles readily. IPA treated wipes are generally used to provide evidence of such contamination, since IPA helps remove the organics and assist in the release of the particles from the surface. Numerous cleaning methods have been tested and the best method for removal is mechanical wiping of the surface with alkaline cleaners. Chemical cleaning, passivation, or hydrojetting techniques are rarely effective in this residue removal.

Electropolishing of the surface removes this residue as it removes the roughness in the surface. That is also why, your electropolished vessels generally provide a clean wipe test, since electropolishing removes surface material and its contaminants.
Daryl L. Roll
Costa Mesa, California, USA
---
November 18, 2010
What I see in the Field service is that when vessel have be mechanically grind/ buff finish is that no matter how much cleaning that you do with a caustic/ alkaline solutions will net you the results that you are looking for. The black/gray residue that you see is the results of rouging compound that has become "magnetize" to the walls and dome, bottom of vessel. What I have found to release these metals is that after alkaline cleaning the vessel to remove grease and particulates is to use Sterbac at 1% by volume to remove or release these compounds. With a heated solution around 150'f ± 10% for a couple of hours thru a spray ball set up you will find the results that you are looking for.


Michael Crabtree
- Clayton, North Carolina USA