Where the world gathers for
plating, anodizing, & finishing Q&As since 1989
-----
420 stainless steel corrosion
2005
DEAR SIR:

SORRY ABOUT MY ENGLISH

WE'RE A COOKWARE MANUFACTURER. I'M RESPONSIBLE FOR THE NEW DESIGN PRODUCTS DEVELOPMENT.
WE HAVE A LITTLE DOUBT, WE MAKE TABLE FLATWARE BUT SINCE 1 MONTH WE ARE HAVING SOME DEVOLUTIONS IN OUR KNIFES. THE PROBLEM IS ONLY WITH THE FORGED KNIFE THAT ARE MADE OF ROUND 8 MM AND 9 MM BARS FIRST WE WARM THEM UP THE STAMP THE FIGURE AND FORM FOR 8 MM 750 deg C 2 HOURS IN A ELECTRICAL OVEN AND FOR 9 MM BETWEEN 750 deg C AND 850 deg C FOR 2 HOURS. THEN WE PROCEED TO MANUFACTURE THE KNIVE POLISHING IT IN MACHINES THEN IT RETURNS TO A HARDEN PROCESS IN WHICH THE KNIVES ARE HEATED UP TO 940 deg C 12 MINUTES (FOR 8 MM) 950 deg C 14 MINUTES (FOR 9 MM), IT HARDENS FROM 38 to 52 ROCKWELL C. THIS OVEN IS FUELED WITH ACPM dIESEL FUEL. THEN THE KNIVE CONTINUES THE PROCESS POLISHING UNTIL IT GETS TO ITS LAST SHINE FINISH, IT IS PACKAGED IN CARTON BOXES. BUT THE PROBLEM IS WHEN THE CUSTOMER IS BUYING IT THE FIRST WASH NEXT DAY THERE ARE CORROSION PARTS (OXIDATION) IN SOME SPECIFIC PARTS OF THE KNIVE LIKE LITTLE DOTS WERE THE CORROSION SHOWS UP.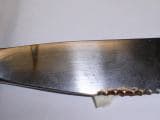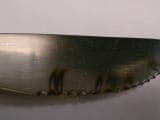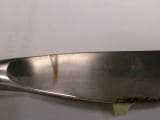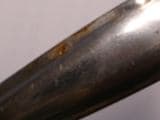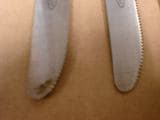 DOES SULPHUR IN THE 420 COMPONENTS SOMETHING TO DO WITH THIS PROBLEM, BECAUSE WE FOUND OUT THAT SULPHUR ACCELERATES THE CORROSION PROCESS. AND THE COMPOSITION IN THE TEST CERTIFICATE THAT WE BECOME SPEAK ABOUT:
C 0.210 - MN 0.54 - SI 0.30 - S 0.027 - P 0.040 - NI 0.20 CR 12.50 - N 0.032

COULD YOU TELL US WHAT TO DO WERE TO LOOK FOR.

THANK YOU BEST REGARDS,
RONALD FUERST
- MEDELLIN, COLOMBIA
---
2005
Embedded iron from forging tool, dies, etc. can lead to such failure - this is why one typically passivates in something like nitric or dare I say CITRIC ACID (there, I've said it in public!). Have you done any passivate? DO you do any testing before shipment - doesn't sound too tough a test - find someone with a dishwasher! Do you make spoons and forks that don't exhibit this condition? What are they made of? Good luck....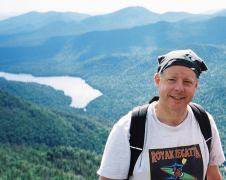 Milt Stevenson, Jr.
Anoplate Corporation

Syracuse, New York
---
2005
Passivation should take care of the problem (either nitric acid or citric acid formulations), but 420 is not an easy grade to get passivated well. Standard 420 (which your assay shows) does not contain enough sulfur to normally cause any problem, but soaking in NaOH or KOH solution should take care of that if it is a problem.


Lee Kremer
Stellar Solutions, Inc.

McHenry, Illinois