Where the world gathers for
plating, anodizing, & finishing Q&As since 1989
-----
Buffing out Etch marks in Clear Anodized Aluminum
2005
I have etching in a clear anodized curtian wall. Is there any product that will buff out the etch marks?
Amanda Cummings
Construction - Jackson, Mississippi
---
2005
Anodizing is a thin oxide coating electrochemically created to protect and enhance the aluminum.
If you try to buff it you will remove or damage the coating.
The fact that you say that the finish is etched there is a good chance that your finish is already damaged and incomplete.
I know of no alternative but re-anodizing to restore the finish.
Steve Clark
- Belfast, Maine, U.S.A.
---
2005
Yes, but not without also removing the anodize. Of course, depending on how the etching occured, this may have already happened.

Was the etching the result of some post-anodizing event (oven cleaner or strong acids or bases?) or was it the result of the cleaning steps involved in the anodizing process.

If the latter, your only real choice (if it bothers you so much as to make it worth it) is to send it to a job shop and have it re-done. If you want it super shiny, you may even want to incorporate an electropolish - but be forewarned, by super shiny I do mean mirror level or close too.

If the former, you may want to do a search for the various responses people have given over the years with regards to polishing out scratch marks on aluminum wheels - you would probably find them quite informative.

Good luck.
Jim Gorsich
Accurate Anodizing Inc.

Compton, California, USA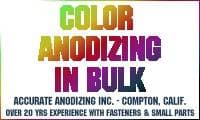 adv.: