Where the world gathers for
plating, anodizing, & finishing Q&As since 1989
-----
Nickel-Cadmium Electroplating process
2005
Does anyone carry out Ni-Cd electroplating process? I am looking to implement the process at an electroplating company and I am interested in the Health,Safety and Environmental issues associated with heating cadmium at elevated temperatures.
Samantha Mackins
Aviation engineering - United Kingdom
---
2005
That is an extremely general question you have posed. Perhaps a little time plying the internet with Google or another search engine would help you formulate a more directed question.

Of course there are many places operating the nickel cadmium process but be aware that the general trend in the industry is to seek alternatives for this coating, mainly due to EHS and regulatory issues.

With no info on your specific application requirements, it is pointless to suggest an alternative at this time. That said, if you absolutely MUST have Ni-Cd, take a hard look at the business case and determine whether outsourcing the coating process makes more sense than bringing a potential liability/headache into your facility (it is a good bet that it does).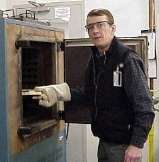 Thomas Hanlon
, Materials Engineer
aerospace finishing - East Hartford, Connecticut, USA
---
2005
Thank you for your reply to my question.

We already carry out cadmium and nickel plating and therefore understand the EHS issues associated with these. The part I am concerned about is the oven diffusion process and the toxic fumes produced, i.e. type of LEV needed.

What do you mean by potential liability/headache, is this in terms of EHS or quality?
Samantha Mackins
- United Kingdom
---
2005
Okay then, so it seems you probably already deal with all the "normal" EHS issues that can be associated with the Ni-Cd process. I assume you have sulfamate nickel, cyanide based cadmium, hex-chrome conversion coating and possibly a nickel strike/flash bath.

My experience is with aerospace parts using a nickel layer thickness between ~0.2 - 0.7 mil topped with 0.1 - 0.3 mil of cadmium. On diffusion there has never been any concern about off gassing as you are not volatilizing any cadmium.

Many are unclear on this, but what actually occurs after a 30 minute exposure at 630degF (AMS2416 [affil link]) is nickel diffuses throughout the cadmium layer while cadmium atoms diffuse only ever so slightly down into the nickel layer. A cross-section at any reasonable magnification does not show a diffusion zone. At ~500x one will see that the diffused coating looks essentially the same as the non-diffused coating; it's a discrete two layer structure and the inner layer is pure nickel.

FYI --- Note that some portion of the outer layer can oxidize and actually flake off (referred to in the specification as "weakly adhering products"), especially at higher temperatures (say 700degF & above). Example of flaked Ni-Cd:
In any case, if I had any "special" EHS concerns about Ni-Cd, it would be the ingestion/inhalation of this flakey material which would be mostly Cd/CdO (with maybe up to ~20% Ni plus a little chrome).....hope this helps.

Regards,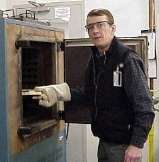 Thomas Hanlon
, Materials Engineer
aerospace finishing - East Hartford, Connecticut, USA